#listersgottalist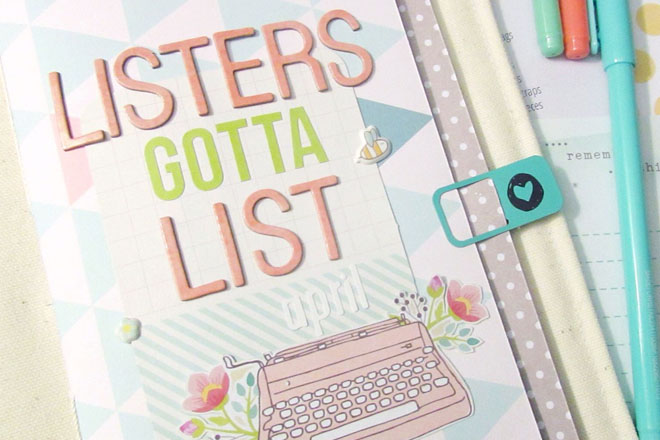 I feel I've been all over the place as of late. With trying to fix problems with my website to just my busy work days, I've been struggling to find the time to do anything remotely creative. Because after I've come home and finished dealing with things that need to be dealt with, I'm just really tired to do anything else. A lot of my projects (like Project Life 2015) that I was determined to keep up with at the start of the year, have stalled even before they had a chance to establish some sort of staple routine in my life.
Of course, I found other smaller-scaled things to consume my time. I've been slowly becoming a planner girl, officially joining the planner community on Instagram by making a new account solely for my planner/scrapbooking related photos. You can now find all my paper-related photos at createplanlove. I absolutely love this community! I find it, like with the snail mail community, sort of an extension of the scrapbooking community that I've grown to love. A lot of scrapbookers are planner girls, and a lot of planner girls are snail mailers and it's all intertwined that my community of paper lovers has gotten a bit bigger.
I've been working in a ring-styled planner for awhile. My Kikki Ks and my Mint & Gold Dokibook hold huge place in my heart. A few weeks ago, I discovered the wonders of making my own Midori Traveller's Notebook and let's just say I got hooked. Since making my first FauxDori, I've made two more, one of them finding a new home with one of my friends whom I gave it to. I started out making them 6×8 like my junk journals, but something compelled me to make one the regular standard size the Midori's usually are. And let me just say….I LOVE IT. I initially thought I would have the size, but it's perfect! I haven't dedicated my FauxDori to any sort of planning yet–I'm still using my ring binders–but I have joined in on a list challenge on Instagram. It's the #listersgottalist challenge from Cori (theresetgirl), who's the same lovely lady who's video got me curious about the Midori. You can find more information on the challenge at www.listersgottalist.com, and even though it began on April 1, you can start it anytime and catch up quite easily.
I don't spend that much time each day on the prompts. I like that I can take 20-30 minutes out of my day and site down to make something creatively. This challenge is very similar to 30 Days of List, but geared more towards the planner community. It's just nice to share what you made with everyone and see how others went about the prompts as well. I just wanted to share a bit of the spreads I've done so far. I do hope you consider joining in, either now, or for May, as I believe Cori will continue to do this challenge for as long as she possible can!