my diy fabric fauxdori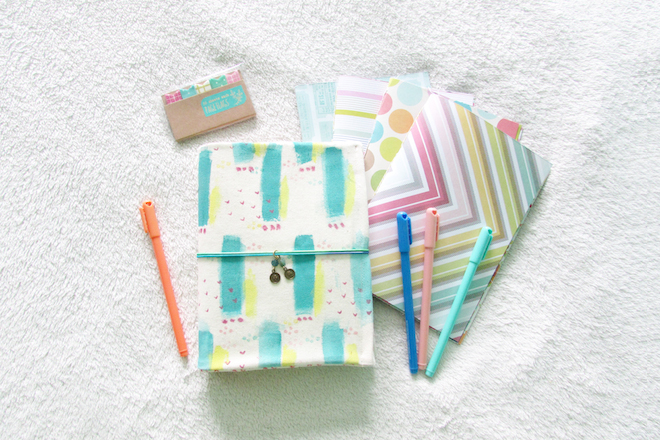 I've been slowly getting deep into the planner world and the vast community on Instagram and Facebook. Planners are everywhere now, so much so that when the trend started out, planner nerds used scrapbooking materials to sort of "micro-scrap" in their planners. But now, scrapbooking companies are making their own planners! I don't own many planners. I only have two: an A5 mint Kikki K and a Personal–or medium–sized Lilac and Gold Kikki K. But of course, I'm itching to get a few more.
Recently, I've stumbled across the amazing ways you can use a Midori Traveller's Notebook. I've heard of the Midori a while back–I think even before I got into binder-style planners–but it never caught on with me. They're really just a piece of leather with a bunch of elastic strings that hold small kraft notebooks. It's a very simple notebook and I never really saw myself using one. But recently, I came across them again on Christy Tomlinson's new planner Instgram. She posted this lovely photo of a bunch of Midori's that she made out of fabric using a tutorial on Youtube. She mentions two separate videos, so extremely curious now–because her FauxDori's are beautiful–I went to Youtube to look up those videos.
The first video is from The Reset Girl. It's about an hour video explaining what a Midori Traveller's Notebook is, showing all the different options for getting a notebook cover and inserts, where to get these covers, inserts and accessories, and explaining way in which you can go about using the notebook. It's such a great video. It's so in depth and explains everything. I really felt like I knew enough about the Midori after watching her video that I went onto the second video, which is the DIY tutorial of how to make your own Midori.
This video is from Sea Lemon. She shows us a very simple and easy way to make a Midori. She gives a list of materials you'll need to make the notebook and most of it you can find in any craft store like Michaels and Joanns.
I made my FauxDori's a little differently. If you remember, I make these really neat junk journals from fabric and paper scraps that I use as travel journals. I made a bunch of them. I have a few for sale then two I made for myself to use on upcoming trips. But recently I realized that my next trip to Southeast Asia will be much too long to document in just one of my junk journals. Realistically, I'd need to bring two of them with me (each notebook has two notebook signatures in them, totaling four notebooks), and as a traveller who likes to pack lightly, I just couldn't justify carrying two of those notebooks with me.
Enter the Midori. I figured I'd try it out for a bit and see if it makes more sense to bring a Midori with me instead of my regular junk journal. With the Midori, I can just pack an extra notebook insert and add it to my Midori notebook when I need too. And since Midori's are a bit expensive, I figured that I could just make my own. Now, I didn't want a leather Midori. I'm not too fond of leather notebooks. Generally it's very hard to find colorful leather and since I didn't have leather on hand, I decided to make my Midori from fabric. I used canvas for mine which I purchased at Michaels, and since I have all of these colorful fabric swatches that I use for my junk journals, I decided to combine the two ideas and make a junk journal FauxDori. I basically assembled my cover the same way I do my junk journal covers, except I changed the dimensions to reflect that of a Midori-styled notebook. Once I had my cover done, all I had to do was gather some scrapbook and graph paper, and made my inserts–these little saddle-stitched notebooks–that I can easily slip in and out of my Midori. I added a little charm I made on my elastic band and my notebook was done!
I only made two covers so far and tons of notebook inserts to put into them. My first cover (the teal one) was a bit sloppy only because I had no idea what I was doing, and my second was just a little better, but I feel like the more I make them, the better they will be. With the second cover, I hand painted and stamped the colorful pattern straight onto the canvas, which added a bit more time to the process. Honestly, making yourself a FauxDori is probably the easiest and most cost effective way to owning your own Midori Traveller's Notebook. It's probably the only planner notebook out there that you can easily DIY at home and really make it unique to you. I think that's what ultimately appealed to me, the fact that I have full control on customization, from my handmade cover to all the inserts that are so simple to stitch up. So, if you're looking to try out a Midori and are cool with a fun DIY project, I definitely suggest making your own FauxDori and try it out for yourself!