my greek myth trip 2014 travel junk journal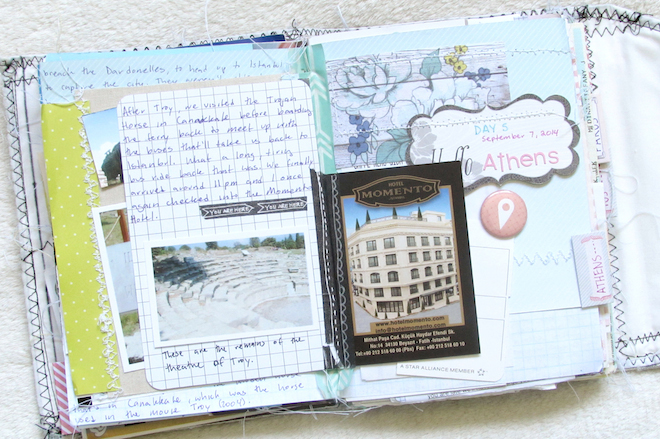 Ever since I got into scrapbooking, I always make sure to scrap my trips. Before, I would always take a journal with me on those trips, but I was never really conscious about using them. To be quite honest, I'd forget about them and simply take hundreds of photos instead, then maybe document my trip from memory once I got back home. But since becoming a scrapbooker, I've gotten much better at documenting my trips, especially on the go.
Remember this little video I made of my Greek Remains of the Day journal when I had first finished making it? That was the journal I was going to use for my "Greek Myth Trip" that I (at the time) had been planning on going on. Well, back in September, I went on that trip and I brought that journal with me, along with a a small ziplock bag of embellishments, add-on journal cards, washi tape sample cards, clips, glue dots and a few colorful pens. It was the first time that I really documented on the go. It was very hard not having all my supplies with me and I also found spacing out my journaling to leave room for my photos that I was going to add on later when I got back home was quite challenging. But I did it and it came out quite well!
My journal is rather thick now that all the pamphlets, ticket stubs, business cards and photos are all in! I was able to document my entire trip in one journal. I got a lot of compliments on my journal while away. All my trip mates in one of the group tours I was on really liked it and loved the idea of scrapbooking my trip like I was. They were even more impressed that I had made the journal myself.
I learned how to make these types of journals from Mary Ann Moss in her Remains of the Day online class. They are made from fabric and paper scraps. I've since made lots of these little 6×8 journals, changing a few things here or there and adding a bit of my own flair to them. Like, instead of using a wrap-around tie closure, my most recent journals use velcro. I also don't use scraps, but fabric sample swatches and 12×12 scrapbook paper that I cut down to size. I also really like adding graph paper to my journals to have some nice room for journaling. I just adapted what I learned in the class to suit my own style. I find that these sorts of journals are great for traveling, using as art or "smash" junk journals and mini scrapbooks. They're great gifts and if you're interested, I have a few I made for sale in my shop!
I made a little flip through of my filled Greek Myth Trip 2014 travel junk journal so that you can get a better look at how it all turned out. I didn't film all the pages, just the first half of it. If you're interested in seeing the entire journal, check it out in my gallery here. I really love how this turned out and am looking forward to documenting my other trips this way in the future.