mid-year reflections | journal with me ✩ 26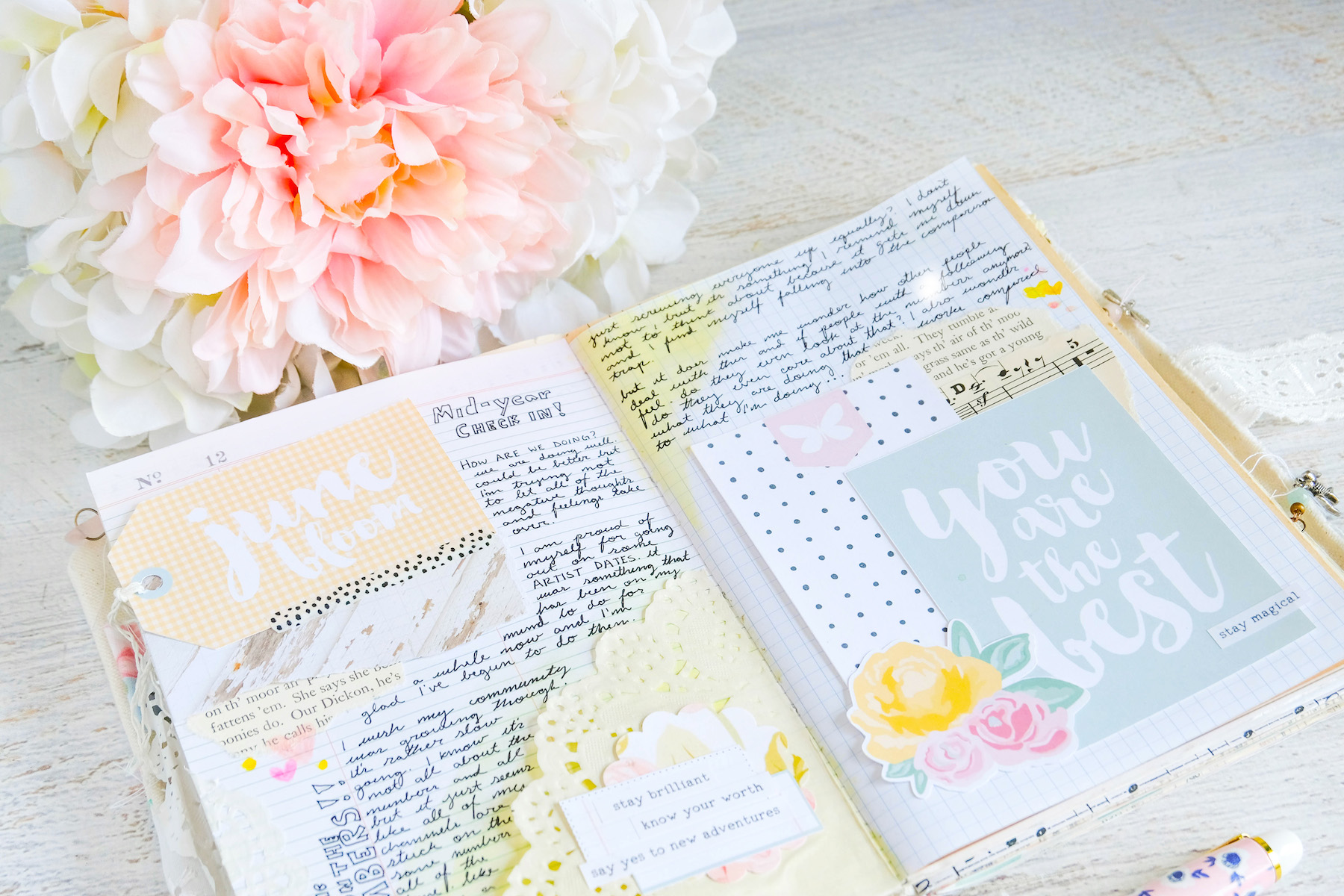 I took a lovely walk to Central Park this past weekend and did a bit of journaling in my unraveling journal, jotting down my mid-year reflections. I actually journaled about a few other things as well, but for the purpose of introducing and sharing this particular journal with me, I primarily journaled on my mid-year reflections.
Since it was the first of June, I wanted to get down a few thoughts on where I am now and how well I've been keeping up with my One Little Word, which for this year is bloom. I ended up using my new free printable, June Bloom, to decorate this spread. I thought it was fitting and it matched the overall color scheme and theme of this journal too.
Along with my printable, I also tried adding a bit of mixed media. I kind of made of mess of it though. I used my Arteza watercolor pencils* first to decorate the page with a few hearts, then decided to take out my Jane Davenport watercolors* to give the page a more watercolor wash look. That was a mistake. I sort of knew it the minute I laid down a little too much yellow at the start. But you'll see how I saved everything in the journal with me video below.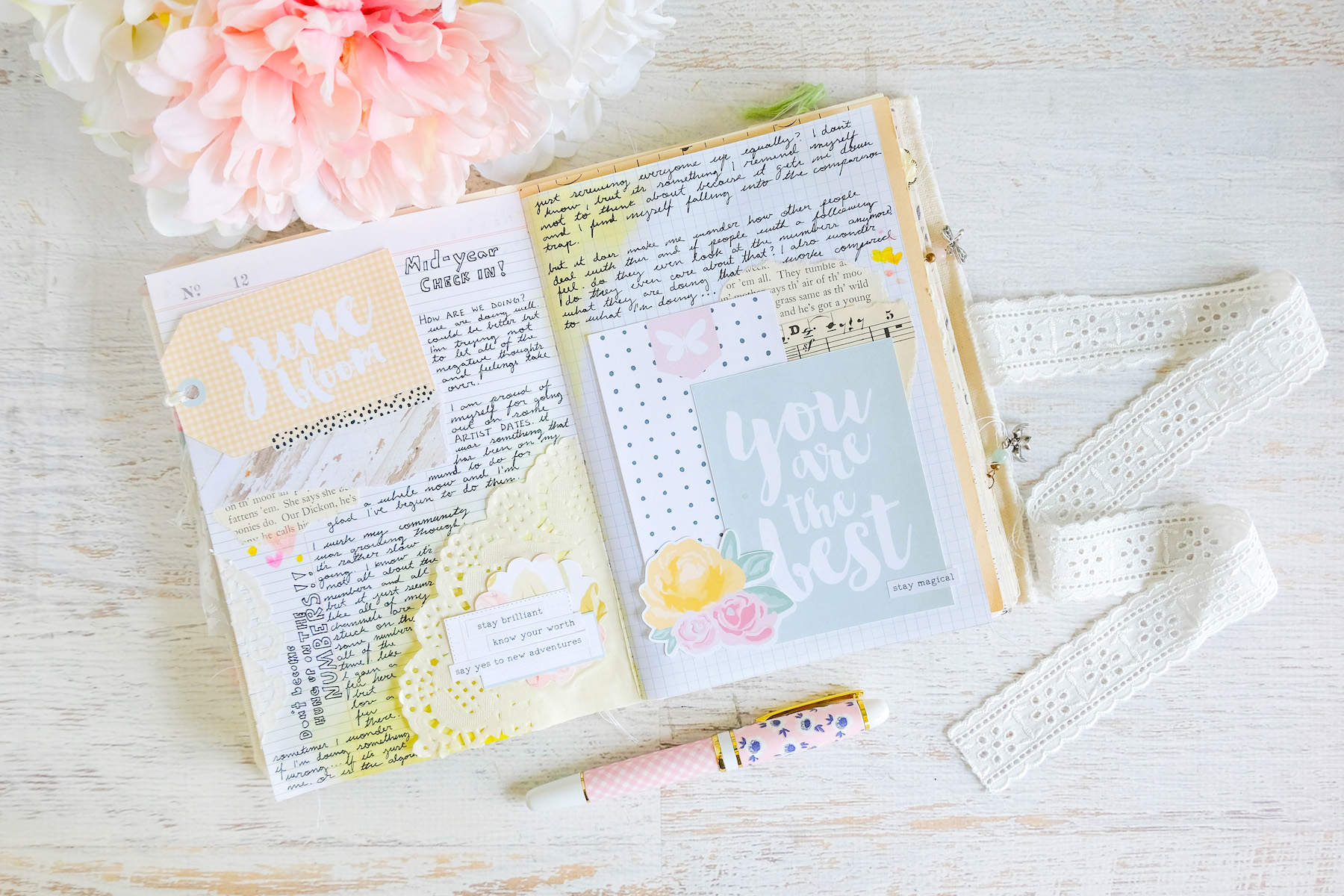 Besides that spread, I did a bit of journaling a on few pages that I had previously decorated but never journaled on. I especially love this one where I used a piece of lace as a tip-in. It covered up my journaling on one of the pages. I love how it hides the journaling but at the same time shows that there is indeed some thoughts behind the curtain. I paired this page with this lovely card from Nazy at Amity Bloom, which reads:
Happiness blooms where seeds of love and joy are planted.
I loved the sentiment and how it fits perfecting on the page. It compliments the piece of floral fabric I have sewn onto my page to create the tip-in well. I simply tucked a doily behind it to complete the spread.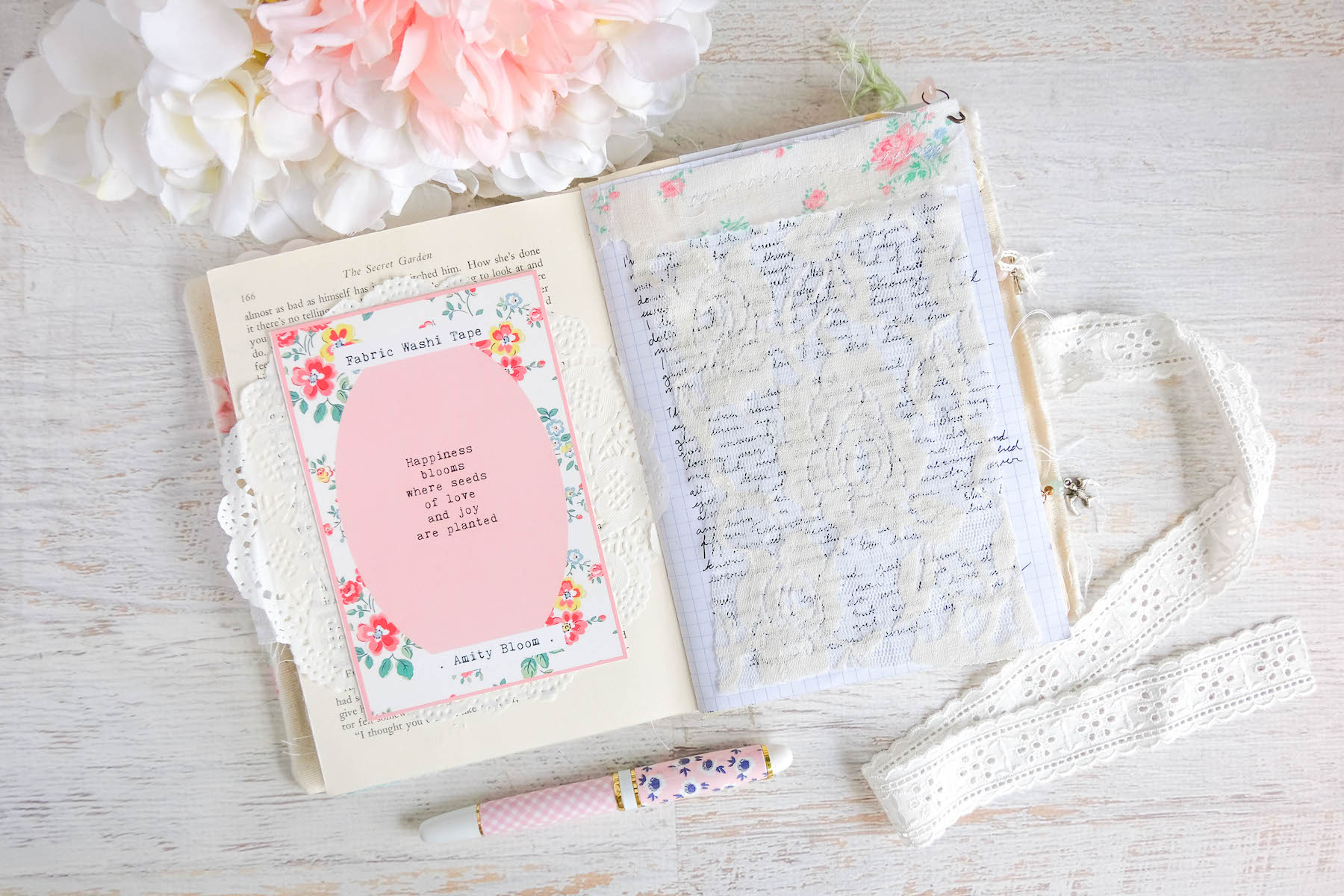 I had such a lovely time in the park this time around. It was a really nice day out. I managed to ignore all of the people around me while I walked through the park, searching for a spot to sit down and journal. While on my walk, I was very mindful off all of the nature around me. I managed to spot A LOT of the wildlife that lives in Central Park, which was a pleasant surprise. There were some moments I wish I caught on film because they were so magical. But I guess there was a reason I wasn't rolling for those moments…I'm thinking those moments were just for me.
Anyway, I hope you enjoy a little look into my time at the park and enjoy the journal with me!