mindfully you email "mini course"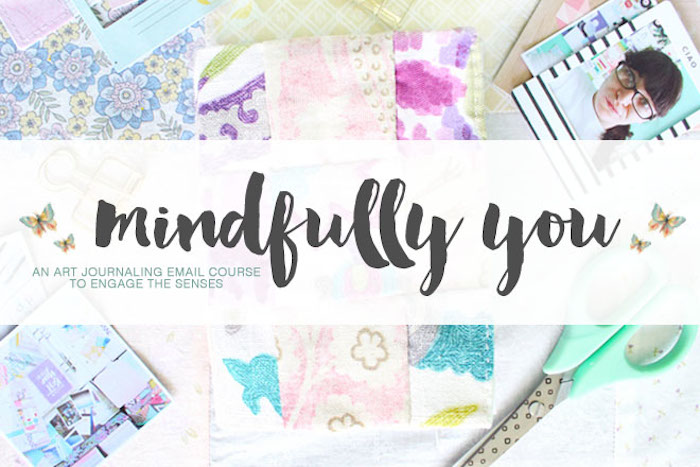 For the past year, I've had a bunch of ideas for new ecourses swirling around in my head. A lot of them I outlined lessons and even made websites for them, but I never seemed to get any of them done. Mindfully You was one of them. Except, unlike the others, Mindfully You was finished in terms of lessons and prompts, I just did't have content for it–as in, I hadn't actually done any of the lessons or completed any of the prompts myself. And I don't know what is was, but I couldn't even motivate myself to work on it. But I thought it was an interesting course and I had all these really cool prompts just sitting there that I decided to share this course a bit differently for the new year.
So here it is! The Mindfully You Email Mini Course!
It's basically a monthly email subscription challenge to be more mindful in your life and in your documenting, whether that be in your art journals, scrapbooks, written journals, photography, etc. Although I intend for this course to focus on art journaling, I believe much of these prompts can be adapted towards any way you document your life.
Each month, you'll receive an email full of inspiration and prompts geared towards mindfulness in your art and in your life. The prompts will have you used your senses to explore the life around you, pushing you to be mindful about certain things in your own life that you might have not been aware of before. I will be working through the course with you and sharing pages from my own journals, as well as any tips or tricks I use to respond to the prompts. I'm hoping to infuse a few how-to's and video tutorials in these emails from time to time, so to give the mini course that full ecourse feel I'm used to.
Mindfully You officially begins on January 1, 2017 and will run until December 31, 2017. But when you sign up now, you'll receive a course overview and the first prompt to get us ready for January.
AND THE BEST PART?
This email course is completely free!
So if you're interested in joining me on this wild ride to become more mindful in life and art, definitely check out the Mindfully You course information page to learn more and sign up today!