my 2016 heidi swapp memory planner: march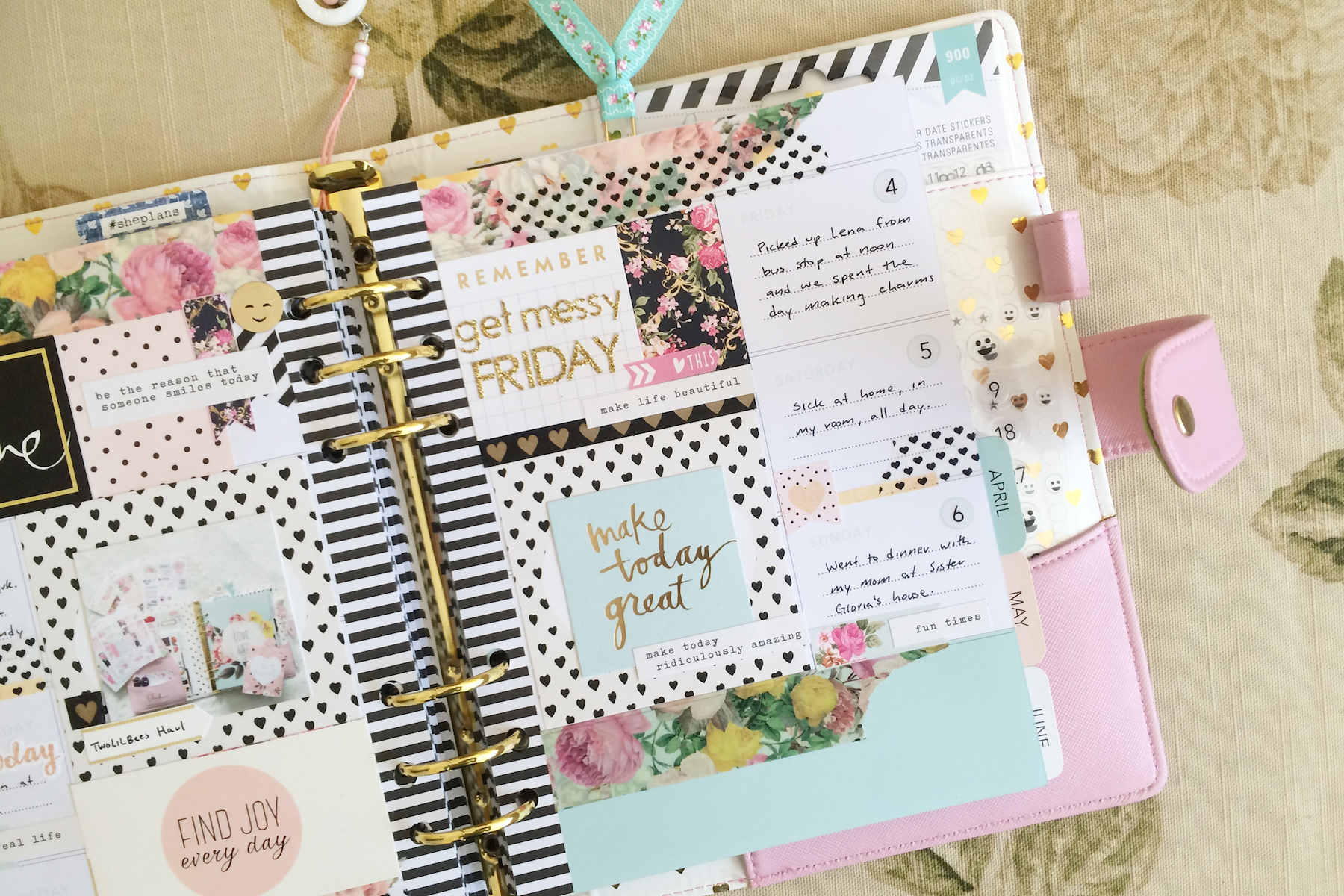 March's planner pages are by far my favorite pages in my memory planner thus far. I picked up some of Heidi Swapp's floral washi tape from her Marquee line at Michaels and used it throughout March's pages, along with some stickers I bought from Twolilbees on Etsy that matched so perfectly with the entire Memory Planner line, it was just meant to be. March's pages is very shabby chic in aesthetic, even the pages where I used the November Planner Society kit turned out lovely.
I began March by decorating the dashboard. Following the same thing I did in January and February, I used the floral washi tape to accent the headers in the different boxes, light green alphas for the month in the circle, one of the 2×2 quote cards for the mint box, then filled out the other boxes with quotes from Elizabeth Gillbert's Big Magic, my list of goals and important dates for March. For my first weeks' spread, I used stickers from Heidi's Memory Planner line along with my Twolilbees stickers. I didn't have many photos to add onto my spread this week, so I used a few of the quote stickers and cards from Heidi Swapp, just to give the page a little interest. But how perfectly does everything match!
For the second week, I finally dug into my November Planner Society kit. I absolutely loved the light florals in this kit, so I made it my main focal point. I did have a few photos to add in this week, so I framed them with a mint floral washi–also from Heidi Swapp–just so that I have that floral washi theme running throughout my month. I also added a quote from Big Magic on the right page, because I felt myself slipping in terms of my creativity and I wanted start it up again in March. So having all of these quotes throughout my month is helping me to keep that creative goal in mind.
The third weeks' spread, I went back to using all Heidi Swapp products along with my Twolilbees stickers. I also used some really pretty gold foiled washi tapes that I purchased at Michaels during their "lowest prices of the season" sale. I actually lucked out and found the mint and pink gold foil set at my locals Michaels, which restocked the washi tapes for the sale. These are such lovely tapes and I love it how everything matches and makes the page come together nicely!
I continued using all Heidi Swapp products and my TwoLilBees stickers for this week. I filmed my very first "Plan With Me" video and shared my process in documenting and decorating this particular week in my memory planner. It was super fun! The more I dedicate my time to working in this planner, the more I love my memory planner and want to fill it up. My process has been pretty consistent this entire month, which is great because I'm creating a habit out of it. I know that every Sunday, I'll sit down and work on that week's spread and it's very relaxing and therapeutic and the best part is that I never fall behind!
Since the last week of March was only Monday thru Thursday, I dated that half of the spread and left the other page undated. I decided to decorate both pages though, because leaving that right page blank just felt weird to me. I had enough photos though to fill the page, so I went ahead and did it. For the circle dates, I put these icon stickers that come in the Heidi Swapp date stickers pack, which worked out well since I didn't want to date April in the March section.
This is probably my favorite month so far in my memory planner. I love the cohesiveness in the decorations. I think I only deviated from the Heidi Swapp/Twolilbees decorations once, where I used my Novemeber Planner Society kit. But I'm so proud of my spreads this month. I'm just so inspired by looking at them and I hope you are too!