my DIY mini book and NSD 2014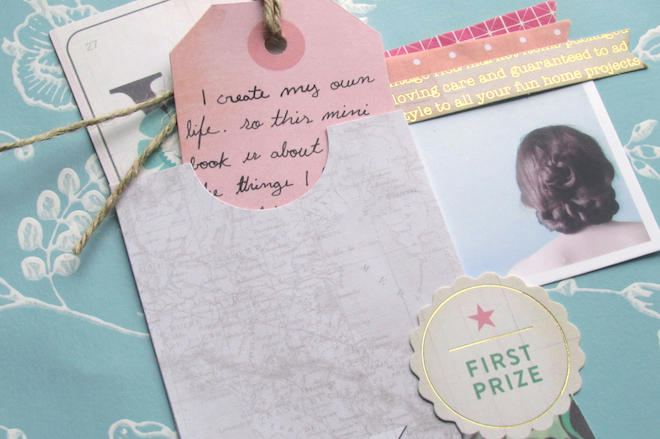 Greetings! So, this past Saturday was National Scrapbooking Day and the scrapbook community banded together to create lovely memory keepers all day (or really all weekend because I know some people are still going!). Big Picture Classes held an event, #NSD10K, the goal being to flood Instagram with 10,000 scrapbook layouts, Project Life spreads, etc all from this weekend. This was my first time participating as I haven't been involved in the scrapbook community very long–to think it's only been four months!–and it was so much fun! I know a lot of the scrapbooking sites held events all day long, but I followed Studio Calico's event since I'm always on that site now. There were some lovely challenges posted, which was great because it really gave me an idea of what to try out in my spreads.
Now, Maggie Holmes' Mini Book Workshop on Studio Calico just started May 1st and I had been holding off starting on my mini book, so that I had something to focus on for NSD. And I'm so glad I did because it gave me something to scrap, especially without photos, because I didn't have many! I'm also really loving the way my DIY mini book is coming out. It's no where near finished, but I'm so proud of all the pages I made for it. I think these are by far some of the best I've made in a very long time. I think it was because I was limited in my focal point. I didn't have pictures, so I looked through my iPhoto library and printed out a few of my favorites that fit with the color scheme I wanted to follow. I decided to to make my mini book about myself, the things that I love, my thoughts and dreams. I kind of just wanted to sit down and make something without too much thought and just journal what I was feeling or just whatever I liked. The pictures I chose really limited me, but at the same time it made me think more creatively, because sometimes the page didn't even contain a picture! It's kind of like I blended my art journaling and scrapbooking together to create the start of this mini book.
This weekend was very lovely, very therapeutic. I wasn't feeling too hot and to just spend the day sitting down at the table by the window and just scrap was very nice. I kind of exhausted my creative juices a bit, but I thoroughly enjoyed the challenge to scrapping without having a clue before hand of what I was documenting. Hopefully now that I have a focus (me), I can now plan out pages a bit more easily. It's different being more introspective in a scrapbook project. I normally document my day or a specific event or trip. This one is just my thoughts and feelings. It's a lot more open ended and I like it being different from my norm.