organizing my workspace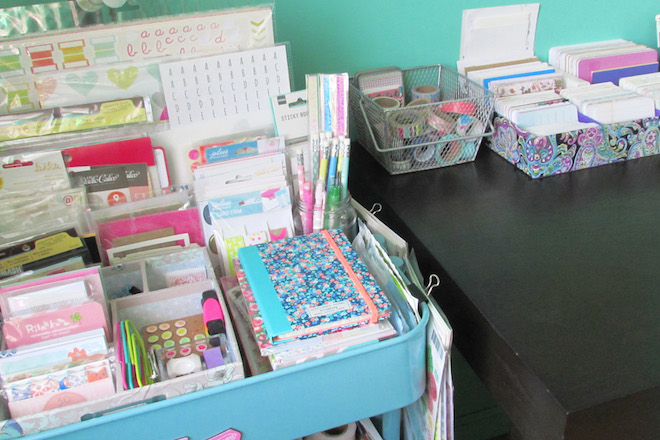 I live in a tiny space. I still live at home and my room is just plain small. It's a very squared room and I often find it difficult to arrange my furniture in a way that would make my small space seem spacious. I don't have that many pieces of furniture, three big pieces at most, and even though everything I own is stored in my room (with the exception of my books, which are in a bookshelf outside of my bedroom), I still find my space feeling a bit too cluttered. My desk/craft area in particular, is alway extra cluttered.
I'm a messy crafter. When I'm at work on something, a mini book, my Project Life album, anything, my space is usually a mess. I like seeing all of the products I'm using spread out in front of me, so everything comes out of its packaging and is littered about everywhere. Most times when I'm done for the day, I put everything back in their packaging but don't immediately put them back in my Ikea Raskog cart, where I pretty much store all of my craft supplies. And when I go out to Michaels or order more scrapbook supplies online, they tend to pile up on my desk because I have no time to organize them into my cart. This past week was one of those weeks that my desk was just piled high with stuff and it looked a hot mess.
So, today I spent the day organizing my space, cleaning my room and just rearranging furniture to make everything seem a bit more spacious. I took extra care of my desk area and just wanted to share a few photos of it after some cleaning and a major organizational overhaul!
A lot of the organizer trays that I use are those pretty cardboard ones you find at Michaels. The purple/blue/green paisley one on my desk that stores most of my Project Life cards is actually a jewelry organizer I found in the bead section. I wasn't going to purchase it at first, but I'm so glad I did because it works so perfectly for Project Life cards! It was a complete life saver because I hate not having my cards right there in front of me where they are so easily accessible. The metal milk basket of sorts is a piece I found in a cabinet under the sink in our main bathroom that I share with my brother. I was cleaning it out one day and there was this slightly rusty metal basket. We were going to toss it, but I saved it and it houses all of my washi tapes perfectly.
I have a lot of pen/pencil cup holders and they come from all over the place. The two main ones that are on my desk are really pretty drinking cups that I found at Marshalls. The one pictured is a teal green and the other, which you can sort of see in the first and last photos below, is a dark pinkish burgundy color. I keep all of my cute pens in the green cup and all of my Sharpie pens, American Crafts markers, and small scissors in the pink cup. Then I have a lot of mason jars. All of my pretty pencils are located on the top tier of my cart in a clear mason jar. You can't really see it very clearly, but in the second tier I have about five mason jars that hold my brushes, Sharpie markers, watercolor tubes, watercolor pencils and colored pencils. All of my mason jars are recycled pizza sauce jars. We like to make homemade pizza all the time in my house and the jars that the pizza sauce comes in is so utterly cute that I can never find it in me to get rid of them. So I wash them and clear out the wrappings and the sticky glue, and use them to help me organize my space! I tell my mother all the time that when I do get my own place, there will be mason jars everywhere, because I would have collected so many of them by that time that I wouldn't ever have to buy cups for anything.
Looking at my space now, I really don't have as much scrapbook supplies as I thought I did. It seemed like I had mountains of it before, when everything was stacked on my desk (I suppose getting rid of all that excess packaging is a real space saver). Everything besides a new Project Life Core kit is pictured below, most of it is located in my cart (I'm an absolute sucker for Project Life cards, so I hoard them like mad!) Hopefully my space will stay like this for a while. It looks less cluttered like this and I really like that.