photo diary: kuta, indonesia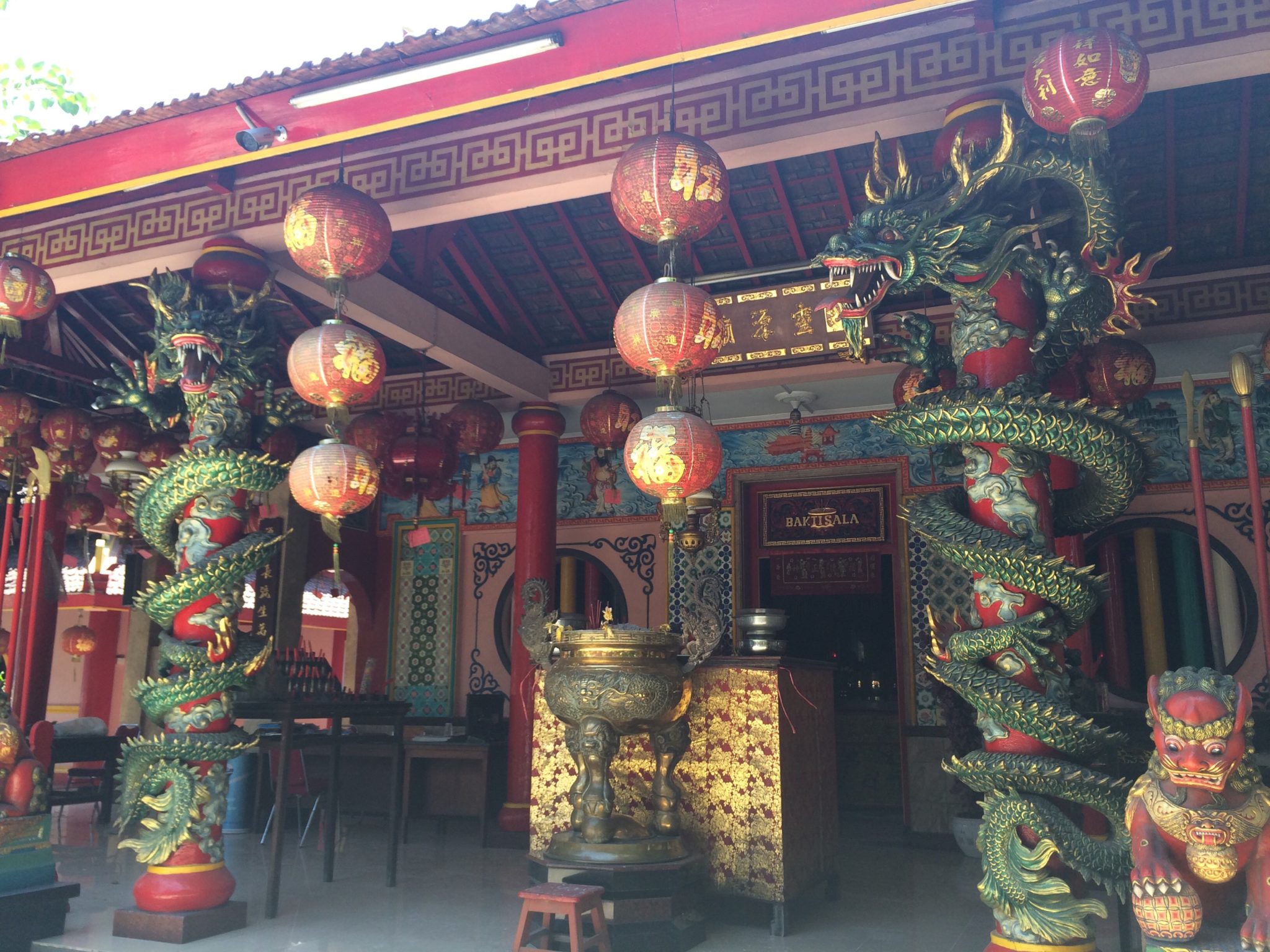 After 20+ hours of air travel and layovers, I finally made it to Bali with my dear friend John. It was around 4pm on a Friday afternoon when we arrived and we were absolutely exhausted. Yet somehow the both of us managed to functionally stay awake until evening time (like about 9pm) so that we'd be able to sleep through the night.
Our first day we didn't do much. From the airport we caught a taxi to our hotel, The Pavilion Kuta, which was nestled in a side street right off of the main road that lead straight to Kuta Beach. Once we settled in, we followed instructions provided by the front desk and found our way to the beach.
The beach wasn't the prettiest beach, which was a bit disappointing. We visited it during sunset and there were a lot of people around. The whole span of coastline was rather gray and the sky looked hazy as it hovered over the ocean. We stayed there for a bit before walking back to the strip in search of food.
We wandered down one of the side streets in the vicinity of the Poppies just to see if it went back to the street that lead to our hotel. We walked for quite a bit before turning back around because the street just went on and on. We eventually settled at a restaurant close to our hotel that John spotted as we were walking towards the beach and ate our first Indonesian meal. I had a traditional noodle dish with mixed veggies topped with a fried egg, which was rather spicy but delicious. After dinner, we retired to our hotel and crashed for the night.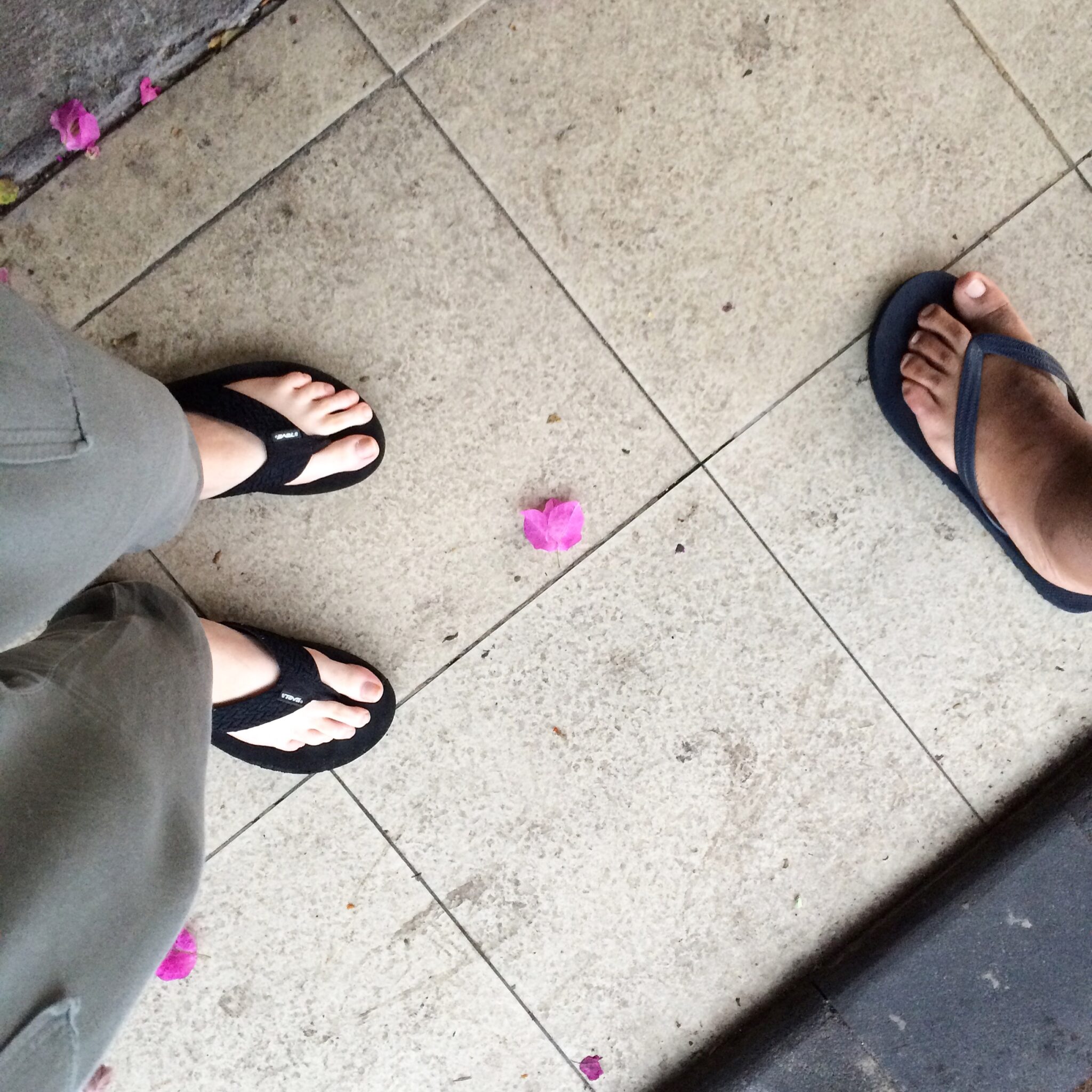 The following day we decided to revisited a few places we simply passed by on our first night. After having a really nice breakfast at a place called Angel's Essence, we explored all of the temple facades that were nearby before going off to search for Vihara Dharmayana. Vihara Dharmayana is an old, brightly red-colored Chinese Buddhist temple located on the corner of a busy street just west of Kuta's touristy beachfront. John and I had a bit of trouble finding it as we wandered down street after winding street, but we couldn't miss it what with its bright red facade.
The temple was quiet. There was no one at the front when we entered, so we weren't sure if we could enter the way we were dressed and all, but John spotted two women sitting to the side, who smiled and nodded to us, nonverbally indicating that it was okay for us to enter.
The temple was very lovely. Incense were burning and an unseen bird was chirping high in the trees that shaded the courtyard. We walked around taking a few photos. I marveled at the small moat around one of the alters that had turtles living in it. We quietly peaked into the different alters, a lot of Chinese lanterns hanging from the mantles, swaying in the wind. The temple was beautiful and rather relaxing, being away from the busy main streets of Kuta.
Afterwards, we bought a few things at a market–mostly nuts, dried fruit, rolls to eat for breakfast and water–before heading back to our hotel to take a dip in their lovely little pool.
Kuta is alright. Not really my favorite by a long shot even if it's the first and only place we've been to in Bali so far. I can see why people would come here, because it probably was great before it became a tourist trap for budget backpackers and surfers, but it definitely wasn't how I imagined it. I'm quite glad we're only here for a total of three nights before heading up to Ubud. I don't think I could've stayed any longer than that. I'm also glad we stayed where we did. Our little hotel is very relaxing and the small pool was a lifesaver as both John and I weren't too fond of Kuta Beach.
All in all, there wasn't much to do in Kuta. Most of the shops sold the same things and there weren't many sites to see apart from the few gems we passed just wandering the streets. The roads are really congested and walking down the narrow streets are quite nerve racking as you have to be aware of all the motorbikes as well as cars all going in different directions. Luckily, we have one more night here before we're off to Ubud. I really can't wait to see more of what Bali has to offer!