photo diary: milan, italy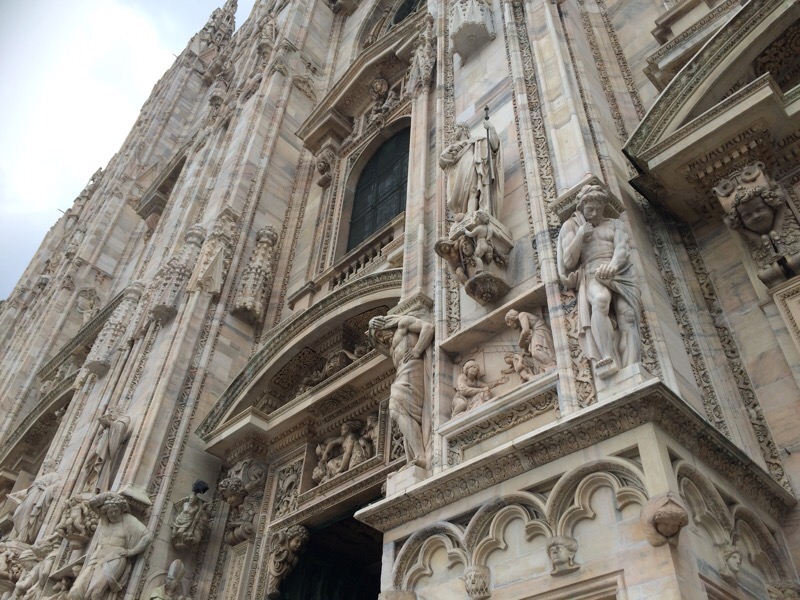 Hello from Italy! I know it seems like I just returned home a few days ago from my 3-month long trip through Southeast Asia, but I'm off again, this time to Italy, Spain and France. I touched down in Milan on the first, beginning my month long journey through Italy. I honestly feel like I started this trip a bit unprepared, especially in terms of having a clear idea of where and what I wanted to go, see and do. I sort of decided early on in my trip planning that I wanted to just go with the flow and with that said, I found myself not doing very much in Milan, well cause there wasn't much I liked to do there anyway.
Upon arrival I immediately felt like a fish out of water walking around with its head cut off. I hadn't traveled by myself in a long time and I think I forgot what it felt like to be alone in a foreign country where you don't know the language or where anything is. I don't know why I didn't expect Italy to be any different from everywhere else–maybe cause I've been here before?–but wow did it take me a bit to figure out where I was going and what I was doing.
But I made it and Milan was okay. The city is very modern compared to its Italian counterparts. It's very much a metropolis. Apart from the sites in the very concentrated city center, there's not much of Milan that looks like traditional Italy. I feel like people's feelings on Milan can go one of two ways: you either love it or hate it. I personally don't care for it very much, but then again I'm biased towards old traditional looking Italian towns.
Milan is very lovely for like a one or two day stay. Much of the center can be walked in a day if you're not going to spend hours walking through museums. I literally walked through the center every single day I was here in Milan and the only thing that I did was visit and explore the insides of the Duomo and its accompanying museum.
Duomo di Milano is an amazingly grand Roman Catholic cathedral in the heart of Milan. Apparently this Italian Gothic cathedral is the second largest in Italy, St. Peter's Basillica in Rome being the first. I can honestly say that while the outside architecture with all its fine detailing had me in absolute awe, the inside was dark and rather quite boring. I guess it was because there was nothing different about it. I think that's one of the downsides of extensive traveling and visiting similar sites around the world: once you've seen the inside of one Catholic Church, they all just end up looking the same inside.
But Milan was lovely nonetheless. The weather could have been better, but apparently Europe is being pounded with rain across the board this week, so it was just something I had to live with. Milan isn't a city though that I think I'd come back to and if I do, I'd probably use it as a hub to travel on to other surrounding cities.