this i know minibook: part two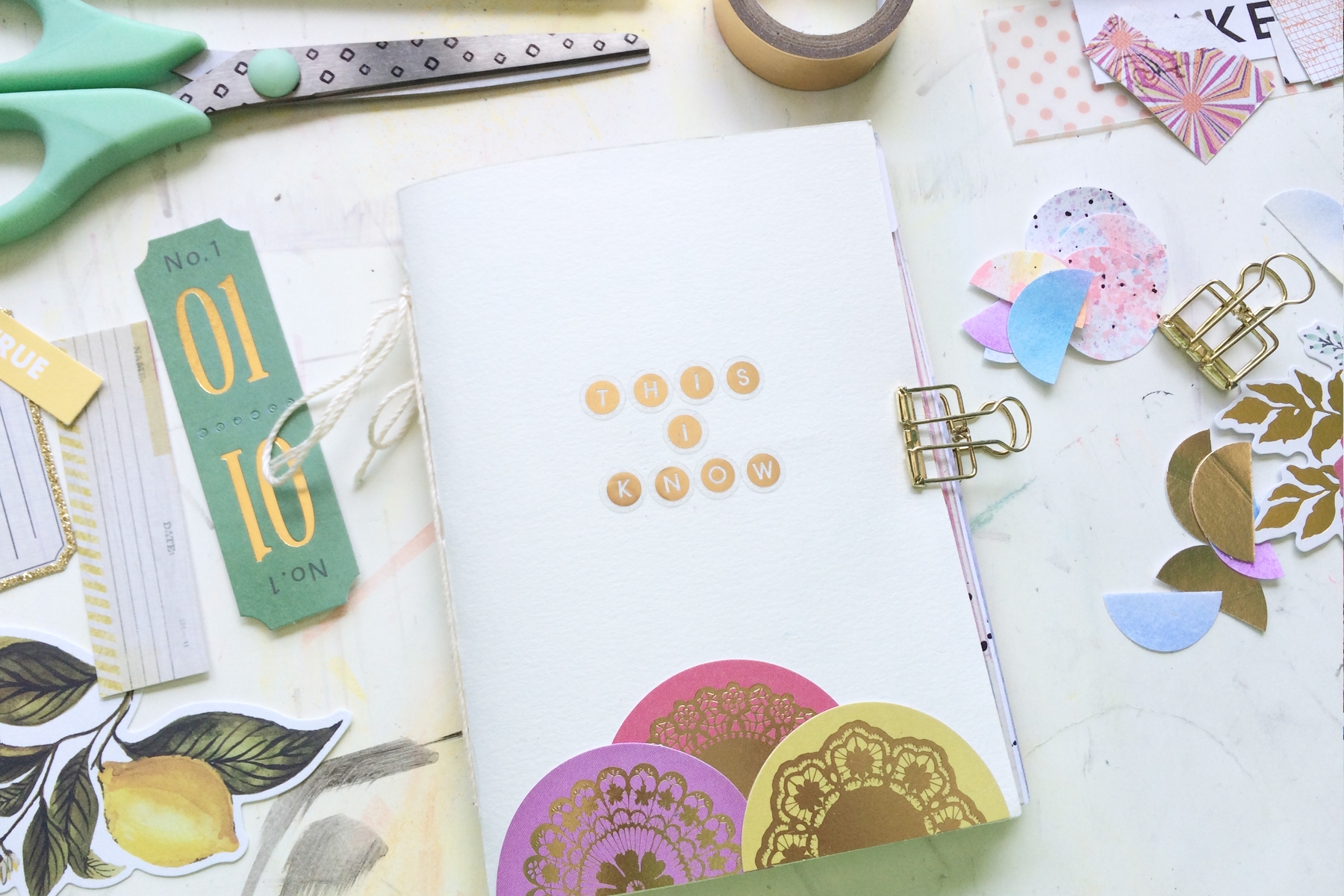 For (Inter) National Scrapbook Day, I finished off my This I Know minibook. I wanted to get this little book done before NSD, but alas, my life just didn't let me. But it's completed now and I'm so happy with it! I just wanted to share the last few pages here. Please forgive the messy desk. That's a piece of white poster board I have on top of my desk that I work on so I don't ruin my desk with all the paints and such. All the decorations I had in the previous photos I ended up using in the book (which I'm so proud of!). So I didn't have anything to cover up the mess and to be quite honest, it didn't even phase me when I took these photos. Oops!
12. be open to new and different possibilities.
13. collecting memories is the best souvenir.
14. make mistakes
I always find that when I get half way through a minibook, I tend to loose momentum. I think that sort of happened here, as I found myself running out of ideas, but I tried to play around with my paints as much as possible. So for this first spread I went back and used my watercolors and did some fun spatters on the page, which I end up covering a bit with a flower die cut. I also added in some pen scribbles, which are my favorite.
For the next one, I just scribbled all over the old book page before covering most of it up with a collage of some of the pieces I pulled out specifically for this little book. My whole goal was to use up all of the bits and pieces I had originally set aside for this minibook and not add anything else from my stash, only to keep the book looking consistent in terms of papers and embellishments. So I was basically stuck with whatever I had on hand.
This last one was another one I played around with my watercolors. It's super simple and I think the paint splatters are what gives the spread interest as well as movement, since it creates a contrast with the papers and colors I used. And who doesn't love a good paint splatter?
15. there is always time
16. when life gives you lemons plant the seeds and grow your own lemon tree
For this next one, I used scraps. Quite literally, that gold foil circle outline piece is the scrap left over from when I punched a bunch of gold circles out for my "Be True" spread earlier in the minibook. I don't know what it was, but I couldn't throw that piece away, so in it went into my book!
The following spread I played around with watercolors again, using the gold washi tapes that I cut into strips and bits as masks of sorts. Once the paints dried, I peeled the washi off to reveal a bit of the white paper underneath, then I kept the washi tape on the page, but just positioned them a bit off from their white shadow.
This next page I did on the go. I took a few things with me one day when I had to babysit and take the kid to his swimming lesson. Since I was waiting around for an hour, I decided to work on my book. It's very interesting how long this particular page took me! It took me the whole hour I waited, mostly in part because I felt so limited in what I could do without my paints and other mediums. I basically used paper, my tape runner and a pen.
17. being alone sometimes is not always such a bad thing
18. travel the world
I kept this last spread pretty simple. Again, I had this pink polkadot vellum paper that you can see through to the next page, so all I did was a little collage of scrap paper strips on the old book paper and added a flower die cut to accent the page. On the vellum I added a gold glittered tag and journaled on it. For the next spread, I cut a globe image from a piece of map wrapping paper I had and glued that down before adding my journaling and the black paint splatters.
19. what's your currency?
20. you only need one true friend in your life
For this next one, I basically played around with all the scraps I had left over. I glued down some random bits and wrote "what's your" with pieces of the gold foil washi tape. I then wrote "currency?" with black India Ink. For this last spread, I took the remaining flower die cut and the left over half circles, and just collaged them on one side. On the other side, I did my journaling with some vellum alphas to highlight the main point and the rest was written in black ink.
Anyway, enjoy the little flip through video I have below. In it, I go through all of the pages and spreads in this little book and basically explain my fact for each one. It's the first time I really did a flip through like this and I do hope you enjoy!