this i know minibook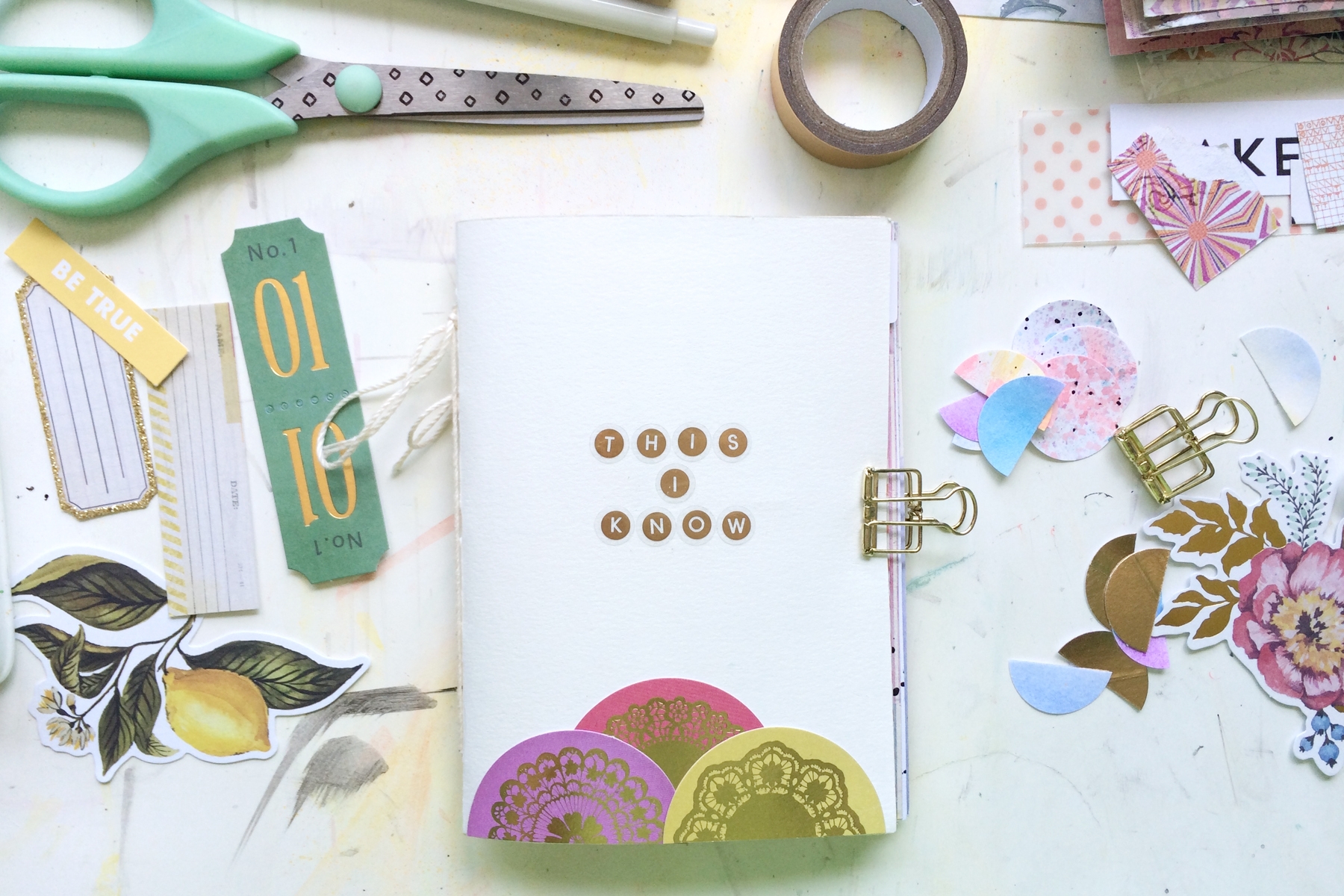 I haven't made a minibook in a very long time! Every year, I usually purchase Studio Calico's Minibook Workshop Bundle. It's a bundle of brand new minibook classes for the year. I made my DIY Minibook and my Celebrate Today minibook from the classes Maggie Holmes did for the workshop in 2014 and 2015 respectively. Last year though, I didn't finished any other minibook class besides Maggie's, so this year I thought I'd pass on purchasing the bundle all together. But throughout the year, a minibook class would go live for enrollment, giving you the opportunity to purchase just that one class if you like, instead of the entire bundle. Well, I come to find out this month that one of my favorite art journalers/scrapbookers, Caylee Grey, is teaching one of the minibook classes! I debated buying it–it's $10 for one class–since I hadn't allotted it in my monthly budget, but when it's Caylee and a hybrid art journal minibook class, I just had to have it.
So I purchased it this past Thursday and have been playing around in my minibook since. I did all the lessons once through, then set to work that Thursday afternoon making my mini. This book is definitely different. For one, it's tiny! It's about the size of a Pocket Moleskine journal, though I made mine a bit wider, so about 4×5.5, which is so out of my usual. It definitely pulled me out of my comfort zone since it's so small. But I'm absolutely loving the size of it! Caylee demonstrates so many different techniques and ideas to play with and I'm loving all the new ideas she's brought to my mind! Seriously, I would have never thought to gesso scrapbook pages where the pattern was too bright for my style, but OMG it's such a game changer in my scrapbooking and art journaling process! Like her, I'm more drawn to muted colors and pastels, so I'd normally just toss aside papers that are too bold. But gesso, hello! It's one of the moments where I thought, now why didn't I think of that before!
Now before I go on and give more of the class away–I'm not, I promise, so you can check it out for yourself at Studio Calico. Tomorrow (May 1st) is the last day to enroll in it–here's the first half of my minibook. I'm still working on filling it up, but I've actually made quite a handful of spreads already. Seriously, I had so many ideas and things I wanted to try that once I came up with an overarching theme to my minibook, I've just been working on it nonstop. My minibook is called This I Know, and in it is a bunch of things that I know to be true about life. These are all things that I have pulled from my own experiences and believe to be true. Some points may not pertain to you, but I think they are all pretty universal for the most part. But for the first page, I followed Caylee and jotted down an intro page of sorts, including a photo and a few true facts about myself.
1. be forever who you are
2. not all dogs are friendly
This class definitely got me playing around with my mediums and materials. I pulled out my acrylics, which I haven't played with since I bought my watercolor palette last year. I used a mixture of both types of paint in this book and I love the effects. I also left a lot of the pages really simple. Like this green page with just the flower on it. I felt that since the spread before it and the page after it where really busy, leaving it so simple just made it work.
3. never lend your favorite book out to a friend; you'll never see it again
4. it's all okay in the end. if it's not okay, it's not the end.
5. give love away
6. mother is always right
Caylee's class also encourages you to use all sorts of different papers in your minis. Here, I used scrapbook paper (some of which I gessoed over), old book pages, paper doilies, printed vellum and watercolor paper. I love all the different textures and visual effects it gives my mini.
6. being weird is good. it makes you interesting
7. everyone love a great floral arrangement
8. there's a story in everything
Even though I've been playing around with some new things, I still managed to incorporate one of my image transfers into my mini! I mean, it's not one of my art journals if it doesn't have an image transfer! It was very interesting including one on such a small canvas, but I like how it blends in with the scrapbook paper.
9. be true
10. be honest
11. make something. grow
This "Be True" spread is by far my favorite. I used my circle punch to punch through practice sheets where I played around with my acrylics and watercolor paints. I also covered a page with gold foil washi tape and punched circles out of that too. Then I painstakingly cut them all in half and layered them as so. The bigger half-circles were circle die cuts from Notes & Things from Crate Paper's Project Life value kit that I also cut in half. I just love all of the colors and the texture the layers create. It's just so pretty! I also really like the "Be Honest" spread, where I used alphas as a mask and painted over them. It's so fun and I love the effect.
That is all I have to share so far from my This I Know minibook. I'll definitely post the second half of spreads and a flip through video on my YouTube channel when it's all completed. Definitely check it out in my gallery as well.