my 2016 heidi swapp memory planner: april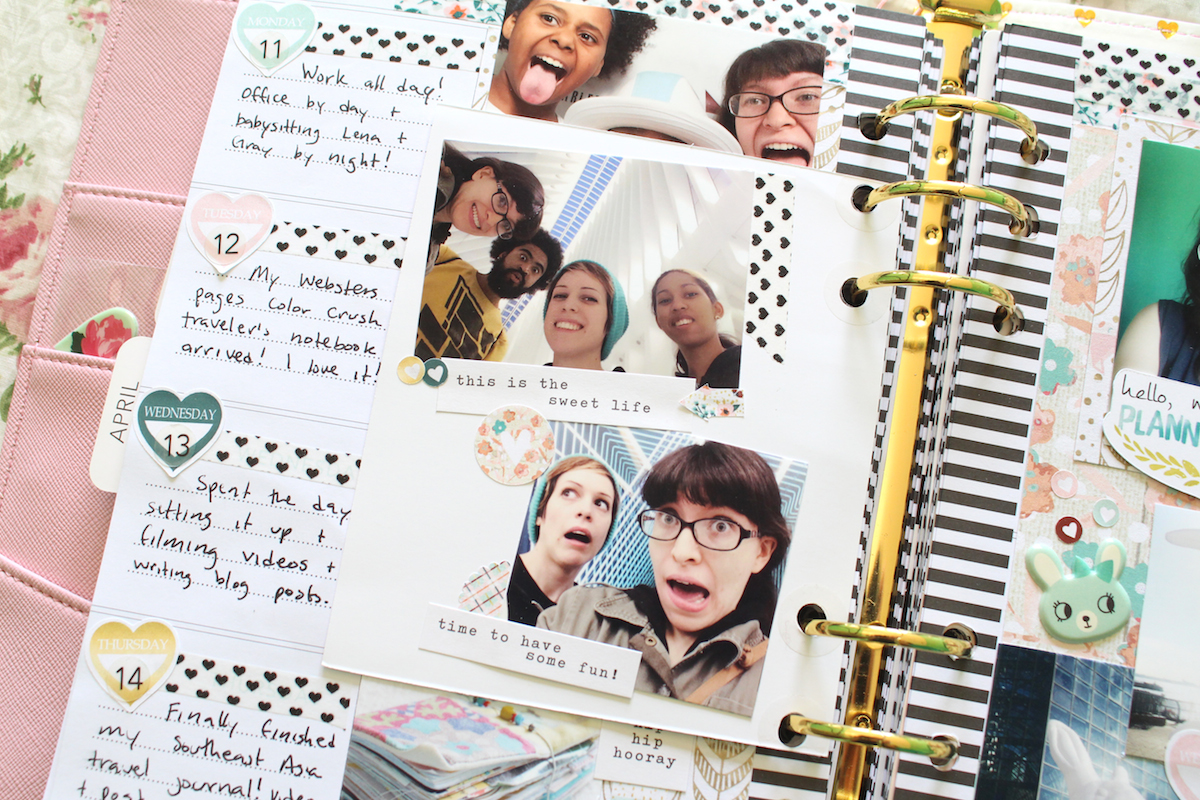 The month of April in my Heidi Swapp memory planner is interesting. For all the weekly spreads, I used mostly my November Planner Society kit. I used up the entire kit for this month, give or take a few stickers I have left, and I really love it! I've been struggling with using up my kits, but I think I've finally figured out how I'm going to use up my Planner Society kits. I think each month is going to be decorated with a different kit. I have tons of other products that I like to decorate with, such as Heidi Swapp's own memory planner line that I decorated March with, but this would be a great to use up my Planner Society kits, especially the papers, as they are beginning to pile up.
The first week of April began on a Friday, so I just covered up the entire left side with paper and printed a bigger photo of the April Love 2016 challenge from Susannah Conway to place there. I documented the start of the week on the other side, which wasn't really much since it was just the weekend.
This is the first full week of April. I continued using the November kit and I really struggled with adding all of my photos into this week! I had a lot more photos than usual, because I wanted to add in photos of my April Love art journaling pages, as well as everyday photos I took that same week. But I think I managed to lay them out in a way that works.
I also had too many photos for this week. This was my birthday weeks and while I didn't add any April Love art journaling spread photos, I still had a lot of photos of just my everyday life and my weekend with my friends! So I added a card from one of my Planner Society kits and added the remaining photos that didn't fit in my spread, but that I wanted to add, on the back of it and hole punched it in so it sits in the middle of the spread.
I continued using the November kit for this week and again, I had quite a bit of photos that I wanted to include in this week's spread. Not nearly as many as the last week, but still a handful that I has to strategically collage them on the page. I ended up using a lot of the stickers from the kit, just to connect each photo, so they whole thing would look a bit more cohesive.
This last week was a bit of a challenge. I didn't have as many photos as the previous weeks and I was working with whatever I had left over from my November Planner Society kit. But even so, I think the spread came out great. I managed to use up all of my November papers and most of the stickers and embellishments, even though I still have a fair few of them left. It felt really good to "kill a kit" as scrappers would say.
In all, I'm quite happy with how April turned out! Again, I've realized that I like using a whole kit for the whole month. It works to keep the month cohesive and it helps to use up my kits! I think for May I'm going to chose one of my unused Planner Society kits and use it for the entire month. I think going forward that is how I'm going to use up my kits. Anyway, I filmed a little flip through of my spreads from March to April. Watch it below and I hope you enjoy!