photo diary: mount bromo, indonesia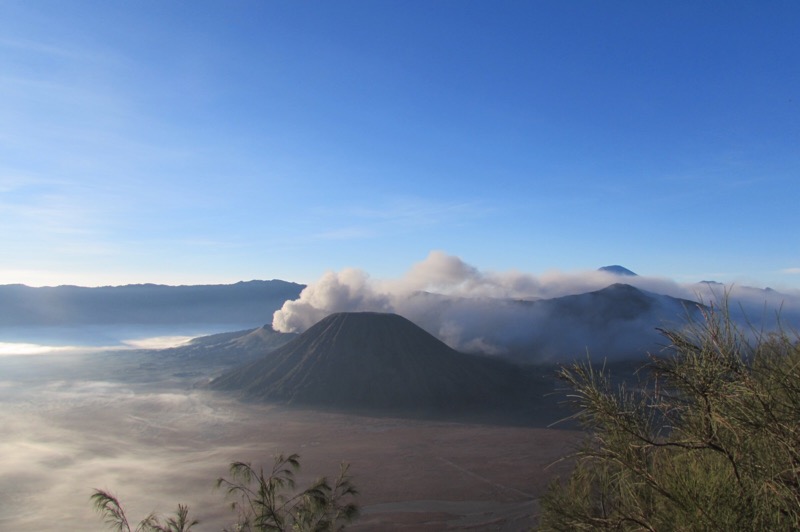 November 5, 2015 at 12:30am.
We get into a tiny teal green Toyota-branded jeep, driven by a very nice man named Hary, for what will be a 3 hours journey up the side of a mountain at night. Hary looks us over as we settle ourselves in, glancing at my friend John's pantless legs, telling us "Bromo is cold" so matter-of-factly that we somehow don't believe him. I wrap my jacket a bit tighter around myself and lean against the pillow in the back seat as Hary propels the vehicle forward and off we go.
We had decided to stay in Malang an extra two nights and do Bromo from there. We would have stayed three extra nights hadn't they been fully booked because that's what we had allotted ourselves for Bromo. We were originally gonna do Bromo via Propolinggo, then head up to Surabaya for a night or two before making our way to Yogyakarta. But things happened.
Okay, let's be real here. The reason we didn't leave Malang for Surabaya, or wherever we were thinking of heading, after doing Bromo on our own was because of a horrible–quite comical in retrospect–Mafia bus ride from Bali to Java and the fact that I got sick like a dog. I don't know and can't figure out for the life of me what got me sick, but I got whatever it was out of my system and am completely fine and back to normal. But let me just say, even though I felt alright for Bromo, being even slightly ill and climbing that high up in altitude leads you to almost fainting on top of a summit, in the midst of a crowd anxiously waiting for the sun to rise over the horizon and illuminate the sky over one of the world's most beautiful active volcanos. No climbing to the mouth for me. But it was okay. I'm okay. It was a life experience and one hell of a story to tell.
Anyway, our hotel in Malang was really nice and comfortable and even though their Mount Bromo tour was a bit overpriced, it was convenient and it eliminated a ton of hassle we just weren't in the spirit of dealing with. So we stayed in Malang for an extra two nights and did Bromo with a really nice private driver as arranged by our hotel.
Mount Bromo though was magnificent. Really, it should be illegal to allow people to walk around the base of an active volcano. Bromo was smoking the whole time we were in that crater and even though everyone who operates or organizes these Bromo excursions know when it's safe and when it's unsafe to traverse the crater (at least I hope they do), the world is still a very unpredictable place and anything could happen at any time. But what a beautiful sight and experience it was! Nature is just so majestic, it's a shame we all take it for granted.
After watching the sunrise from the viewing summit, we made our way down to the crater to get up close and personal with the volcanos. We walked about the ash filled crater, taking photos and videos and even posing with our jeep because our driver Hary encouraged it. We tried to climb up the side of Bromo to the smoking mouth of the volcano, but I became really dizzy and a bit ill halfway up, so we went back to the jeep, took more photos and left Bromo a bit earlier than expected. It was fine though. I was a bit disappointed that I became so ill up there on that mountain range. Really, if there weren't so many factors at play, especially if I hadn't been sick to begin with, we could've probably made it through the entire morning just fine.
Either way, we had a great time and here are some photos of Bromo and Co. in all their marvelous glory.