photo diary: ubud, indonesia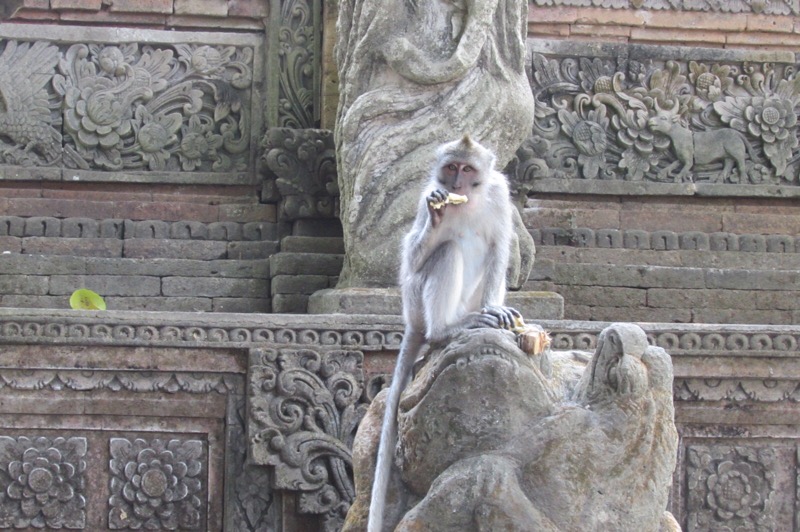 After Kuta and a day of temples, we finally made it to our next stay in Ubud. We stayed at Jangkrik Homestay run by a lovely family with two very adorable dogs. We stayed for about a week, which I think was just a bit too long in terms of finding new things to do in Ubud, but it was very relaxing.
On our first full day, we took a short walk to the Ubud Monkey Forest, which was just around the long block from where we were staying. We arrived there quite early in the morning, which is the best time to do the Monkey Forest as it's not too hot and not crowded at all. The Forest is very small. You only need a few hours to walk it completely and see everything. We were able to do just that and by the time we left the Forest around 1pm, there was a line of people waiting to purchase their entrance tickets.
Walking the Monkey Forest was really cool. We were literally walking alongside the macaque monkeys because they roam free everywhere. Adult, children and baby monkeys, all of them walk free around the forest, eating bananas and yams and sometimes jumping on humans as they walk by. They are generally harmless monkeys unless they feel provoked. But if you followed the rules that were posted all over the forest, walking through should be fine.
We had a great walk through the forest. The monkeys didn't really bother us much at all as we respected their space, seeing as the forest is their home. The whole place is sort of magical. Very relaxing and what a great way to start our first day in Ubud!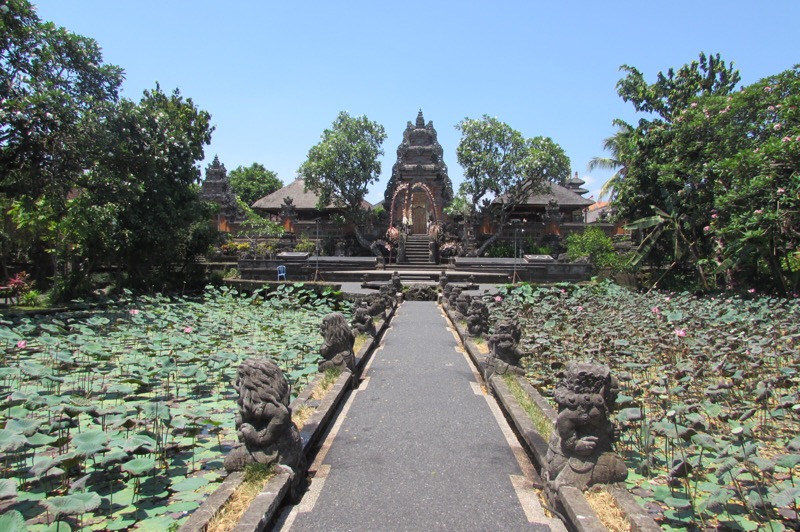 We visited Ubud Water Palace the following day along with various other spots on Jl. Raya Ubud, the main road. What a gorgeous palace! The entrance to this lovely palace is neatled between The Lotus Cafe and a Starbucks, so from the main road you can't even tell it exists until you walk through the inconspicuous archway and around an alter and see the temple at full view. You come upon a long walkway with two huge lotus flower ponds on either side. It's just so stunning! The walkway leads right up to the entrance of the temple.
Ubud Water Palace is probably the most beautiful temple in Ubud. While we visited it during the day, I can just imagine how even more stunning it must look at night when all of the lights lining the walkway are light and a Bali dance performance is being held.
Also on the main road, we visited Ubud Palace and Ubud Market. Ubud Market reminded me a lot of The Grand Bazaar in Istanbul. Every little shop sold the same things, quite generic Bali souvenirs, nothing special.
Ubud Palace was okay. When we first tried to visit, they were setting up for some ceromony so we had to came back. When we were able to enter the temple courtyard, is was full of Asian tourists and not as nice as the Water Palace, which was completely empty when we visited because of its obscured location. But it was still nice to visit.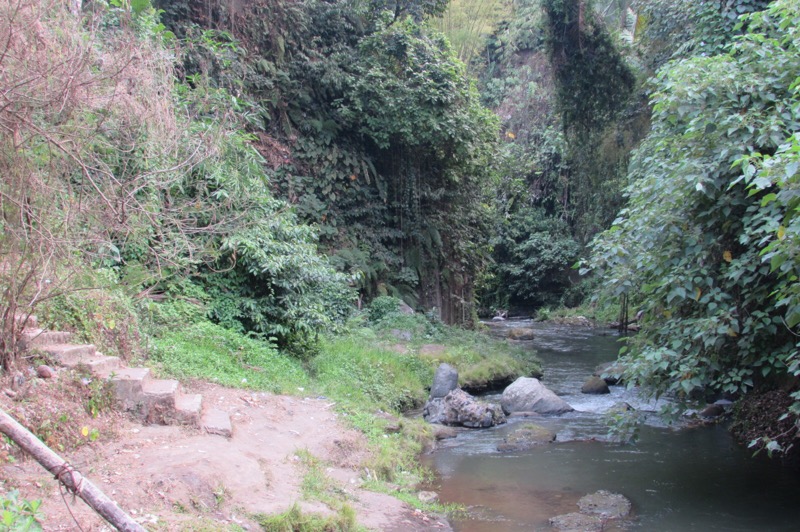 The last two places we visited were Tjampuhan Temple and "Signature Street" on Jalan Kajeng. Tjampuhan Temple was unfortunately closed when we went, but we were able to marvel at the small ravine nearby, which was quite lovely. "Signature Street" is by far one of my favorites. It's sort of like a Hollywood Walk of Fame, with tons of plaques on the ground. Except it's where travelers to Bali from all over the world can purchase a block of concrete and leave their mark–their signature–on Bali. It was really cool walking down this street and looking at all of the decorated blocks tiling the floor.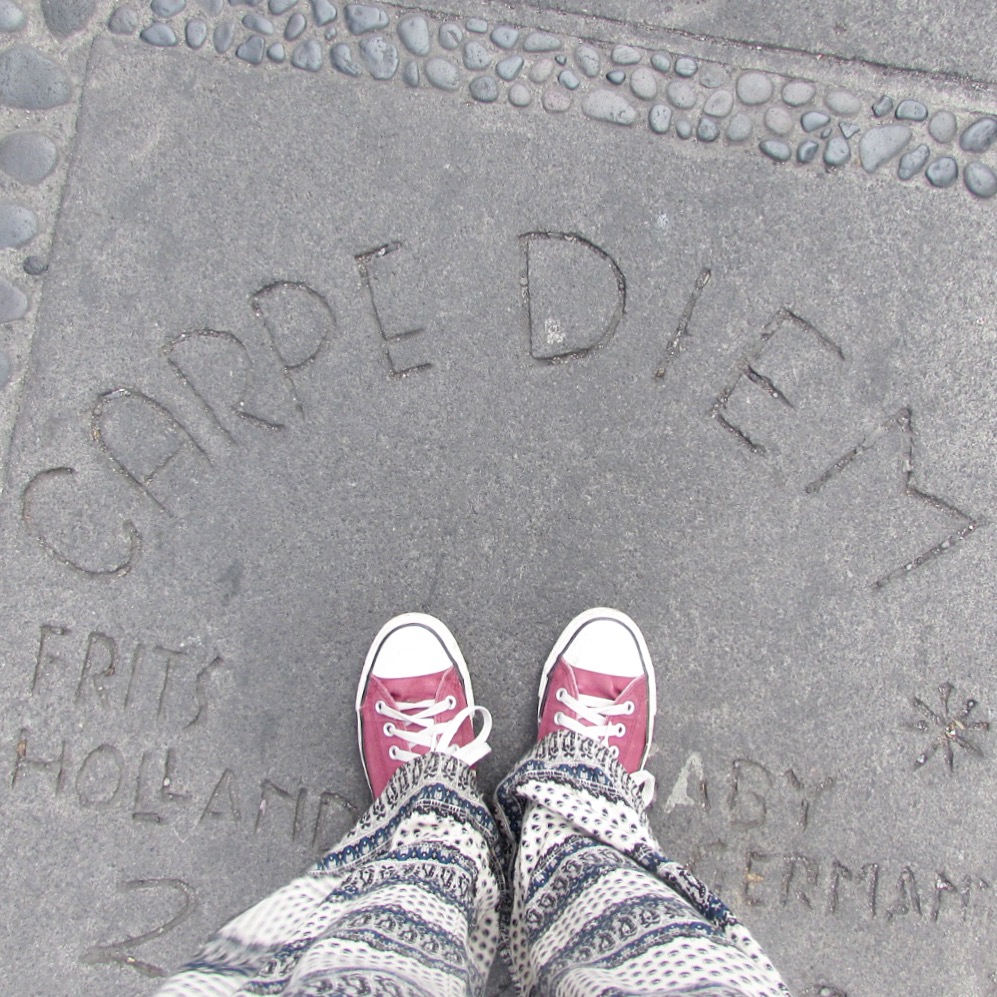 Ubud was very nice and lovely change from busy touristy Kuta. John and I bought really loved how laid back and chill the city is. Besides all of these places we visited, we also hit up Yoga Barn, which is this huge yoga studio complex on Jl. Hanoman, where I participated in my first ever yoga class. I wasn't really interested in it, but they were giving a free class and John was really keen on taking it and with me. It was great, even if I didn't know what I was doing. I learned that I have horrible flexibility and that the scoliosis affecting my legs really hinder me with certain poses. It was fun though!
Along with yoga, we hit up The Melting Pot, a bar pool lounge that had flags of every country covering its walls. If you by a drink and find your flag, you were able to sign it. John ended up signing the Dominican flag, which was so high up on the wall, he had to climb up a ladder to sign it. We ended up playing a game of pool before heading back to our homestay.