photo diary: yogyakarta, indonesia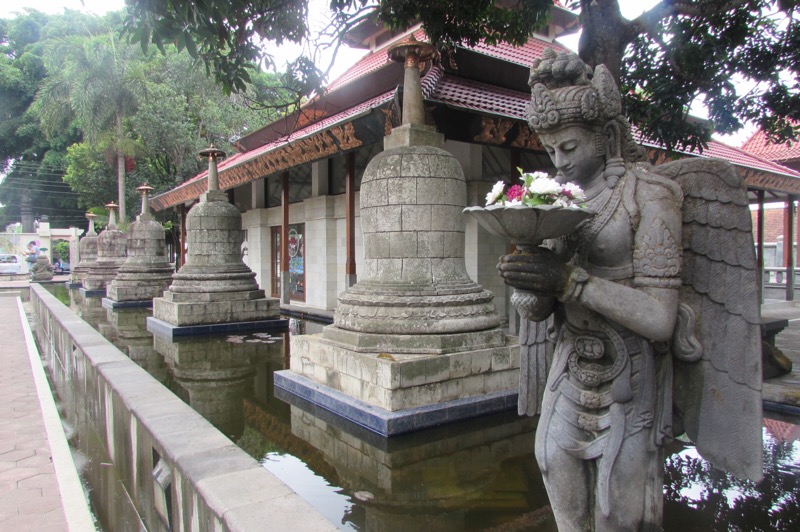 After our stay in Malang and our excursion to Mount Bromo, we made a long train journey to Yogyakarta. Being one of th biggest cities in Java, We were never really bored with Yogyakarta. Maybe because our homestay had a swimming pool for us to cool off, or because there were a lot of restaurants in the area of our homestay, but we always found something to do.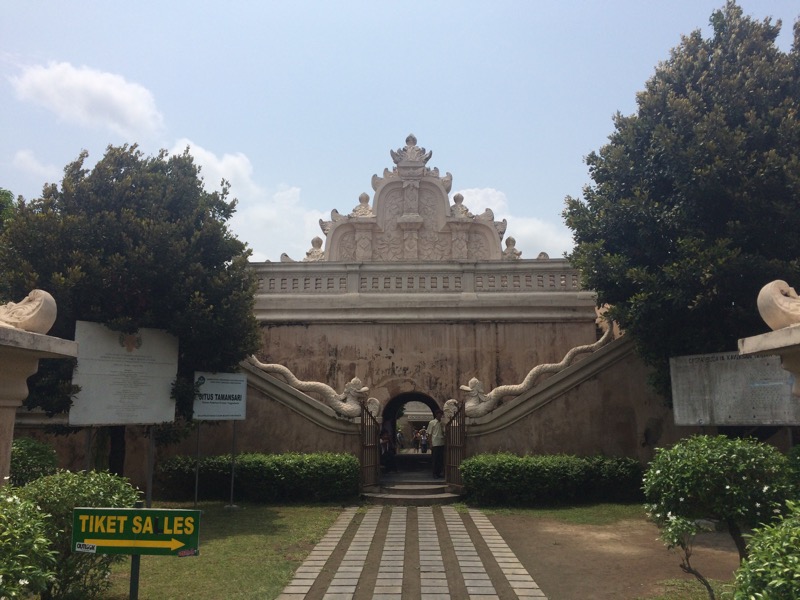 On our first full day there, we took a long walk to Taman Sari, the Sultan's Water Palace. Unfortunately we went when they were doing renovations so it wasn't much of a water palace. We did a quick tour of it with a guide that we could barely understand but we could make out the gist of it. The palace architecturally draws influence from Eastern cultures, a mixture of Hindu and Islamic influences. The palace takes up a large I closed space and all the workers who work there also live on the property and are servants of the Sultan. We got to see some batik and Indonesian puppet making and finally figure out what Jak fruit was! It was very nice but I wish we could have seen it when it was full of water. It must look stunning.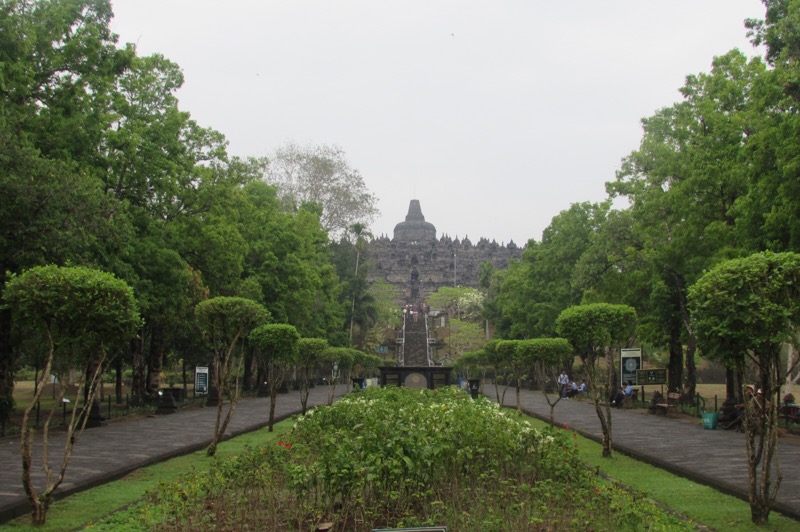 On our third full day in Yogyakarta, we decided to visit both Borobudur and Prambanan temples. We booked transportation and were up by 4am to leave at 5am just to have an early start. After our driver picked up our fellow passengers, we made the 45 minute journey to Borobudur, where we were treated to tea and coffee before heading on our own to see the temple.
The temple was huge. We had to climb about ten stories up just to reach the top tier of Borobudur, where all of the bell shaped structures are. We decided to head straight up and work our way down. Borobudur is a Buddhist temple and on each tier is a different set of Buddha statues in different mudras or arm positions, all situated by direction, pointing North, South, East or West. Each tier represents human life at different levels until it reaches nirvana, the top tier.
We visited really early in the morning, so the whole temple was shrouded in fog. It was cool but really humid, so we worked up quite the sweat just walking around. At one point, my friend John and I got separated because a group of students kept stopping tourists in order to practice their English with. I was stopped by a group of three, two girls and one boy, Nevy, Ratih and Evan respectively. They asked me questions about my country and such, but I'm a horrible conversationalist, so I didn't stay talking to them as long as John did. I wanted to see the rest of the temple before we had to be back at the bus.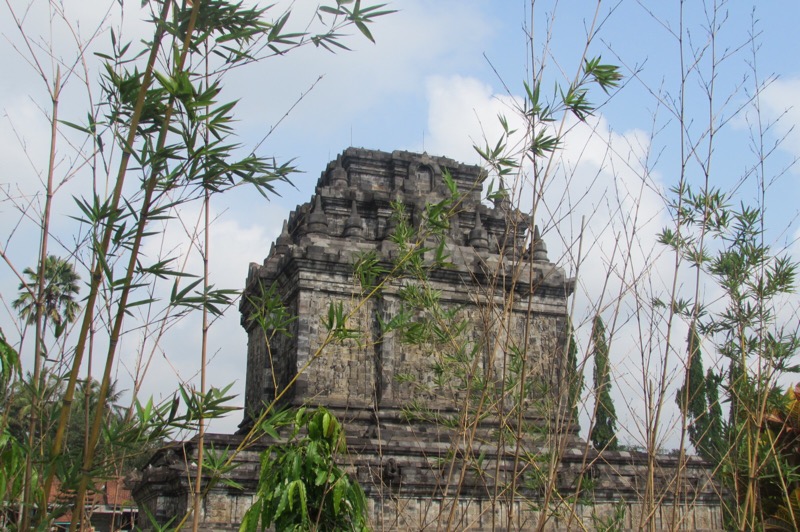 We stopped at Candi Mendut on our way to Prambanan. Everyone one the bus was in consensus, so our driver gave us a few minutes to visit the temple. John and I opted out because we didn't want to spend money on the entrance fee, and decided to explore the area around the temple. We found the best spot along the tall gate that encloses the temple and its grounds to take our photos, before wandering back to where the bus was parked in front of a Buddhist Monastery. Since we still had time, we decided to follow a few of the other people in our little bus group and explore the monastery.
Mendut Monastery was beautiful. The grounds were very quiet and absolutely lovely. There was no one in the monastery expect the few of us who were looking around and taking photos. Upon entering you pass through these lovely intricate gates that enclose the grounds, and around a small obelisk, you come upon a wide walkway lined with lotus ponds on both sides. The walkway leads to the main shrine of Buddha. There are a few temple-type shrines in the monastery, but I didn't explore those because this was an active monastery and I wasn't sure if I was dressed properly and there wasn't really anyone around to ask. So I just walked around and marveled at the beauty of monastery and all of the different shrines and sculptures.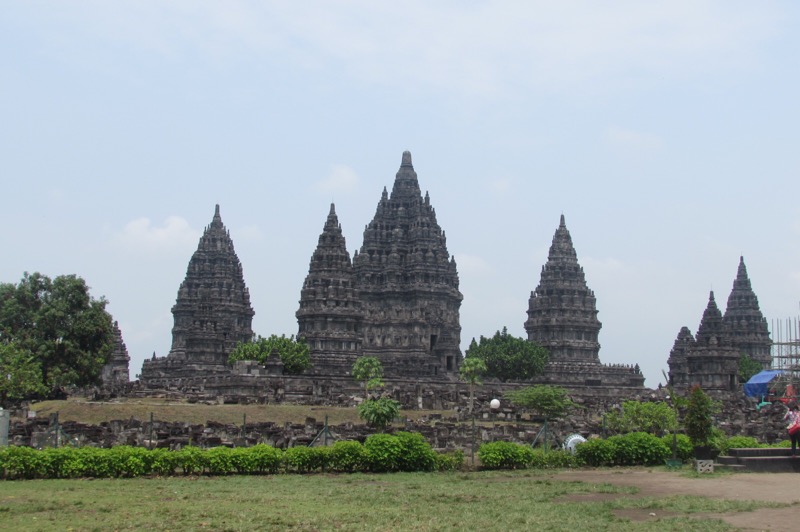 When we made it to Prambanan, we were greeted in much the same way as we were in Borobudur, with tea and coffee. Since Prambanan is a Hindu temple, were required to wear a sarong to enter the temple. We headed off on our own once we were done and wearing our sarongs, and the first thing I noticed was that the main temple, Prambanan, was under construction. Apparently, all of the temples in the Prambanan complex were damaged from an earthquake that hit Indonesia sometime before we arrived. Prambanan wasn't too bad, or at least they did a very good job fixing the majority of them up. But all of the other smaller temples in the complex were hit very badly and looked practically destroyed, which was very unfortunate. But we explored Prambanan for a bit until we decided to leave and go to the other temples on the complex.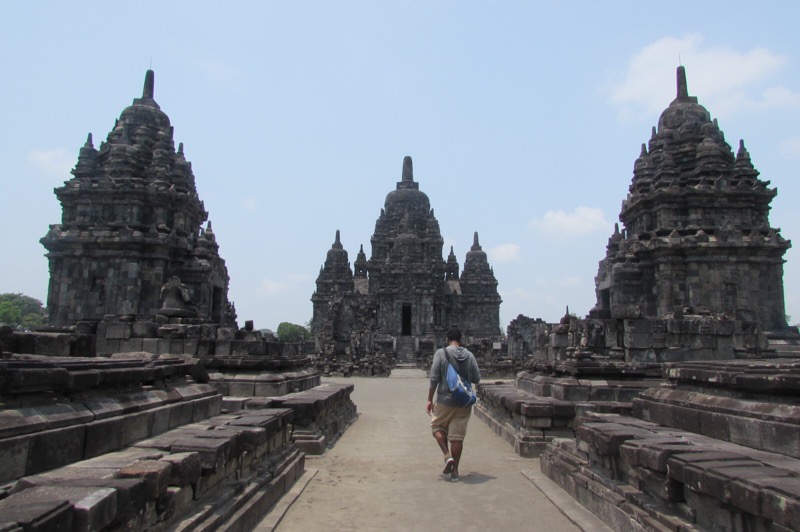 Since all of the other smaller temples were practically destroyed, we passed right by them on our way to Candi Sewu. We weren't sure if the temple was even open, because no one was walking in that direction except us, but of course, curiosity got the best of and we continued on, even if it was just to take a photo from the outside. But alas, the temple was open and it too was under construction, appearing even more damaged than Prambanan, but not as badly as the smaller temples we passed along the way.
The temple grounds was completely empty. We had the whole entire place for us to explore and it was quite amazing. When you enter the complex, you first come upon two gigantic Buddhas on each side of the walkway that leads towards the entrance of the main temple. Candi Sewu was probably my favorite temple, and I'm not going to lie, it was mainly because we got the explore it without the distraction of other people. Tourists with selfie sticks are just awful and they all have selfie sticks. I've never seen Tomb Raider, but this temple was very Tomb Raider…or very Indy. We walked into all of the really dark temple passages, which were super creepy since it was so dark, but it was very cool and I really enjoyed that we got to wander about without any interruption from other people. It was very nice.