photo diary: phuket, koh phi phi, koh Samui + Koh phangan, thailand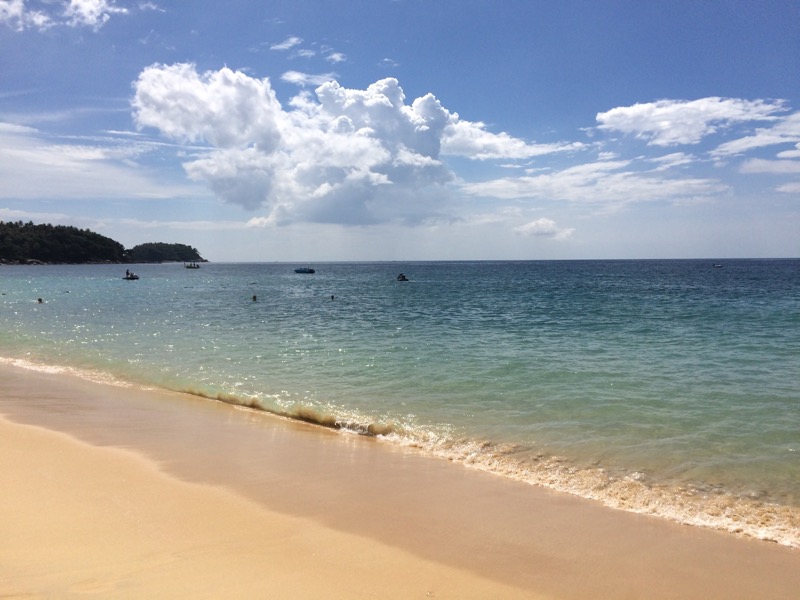 We finally made it to Thailand! From Penang, we flew into Phuket, an island on the west coast of Thailand. We only stood in Phuket for a couple of days and used it as a home base for the famous Phi Phi Islands. We stood in Karon Beach on Phuket, which was very nice and probably a much better choice instead of touristy Patong Beach. Karon was quiet and pretty chilled out. The beach was really nice and mostly empty the whole time we were there. I don't know if that was because the beach isn't as popular as Patong and Kata beaches or because there were no swimming signs along the beach which everyone ignored for the most part (they were trying to warn us about the jellyfishes, but alas no one paid attention. Jellyfish stings hurt and take a while to fade, btw). But it was relaxing and we enjoyed our stay at Pineapple Guesthouse. The hostess Lek is very nice and accommodating and will help you with everything!

So we decided to take a day trip to Koh Phi Phi. These are the famous Thai islands on the west coast mostly because of the 90s DiCaprio movie, "The Beach." And they are absolutely beautiful. I kind of wish we spent more time there, but I suppose that just means another trip to the islands specifically are in store for the future. We decided to do an all day snorkeling and swimming trip by speedboat. Our lovely hostess Lek gave us a really great price on the trip, so that's what we did because it was just more convenient.
After an hour by minibus to port, then another hour in a speedboat with twenty other people, we made it to Maya Bay, the famous beach cove from the movie "The Beach." It is the only beach in the world that I know where you have to pay money (400 Baht per person) to walk on. The majority of our boat mates disembarked on Maya Bay, but for the rest of us, we stood on the boat which went back out into the bay and floated there for a while, allowing the beach goers to enjoy Maya Bay Beach and allowed us on the boat to swim in the bay around the boat.
The next stop was the Monkey Beach. We sailed along the Viking Cave and anchored down on a beach riddled with those macaque monkeys. I didn't really care about the monkeys, but I disembarked with the rest of them and strolled along the beach shore until we had to return to the boat.
Next we sailed around Koh Phi Phi a bit more before we stopped in one of the bay's for snorkeling. I had never in my life snorkeled before. The fact that I don't know how to swim was probably the defining factor as to why I had never snorkeled. But, this trip has been filled with all sorts of adventures that could have killed me that my heart told me to try it out while my more rational brain part screamed CAUTION you don't know how to swim! It was fine though, if not a bit terrifying. I donned my fins and mask and a lifevest and hopped off the boat into the middle of a wide bay with nothing but water around me, no land in sight. And I was scared. I was, not going to lie. My very trusty friend John helped me along the way and I was able to dip under for three goes and look at all the pretty fishes.
After snorkeling we anchored down on Koh Phi Phi Don for lunch. We ate a buffet-styled lunch and after had a bit of time to explore a few of the shops on the island. We didn't have much time to explore the whole island, which I think is one drawback from doing a day trip like this, but I saw enough of it to know that all the shops sell the same things as all the other shops on all the other islands in Thailand.
So after Koh Phi Phi Don, we made beach on Khai Island, a every small island that is nothing but beach all around, for swimming and more snorkeling. I was able to relax on the beach here and take a dip in the water with all the beautiful tropical fishes. After Khai Island we sailed for about a half hour back to port, then the minibus back to Karon Beach in Phuket and our day trip ended. It was lovely and we were exhausted, which was a good sign for us that we enjoyed ourselves.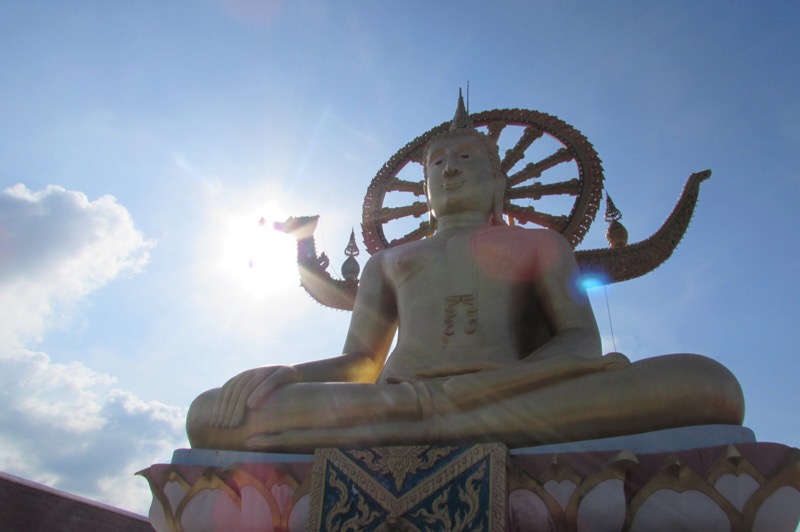 The first island on the east coast of Thailand we hit was Koh Samui. We only stood there for three days hoping to spend the entirety of our time there by our resort's pool or the beach, but our weekend there was almost a total washout. It rained the whole time we were there. On our first night, it rained in nonstop torrents, we mostly stayed and hung about the resort. The following day was a bit better, but the weather didn't turn around for us until our last day, when it rained once a bit early on and then gave way to sunshine for the rest of the day. It was just enough time to take a really long walk to the island's Big Buddha.
I don't have very much to say about the Big Buddha other than it was very peaceful walking around the temple and that Buddhist like to make their Buddha statues huge. We stood at the temple for about an hour or so, then instead of walking back, we hopped on a tuk tuk to Lamai Beach. When we got to the road that led to the beach, we found a really cool street market, which we decided to walk through before heading back to our resort. We ended up trying a bit of street food there. I had these two curry puff things, one chicken curry and the other vegetable curry, along with a banana pancake with chocolate syrup drizzled on the top, which was so good!

Not much happened in Koh Phangan that I'd enjoy talking about. On our first day there we did a little exploring and took a walk to Haad Salad or the Pirate Beach in search of one of John's geocaches. We found the most loveliest beach cove, decked out with a swing hanging from a tree and everything. Our beach, Haad Yao West was nice too, but not nearly as nice as it'd next door neighbor. So we spent much of our time here relaxing at our resort, Shiralea Backpackers, since they had a really nice pool area and restaurant. We tried to take a walk to one of the nearby waterfalls on our last day when I was bit by a dog just walking along the main road from our resort. So instead of a waterfall we saw a hospital and that's pretty much how we ended our stay in Koh Phangan. Other than that unfortunate incident, I really liked Shiralea though I wish we'd stayed closer to port, where everything seemed to be concentrated.