pocket full of wisdom | journal with me ☆ 58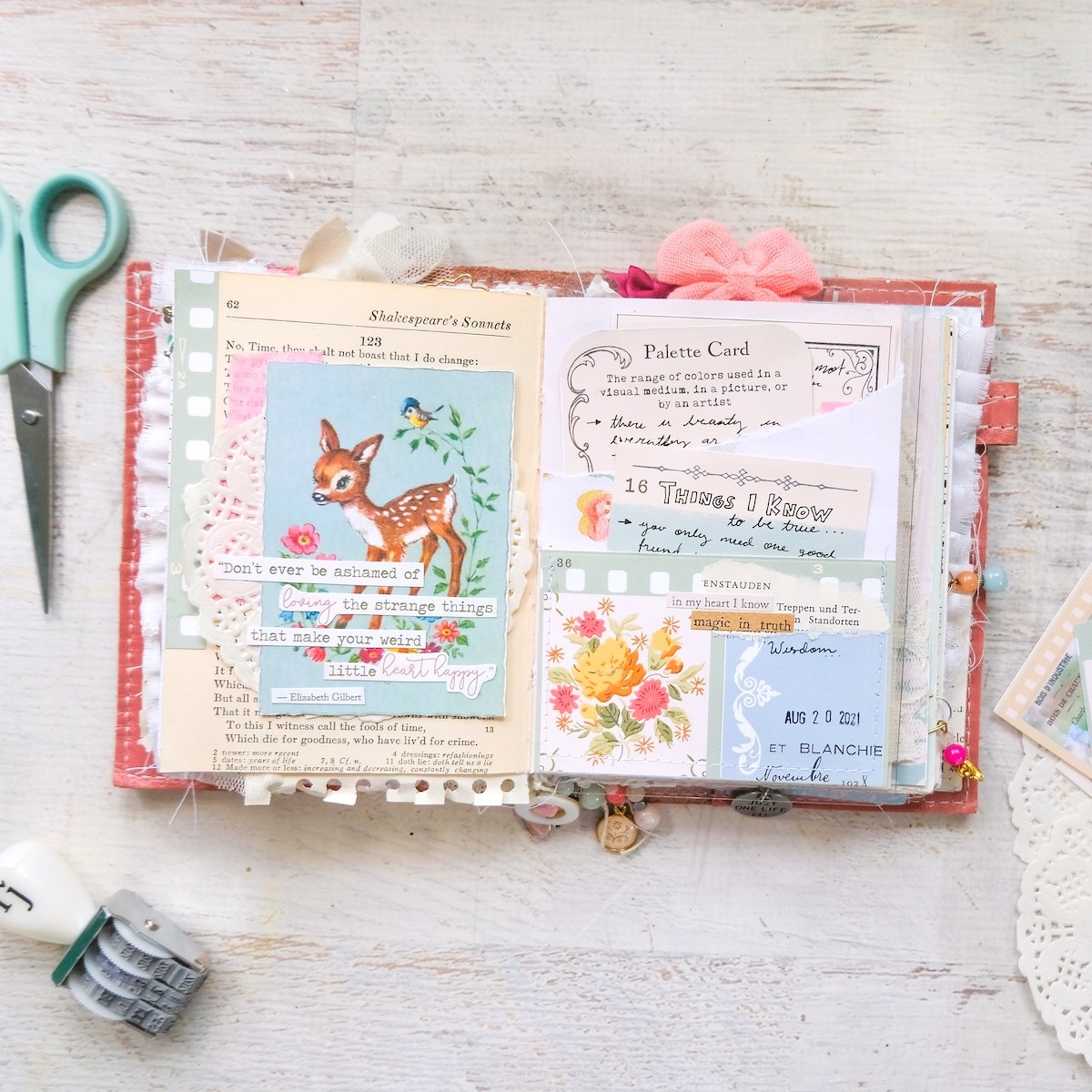 Hey Lovelies!
It's been awhile since I shared anything. To be honest, I haven't been creating like I used to nowadays. It's been interesting. I have been journaling loads though, but often not creatively. But I sat down recently to create this spread in my Summer Stories journal, responding to a prompt from Juni Desireé's August Keepsake Journal prompts.
Juni kindly reached out to me last month asking if I would like to participate in a journal hop on both Youtube and Instagram and I thought it would be fun to join in. So I created something for the Wisdom prompt: a pocket full of wisdom!
I used mostly printables from Amity Bloom, along with an affirmation quote card from a Bella Grace Magazine printable and a fews Tim Holtz clippings stickers. I essentially created a tiered pocket to house some journal cards and bits where I wrote out thing that I know now. This is very similar to what I did for my This I Know art journal. I wrote down a few personal truths—just bits of wisdom that I myself know to be true right now. These are my own personal bits of wisdom.
I actually had a lot of fun creating this spread. I've generally been feeling a bit down lately. Between the feeling of being stuck to the fact that my guy has been traveling for work a lot so I miss him all the time, I just haven't been feeling much like myself lately. I just been going through a lot of conflicting emotions lately and just haven't been motivated to create as much with the time I do have between real life work. So this was a nice respite from life, if you will.
I even got around to filming the process for you! I haven't been making videos much lately because my laptop can't really handle video editing anymore (it's a very old laptop, I'm surprised it's still alive). I am waiting on my new computer to arrive, but hopefully I can treat you to more of these videos soon. Anyway, I hope you enjoy this one and definitely check out the Keepsake Journal prompts! Just because August is over doesn't mean you can go back and use this prompts to jumpstart your creativity!