project life may 2014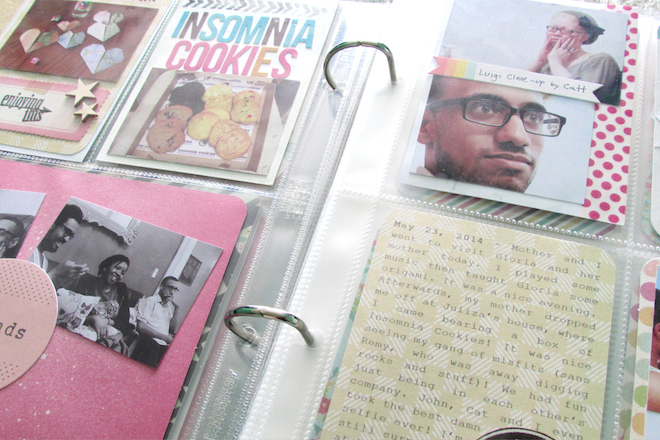 I've been meaning to really try out Project Life. I love all the spreads I see on Studio Calico, a scrapbook site I'm on, but I don't think I could dedicate myself to a 12×12 album for a year. It just seems way too big for me, plus I love the 6×8 binder size better. 6×8 just seems more practical in size for storage and at this point in my life, I could use all the space savers I can get. For the beginning of the year, I had dedicated myself to a 7×9 binder to act as my "year binder." I figured if I kept a binder solely for scrapped layouts and PL spreads, I'd have it filled by the end of the year. Well, I kept to my goal to scrap daily so well that by the end of April I had filled that binder up with a mixture of layouts, Project Life and art journaling to the point that I needed a new binder. Since I didn't have a binder (and didn't want to spend money on getting a new one), I emptied out my failed 2013 binder ("failed" because I started it in September and didn't really stick to it), put the few spreads I had in that one at the beginning of my 2014 binder, and just reused my 2013 binder. It worked out so well that now I have a brand new binder with tons of inserts to be filled!
This time around though, I'm dedicating myself to doing solely Project Life in this binder. I started it in May because I finished April off in the other binder, plus I just got my first Studio Calico kit, which was May's Camelot. So far so good! I've documented everything that happened in May thus far! Having Project Life in the back of my head has really gotten me to start taking more pictures. I've been making a conscious effort to bring my camera wherever I go and afterwards, I've gotten into the habit of printing my pictures right away, so that I have mini piles of photos to scrap. The mere sight of photos laying around really have motivated me in actually getting spreads done. And once I get into a groove, it's really fun and I don't stop until I get sleepy (I scrap in the evenings, so I basically scrap 'til I drop). I've also been getting into my stash, which is wonderful. Things that I have bought and never used are now being opened and used. It really is a wonderful feeling because now it gives me some sort of justification to buying new scrap supplies!
Now, all I need is a new printer. My Canon Selphy has been acting wonky lately. Sometimes it reads my photos and other times it doesn't. Sometimes it prints perfectly and other times my photos come out blurry. Then our main home printer sucks at printing photos, so printing my photos have been a bit frustrating lately. But who knew deciding on a new printer could be so hard? All of the printers I'm interested in have mixed reviews, which make it difficult for me to choose which to buy, so naturally I haven't purchased one yet. I guess I'll have to do a bit more research and just decide. Anyway, here are a few pictures of my new Project Life spreads!