scrap therapy | fun lizzie mcguire spread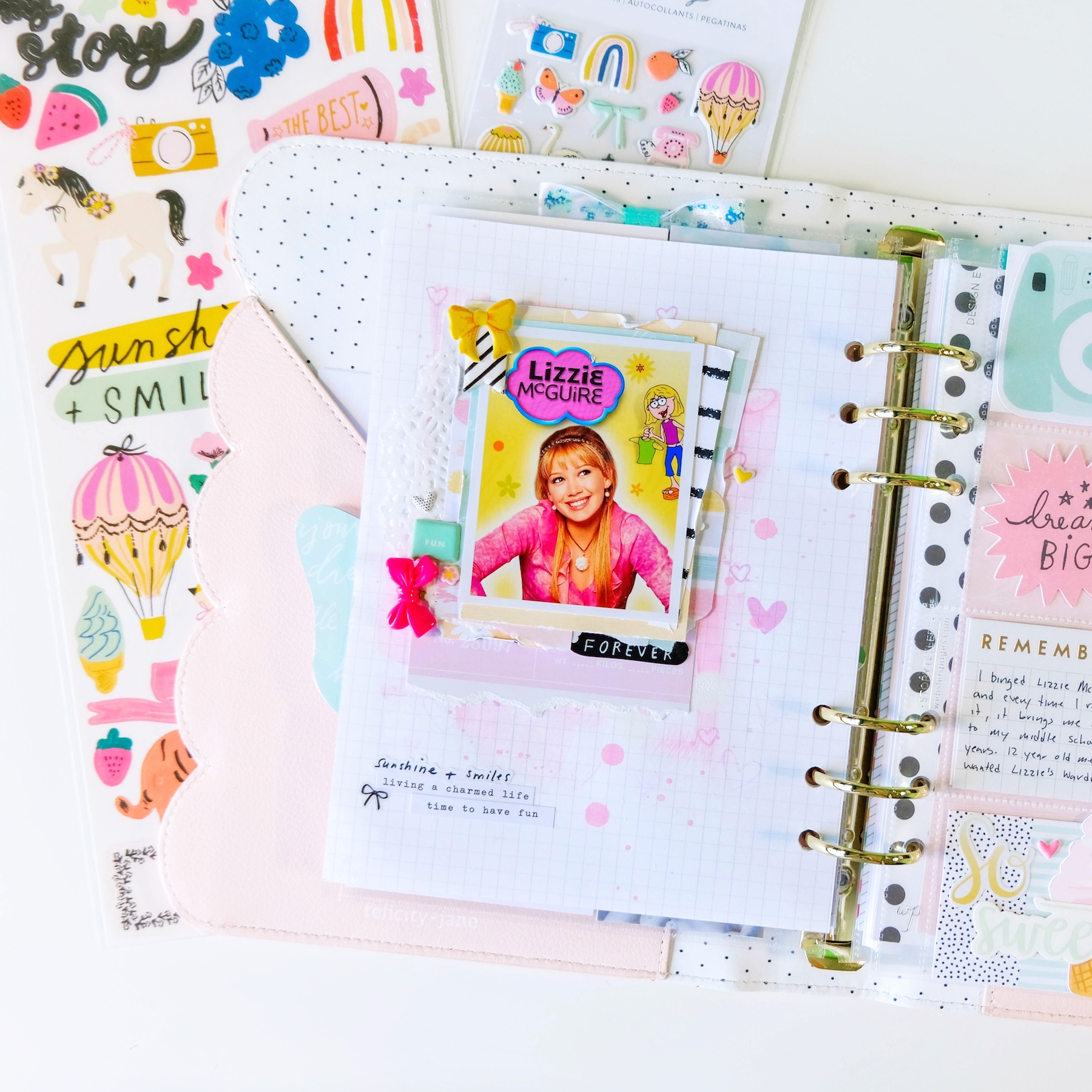 Hey lovelies. I'm here with a fun scrap therapy spread in my 6×8 scrapbook I'm keeping for this year. I've decided to just include everything into this scrapbook rather than keep separate projects. Honestly, I don't anticipate filling this book up with much memory keeping this year. I struggle with documenting the mundane, something I'm trying hard to change because there can be magic in the ordinary. Anyway, I think I'm more of an event scrapper, with trips tending to be my favorite and most documented. Alas, I don't think I'll have many travel plans this year. I want to have a nice chunky book at the end of the year though, so including everything—even these fun scrap therapy pages—seems like a good idea.
Anyway, this spread documents my Lizzie McGuire binge-watch I did back in March. I had every intention of including this one small photo of the show's poster in my 12×12 project life spread. I originally was going to document the year in monthly pocket page spreads, but since I decided to go small, I still wanted to use up the photos I already had printed for my pocket pages. I would never create a page documenting this, normally, but I sat down one night and had a bit of fun playing around with my supplies and created this spread.
That's the whole point of scrap therapy though, to have fun and play. It's really all about the process.
So I had some fun with a bit of paint, ink and paper scraps. I decided to do a 6×8 mixed media layout and paired it up with a 2×2 pocket page. I really had to use with my supplies for this one, especially in the pockets because I literally only had the one photo. But I think it came out better than expected. Lots of bright, sugary colors. It makes me happy just looking at it.
I really enjoy this random page in my scrapbook. It doesn't document much of anything, but I enjoy seeing it mixed in with other more event-type pages.
Anyway, I filmed the entire process for you, which you can view below. I've been finding that it's not so hard to just turn the camera on when I sit down to play. Speeding up the footage and adding a voiceover seems less stressful now for some reason. I can't really explain it, but I'm also not fighting it either. It just means more content for you. I hope you enjoy!