december daily 2018: week one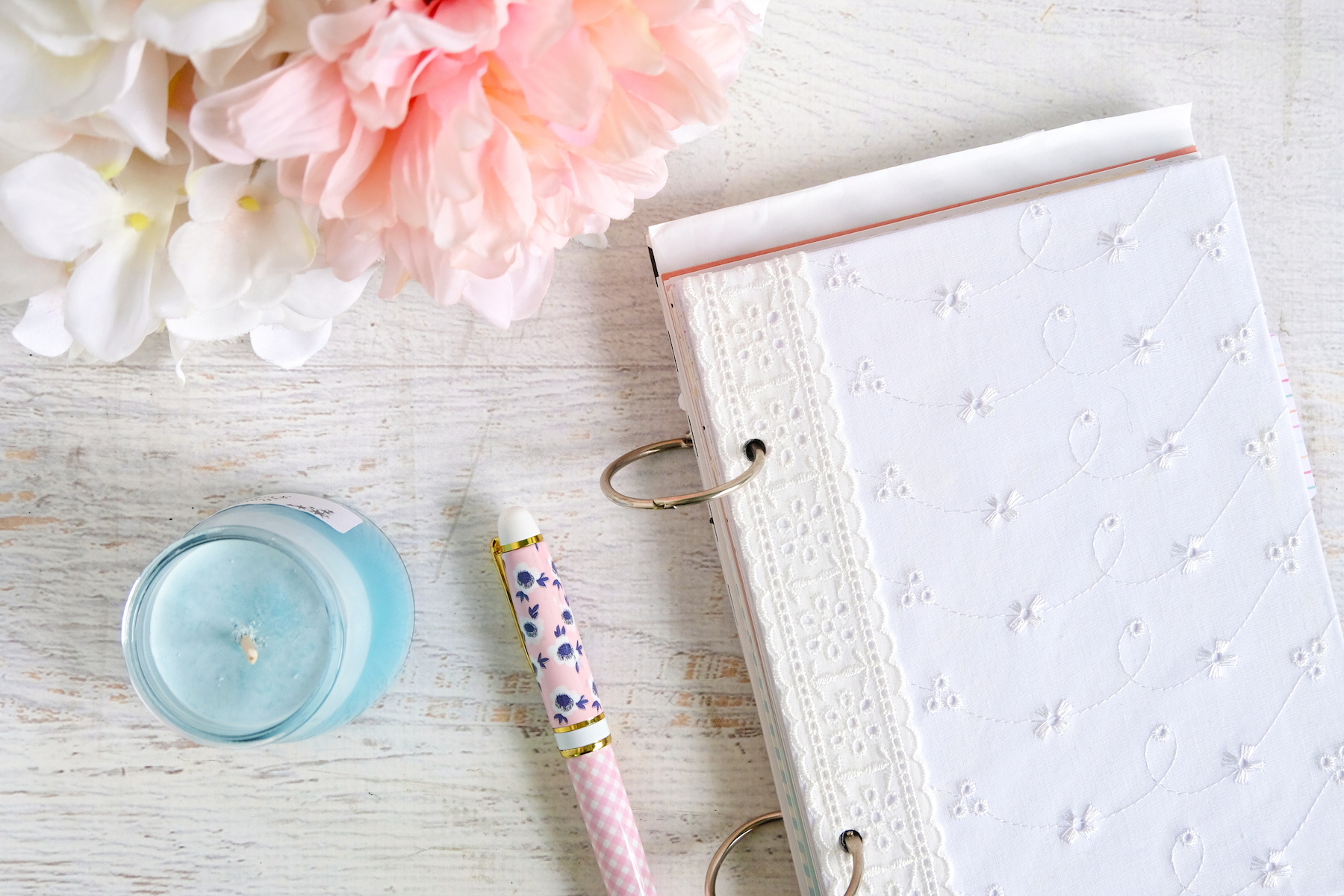 For my December Daily 2018, I was debating between doing a Scrap Therapy book or an altered book junk journal, but ultimately decided that it may be easier to go the Scrap Therapy minibook route. Using binder rings to hold my book together–as opposed to a bound book–gives me the flexibility to add and remove pages. I'm never very good with these types of projects, so in the event I don't fully complete my book, you'd never know because I can remove those unused pages.
I was heavily inspired by Suse Fish and her December book setup. I decided to create fabric covers for my book though because I did really want to use an altered book and I thought this fabric was really pretty for conveying that cloth book feel. I just used a bit of packaging chipboard I saved from one of my Scrapbook.com orders for the base of the covered, then covered them in paper and fabric.
My book is about 6×8 in size, though I have included bits in different sizes as well. I don't mind the different sized pages as I've got an assortment of pocket pages and envelopes in this book too. All of the odd sizes really adds another layer of dimension to the book. I also shopped my stash when creating the little kit I've been using, which is a HUGE plus! The only new product I'm using are these lovely printable mini kits from Suse's new Etsy shop, which I printed off at home and ended up cutting with my Silhouette. I'm also using these, which she shares for free on her blog. I couldn't resist her fun winter-themed collection because those illustrations are just so cute! Anyway, you can check out the rest of the bits I'm using and get a before look at my book in the video below.
day one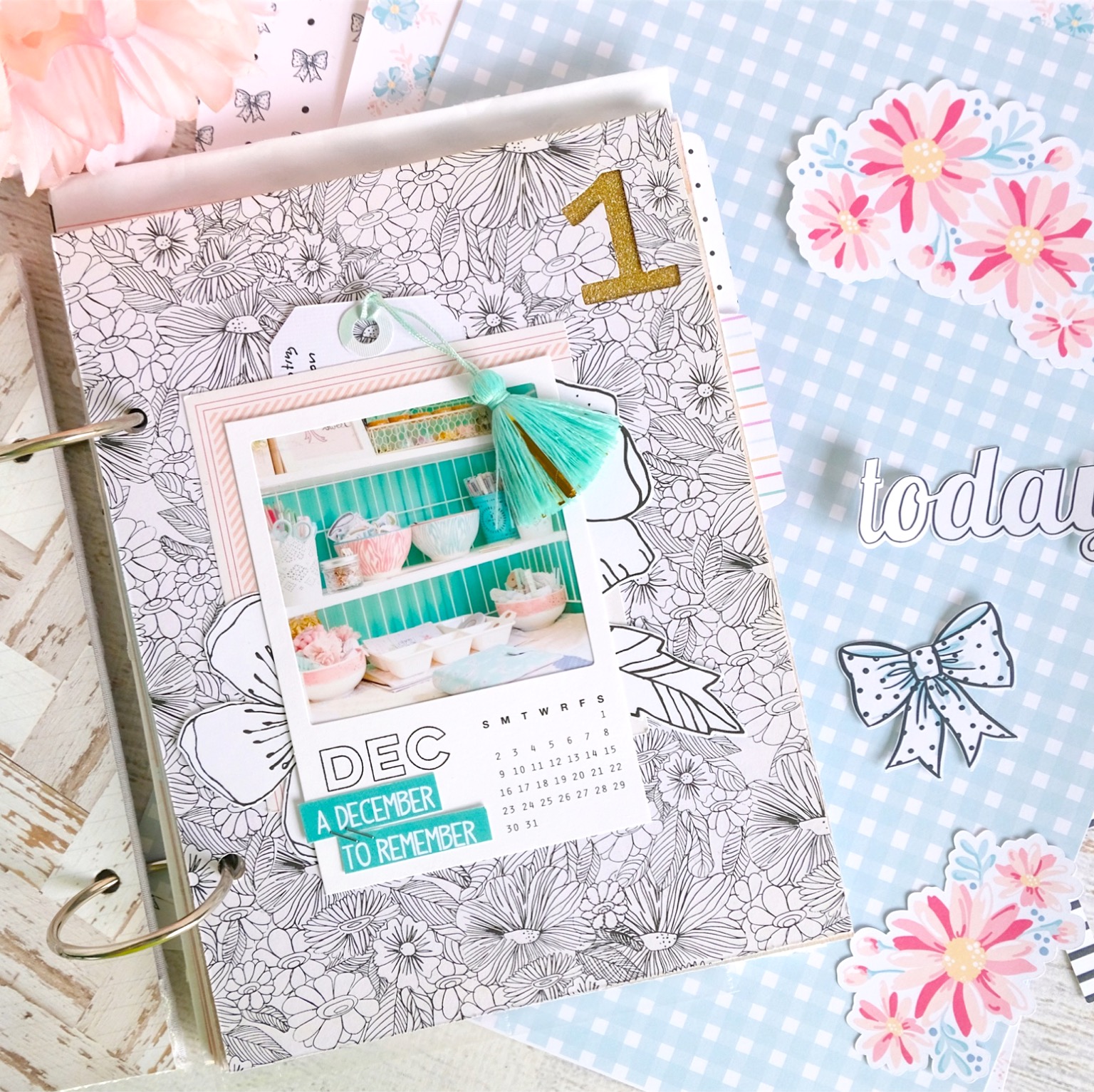 For Day 1, I kept it really simple. I wanted this page to be my intro page, so I used a random photo that I just liked the look of and layered this Crate Paper polaroid calendar over it. I layered some Dear Lizzy florals and paper behind it and glued the cluster to my page so that it create a little pocket, where I put a tag in that holds my journaling. This black and while floral page was already so busy, I didn't want to add too much to it. I personally like the mint tassel I added to the tag. It adds a fun dimension to the page.
day two + three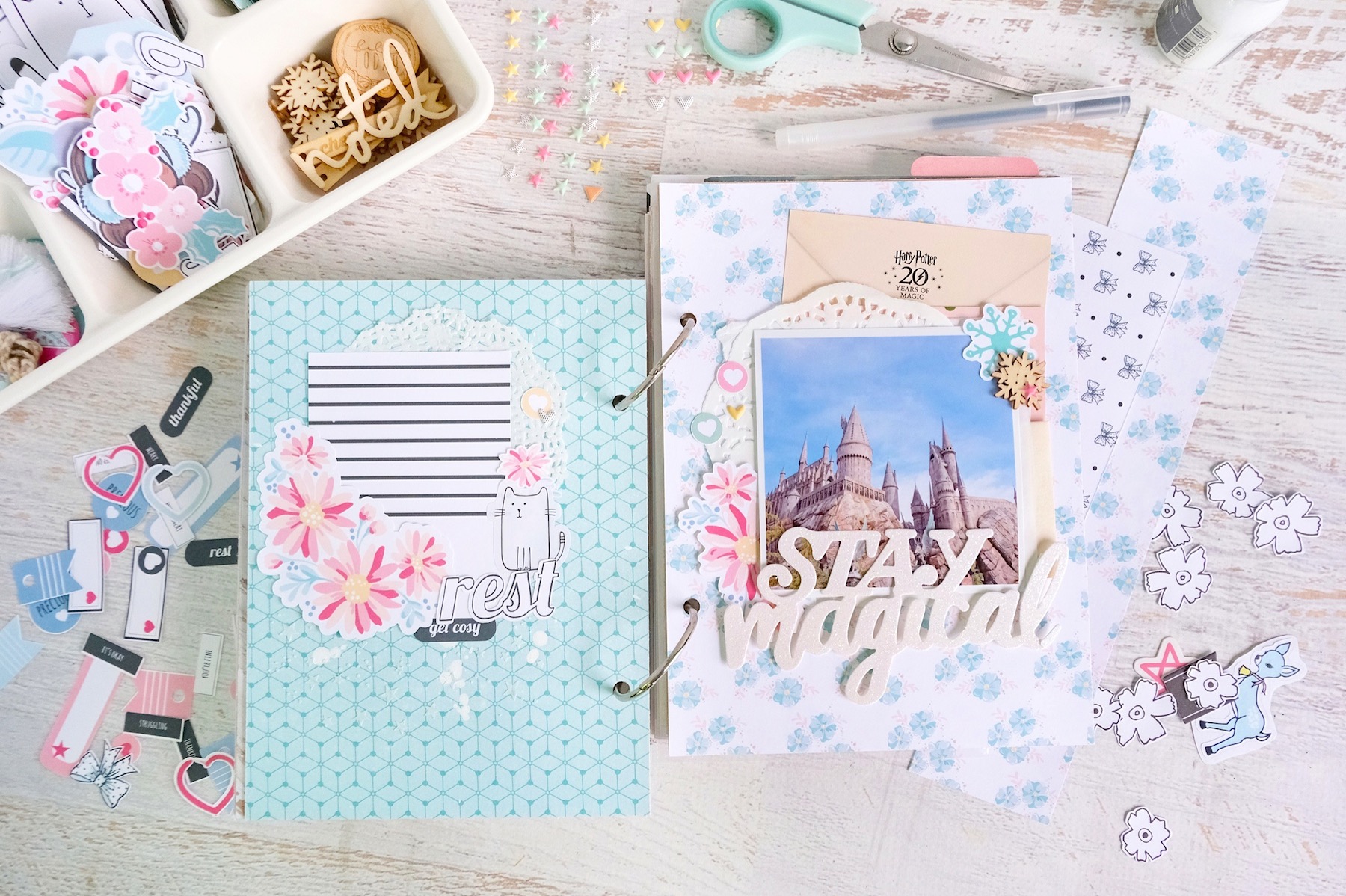 Days 2 + 3 (or 3 + 2, as they are reserved in my book), are documenting my trip to the New York Historical Society to see the Harry Potter: A History of Magic exhibit. I couldn't take photos at the exhibit, so I printed out a photo I took of Hogwarts Castle at the Wizarding World of Harry Potter to use to document that story. The opposite page is where I did some personal reflecting on how drained I get when I'm out and around so many people. I mainly used bits from Suse's kits for these pages. Definitely check out the process below to see how these pages came together.
Day four + five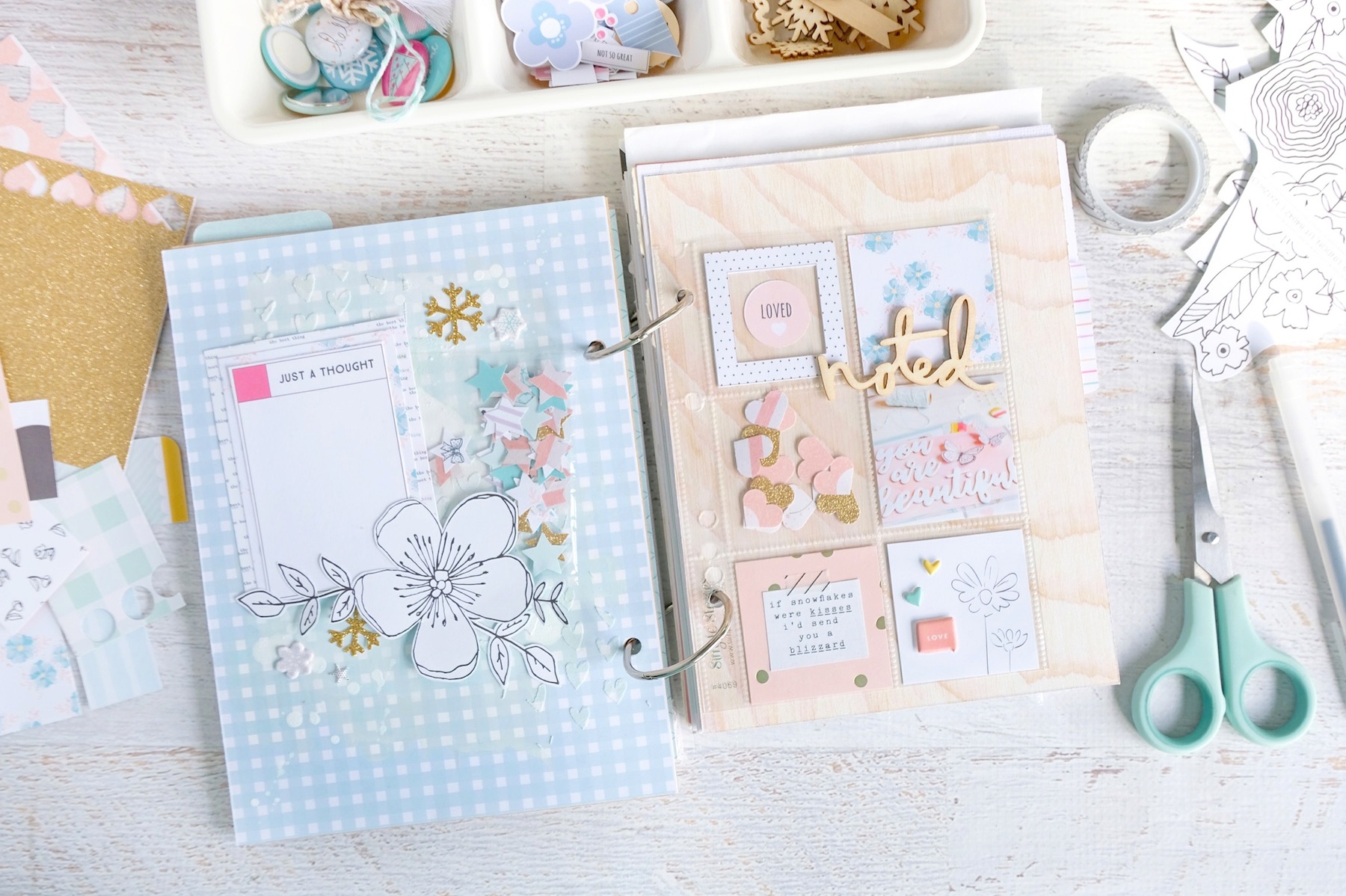 Days 4 + 5 seem very wintery to me. I don't know what it is about a lovely wood grain paper next to this light Cornflower Blue color, but it just gives off a very soothing, crisp, chill vibe. It's wintery and a tad bit beachy, but I love the combination!
For Day 4, I played around with creating a little shaker pocket from a bunch of stars I punched out of my scraps and tucked into a piece of packaging. Did a bit of mixed media on that lovely Suse Fish plaid paper before sticking everything down. You'll notice that I've intentionally left that journal card blank–and that's only for these photos. I did end up jotting down a few private thoughts on some things I've been thinking about.
Day 5 is probably my favorite of the bunch. It's solely this 2×2 pocket page that I cut down from a larger 6×8 page. I punched out some hearts to tuck into one of the pockets, next to this photo of one of my pocket page spreads I did for my class Pockets That Pop. It read "you are beautiful," so I just that as a theme for my page. It's been duly noted friends that you are beautiful. So remember that!
Day six + seven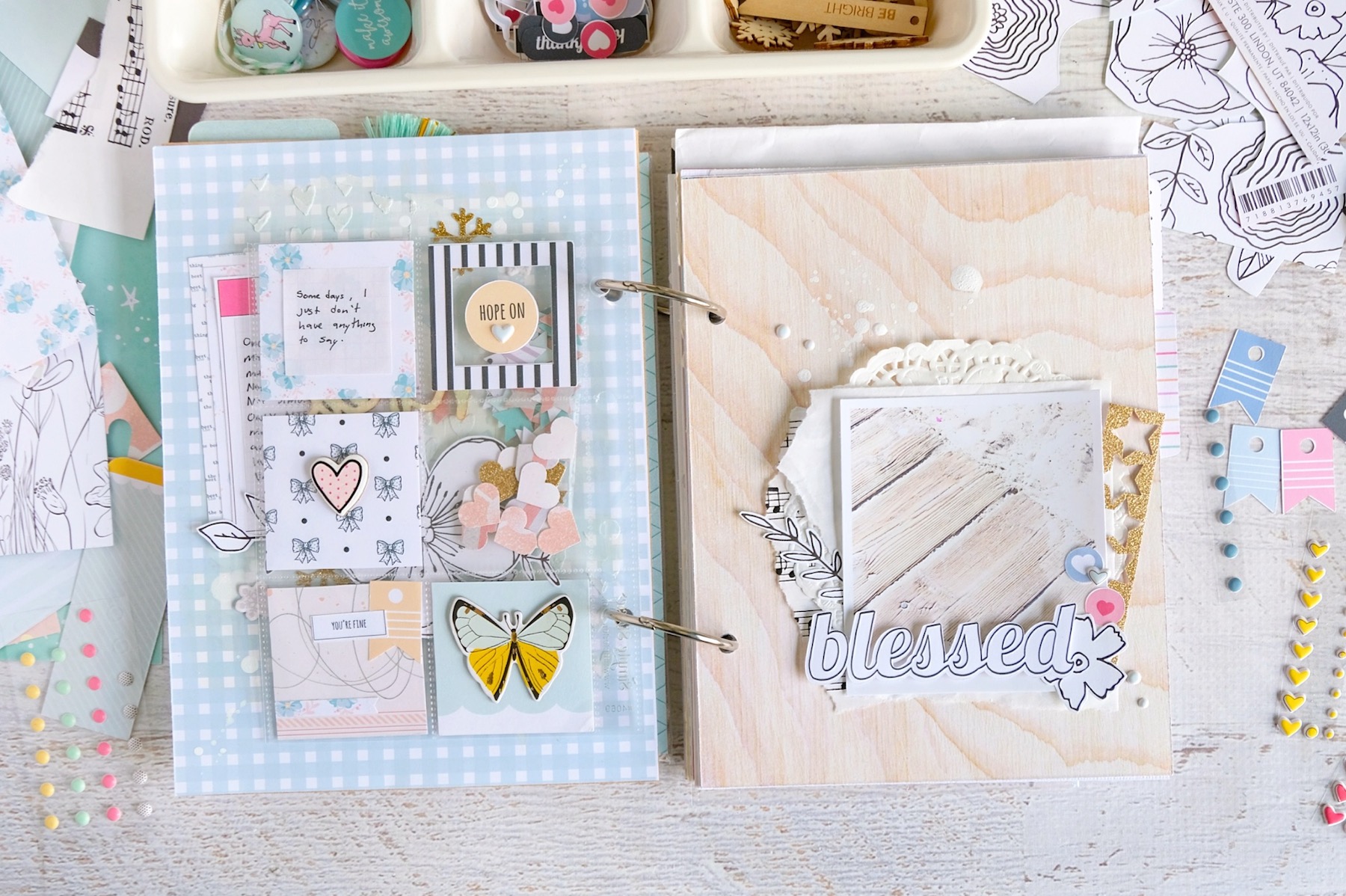 For day 6, I had to work with filling in the back of that pocket page I did for day 5. I always find it difficult to fill up the backside of a pocket page when it's not apart of what I did in the front. This one was a bit tricky because I had to work with those hearts I punched out. But it all worked out in the end as I didn't have very much to say for day 6. So I filled the pockets with all the pretty things I liked.
Day 7 was very much inspired by that light beige wood grain paper. I ended up using this photo of a bit of the Santa Monica Pier boardwalk. It's of the ramp that leads from the sand up to the pier. I just really liked the colors of the photo against this wood grain paper, so that's why I used it. And of course, I journaled about missing the sun, the beach and the warmth. I actually ended up doing my journaling on a tag that I tucked behind the photo way after I initially finished this page. That's what I love about Scrap Therapy: you can go back and add stuff to any of your pages at anytime. Nothing is truly finished until you say it's finished. I love working in my little book in this way.
I hope you enjoyed a look at my first week of doing Scrap Therapy for my December Daily. I'm having tons of fun with this so far!