favorite shop spotlight: lace & whimsy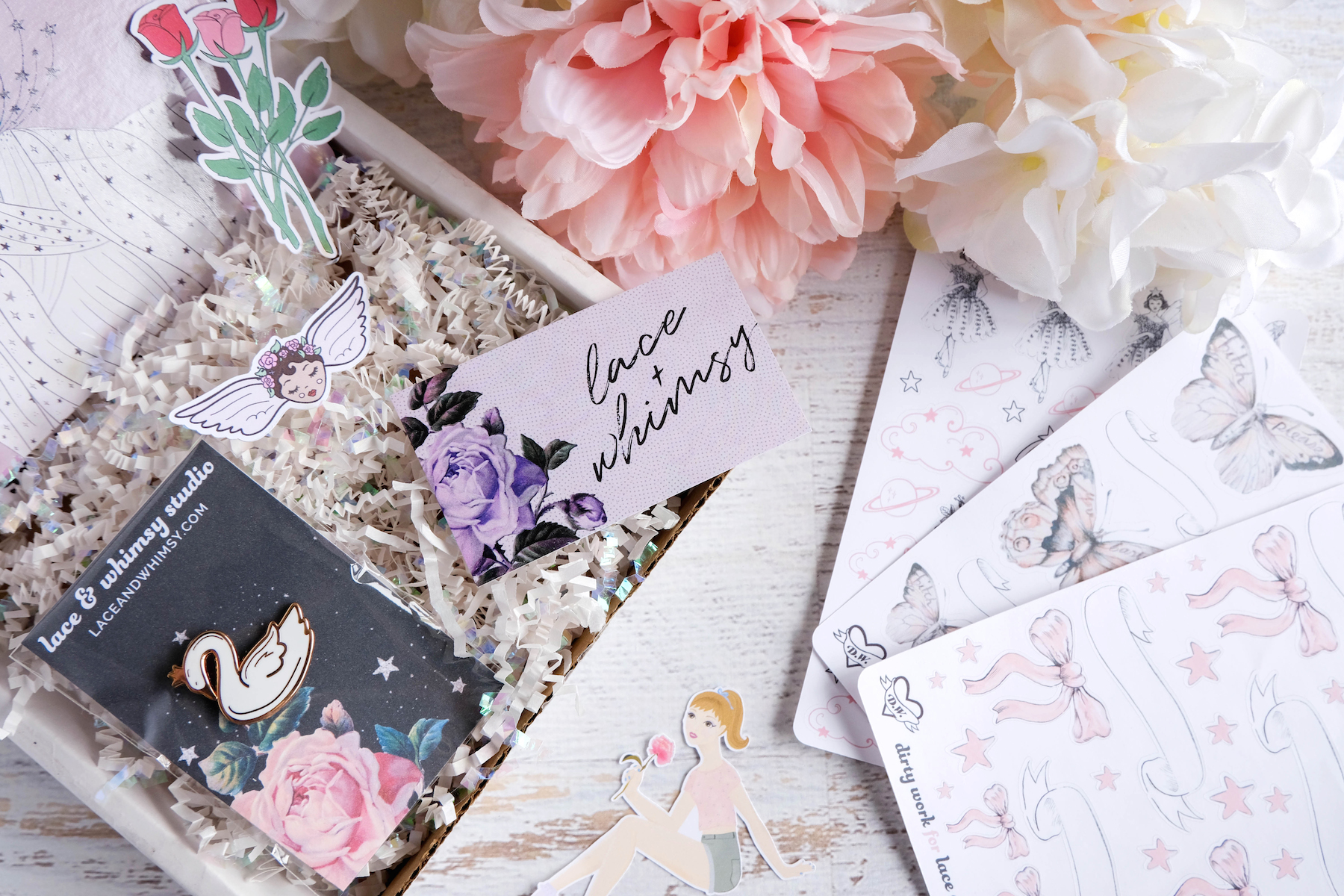 It is no surprise that Lace & Whimsy is one of my favorite sticker shops around. The little online shop is run by Kathy D. Clark and it offers up a mixture of lovely stationery items like stickers, die cuts, and other paper accessories, along with prints of Kathy's own illustrations and her original enamel pins. The Lace & Whimsy style is magical. It combines Kathy's own delicate and fun illustrative style and vintage images publicly sourced to create that modern nostalgic feel that I love so much about her shop. The colors she uses are muted, with lots of pastels and black and white bits thrown into the mix. It's all very fun and super unique.
I wouldn't necessarily say that Lace & Whimsy is home to planner stickers. Honestly, Kathy's stickers can be used for any sort of creative project. She's got a wide range of stickers that work as fun decorative pieces to make any sort of layout festive. Some stickers, like her Fairies & Folly stickers, are definitely geared more towards the traditional planner girl, but I think most of her stickers can be perfectly used in your bullet journal or even an art journal, like I've used them throughout my Get Messy Season of Kindness art journal.
There are definite themes in her work. You can tell that Kathy's greatly inspired by the tarot and the universe. A lot of her products have a soft celestial theme to them, with the moon, sun, stars, and constellations showing up in various of her collections. Yet, she also creates collections based on 1920s Ziegfeld girls, Marie Antoinette, mermaids, woodland creatures, Halloween, and fun summer carnivals, the latter great for documenting your Disney trips! She even does some fun collaborations with other artists, turning their work into fun stickers too.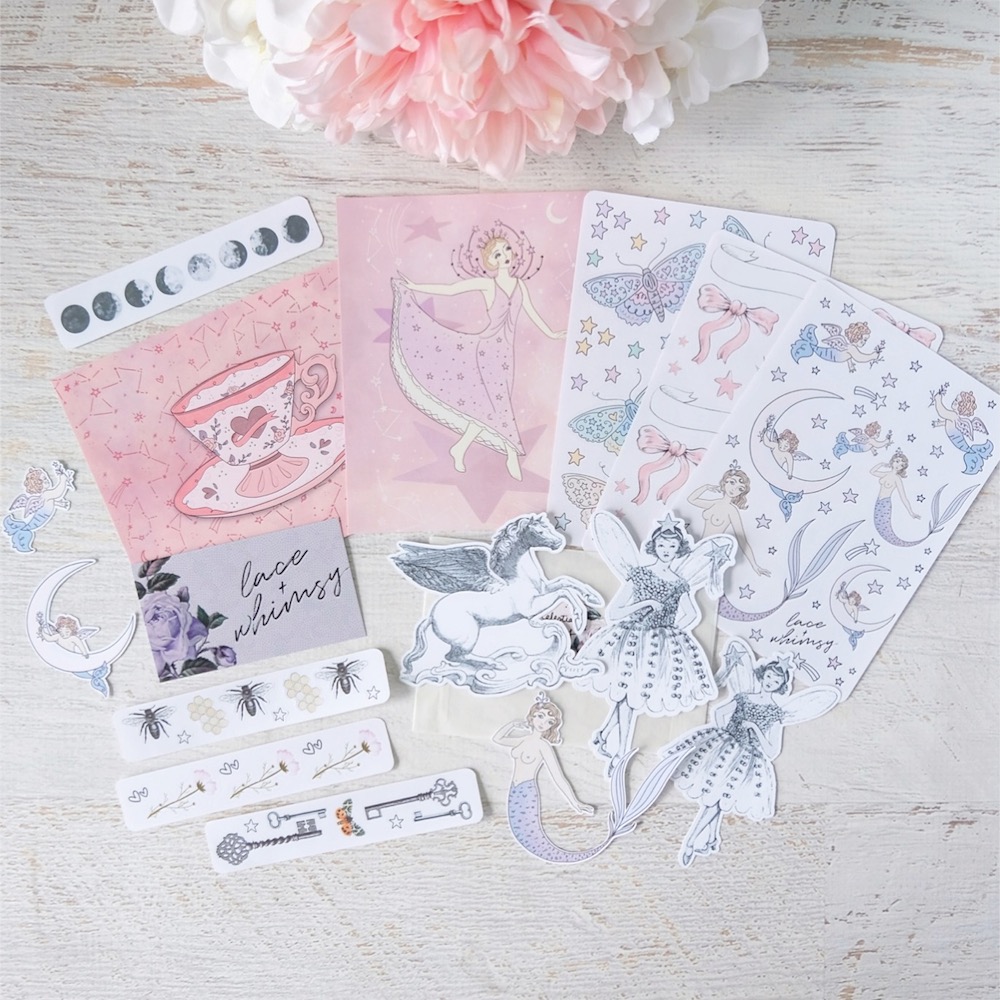 I'm personally so inspired by her work! And I absolutely love that she's started creating little die cut embellishment packs to compliment her lovely stickers. She calls them Paper Packs and has an assortment of them that match her stickers per collections. They are so much fun to work with! I absolutely love die cuts–they are quite possibly my favorite paper bits ever–and hers makes it so much easier to include those elements that I love from her stickers sheets onto journal spreads since they are enlarged versions of those elements.
I used the black and white pegasus die cut from her Celestial Whimsy collection to create this lunar calendar spread in my bullet journal. This spread was inspired by Kathy's Moon Cycle stickers, but it all came together with that little pegasus creating magic on my page.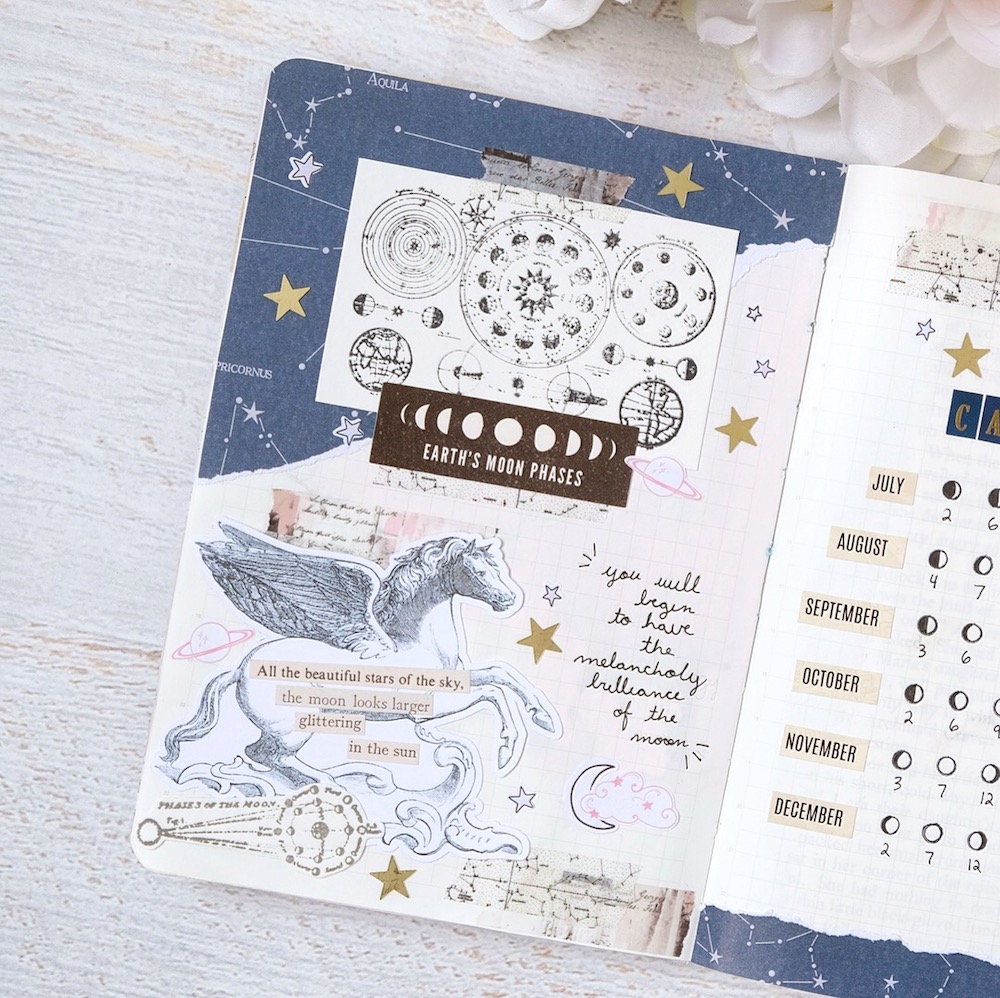 Kathy recently sent me this lovely box of goodies for me to play with and create things to share with you all. When she asked me what I would like, I told her to curate a little kit combining her celestial collection with her tarot collection and her moon mermaids. And wow! Everything matches so perfectly together and I just can't wait to play around with these lovelies.
Before I do though, I've filmed another unboxing video of all the lovely things she sent.
What's even better is that she offered up a special discount code to all of my readers and followers! Using the code aerialovely15, you can get 15% off your purchase from the Lace & Whimsy shop!
So if you've been wondering where I've been getting all of my cute stickers, now you know! Kathy is the absolute sweetest and her shop is awesome! She designs, prints and cuts everything in house, so you know that whatever you order will be made with absolute care and love.
I can't wait to create some fun projects and spreads with these beauties and share them with you all!