my 2016 heidi swapp memory planner: july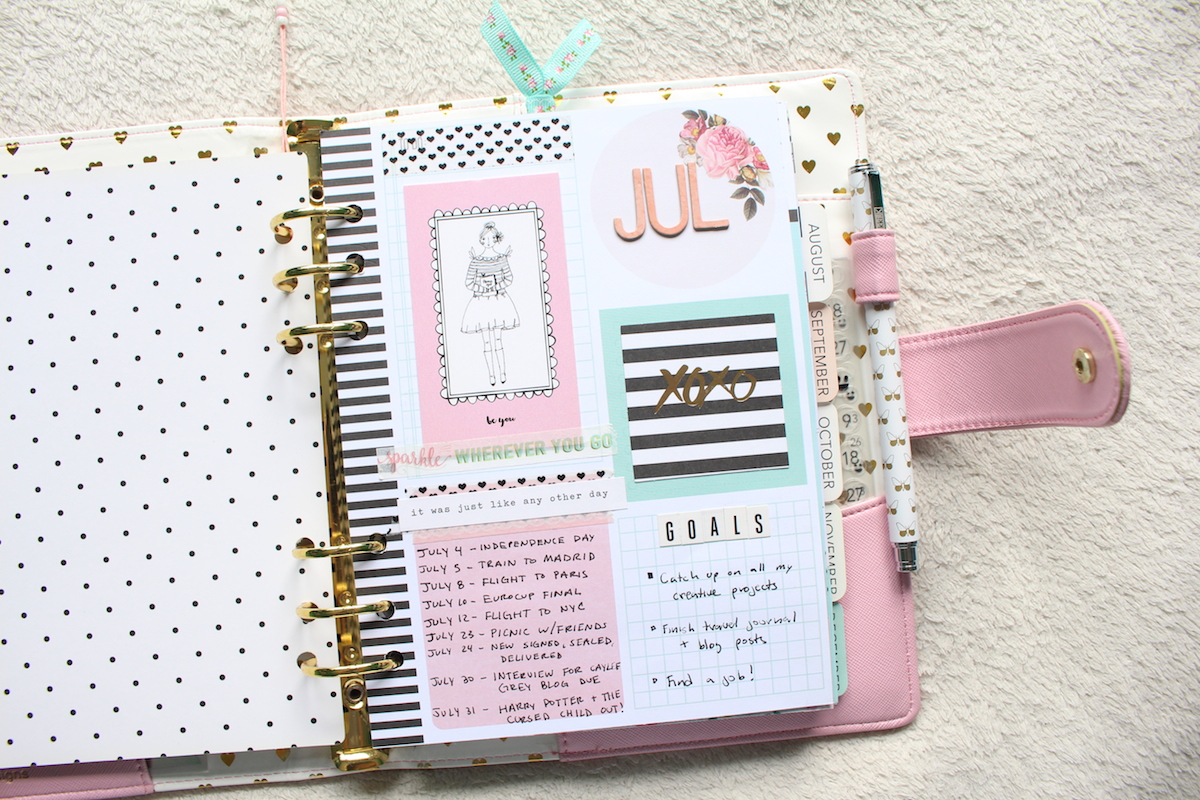 In order to use up some of my past The Planner Society kits, I decided to use the September 2015 kit for my July pages in my memory planner. I was playing a bit of catch up while working on these pages as the first half of July was spent away on my recent Eurotrip. Using the September kit was a bit of a challenge much like the August kit I used for June; there just wasn't enough product, especially to embellish, but I think I did a good job on these pages. I left my dashboard pretty simple. I used one of the journaling cards from the kit in the space I generally reserve for quotes. It just looked nicer and it was a way for my to use up that card. Like in June, I decided to embellish my monthly spread a lot more than I usually do. I actually really love the look of a full monthly spread. Makes it seem like I did a lot of stuff. (By the way, please excuse all the mistakes on my monthly spread. I didn't have correction tape on hand, so I kind of left it as is. Oops!) This month, I did manage to write up my July Gratitude, as I managed to complete all of July by the 31st!
The first week I continued documenting my trip to Europe. Since July began on a Friday, I covered the Monday – Thursday page with different strips of the papers I had and added all of my extra photos I had from Barcelona. Having this "extra" page was really great, as I ended up having a lot more photos from Barcelona that fit within the few days I was there. So I was able to include all of my Barcelona photos in this one spread.
For my second week, I ended up using another one of those pocket page inserts again. I had way too many photos of Madrid and Paris that fit in the days I was there, so I used one of the 4×6 inserts with a 6 2×2 photo layout. I ended up having to use a couple of the filler journaling cards from Heidi Swapp that fit her inserts perfectly, because I didn't have a full 12 photos to fill up the insert. I really love how this pocket page came out though. It was a nice overview of Madrid on one side and Paris on the other. Again, I embellished a few of the pockets with stickers from the kits to give it interest.
I finished up documenting my trip in the first half of week three's spread and fell back into my usual page routines afterwards. I didn't do very much when I returned home, so I naturally didn't have many photos to add into my memory planner. There's one page in week four where I didn't have any photos, so I used one of my favorite papers from the kit–the light blue one with a Planner Society girl printed all over it–and accented it with a few of the quote bubble embellishments that came with the kit, just to make the pause in my week look fun and interesting.