summer stories minibook using felicity jane "note to self" kit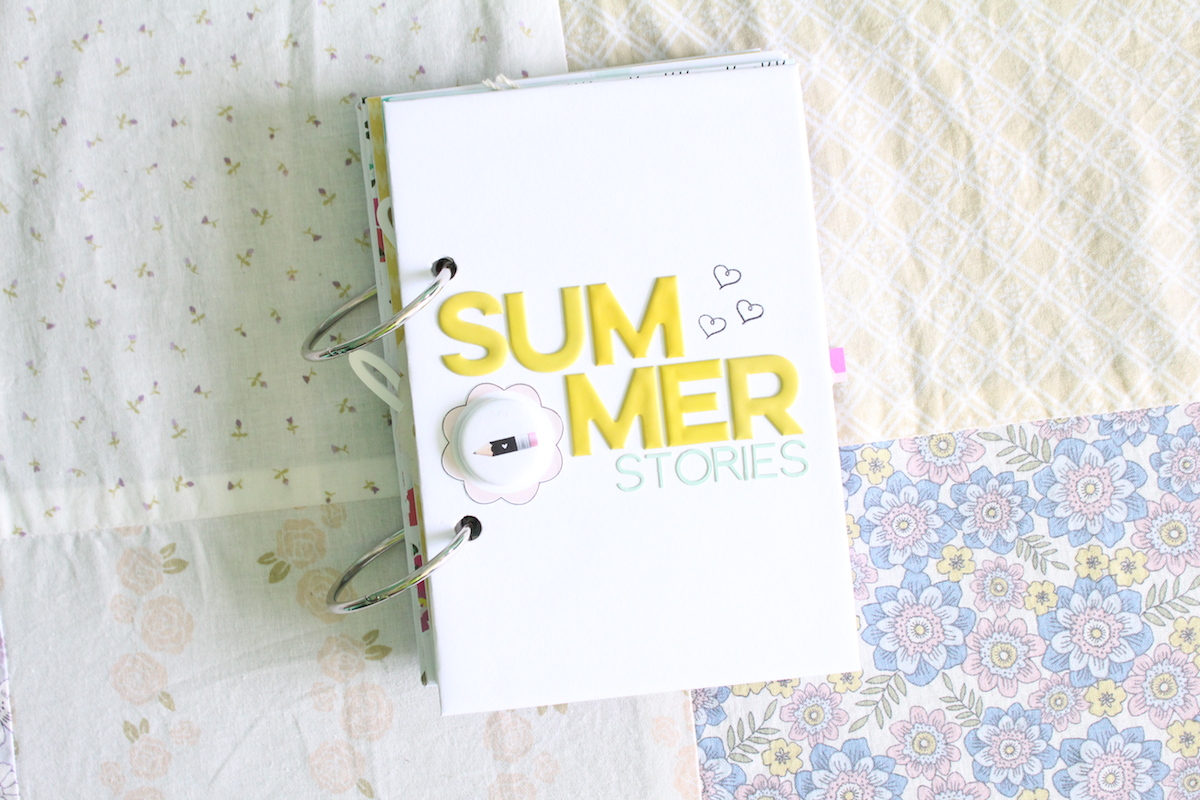 One of my intentions for the year is to create more. A creative goal of mine was to make more mini books. I intended to make mini art journals based on past Get Messy seasons throughout the year, but with my spur of the moment trip to Europe that didn't quite happen. So since coming back home, I've been trying to work on various projects that I had in mind in order to build up my mini book library and scrapbook gallery.
So here's my Summer Stories mini book. I wanted to try something different with this mini. I wanted it to be more minimalistic, so I used my Felicity Jane "Note to Self" kit, which I've been meaning to use for a special project like this for a while now. The Felicity Jane aesthetic is just so pretty. Very light and minimalistic. So naturally I wanted to try my hand at replicating that aesthetic. There's not much of a story with this mini. I just used "summer" as my theme and documented a few things from my summer thus far. I used a few prompts like "my summer bucket list" and "my summer tunes" to give a little overview into my summer and what I want to get done and some things I'm listening to and reading.
It was a very interesting process. My mini book is 4×6 in size. I used two pieces of chipboard that I covered in white cardstock, lining the inside with a beautiful pattern paper from my Felicity Jane kit. Since the size is a bit on the smaller side–and OMG am I loving making these small minis–I used two binder silver clips to bind it all. I decided to make the front cover super simple. I used the yellow puffy alphas from the kit to spell out "Summer," which I had to break apart for the whole word to fit on the small canvas. I used some smaller cap alphas from Studio Calico that I had in my stash to spell "Stories." I then embellished the cover with bits from the cut apart sheet that came with the kit and one of the flair buttons, which had a little pencil on it. I then attempted my hand at stamping. I don't normally use stamps in my scrapbooks–only cause I'm a terrible stamper–but I really loved this little heart stamp from the Note to Self stamp set. So I used some black Stazon ink to stamp three hearts just to fill that space to keep the cover balanced.
For my pages I decided to type out my journaling, so in a sense, this mini is a hybrid of digital and analog. The typed out journaling really made the whole mini book feel neat. I also tried my hand at full photo pages. I'm normally not drawn to full photo pages, but I had a few really lovely photos from my Eurotrip that I thought would make lovely pages. This is definitely the best way to make a minimalistic mini book. I did embellish one of the photos, but it was very simple. I didn't have many photos that I wanted to use and to be honest, I didn't want to use too many photos. Instead, I wanted to focus on the papers and the embellishments. I wanted to play around with layers, but keep it looking simple. I think I managed that successfully.
To give the book a bit of dimension, I used the acrylic shapes, which I was a little weary of using because I'm not much of a fan of acrylic shapes. But the heart shapes were so lovely and I wanted repeat that shape throughout the book. I also used the sequins that came in the kit, another embellishment that I'm not keen on either. Everything else are the papers and puffy stickers that came in the kit. I did use a few white paper doilies on a few pages, just to add a bit of texture here and there, but this was definitely a very simple, minimalistic mini book compared to all the other minis I've made! Since my summer is over yet, I may add onto this mini as new page ideas come to me, though I'm not entirely sure. But for now, I do hope you enjoy my mini book and be sure to watch my little flip through video below!