my reorganized craft space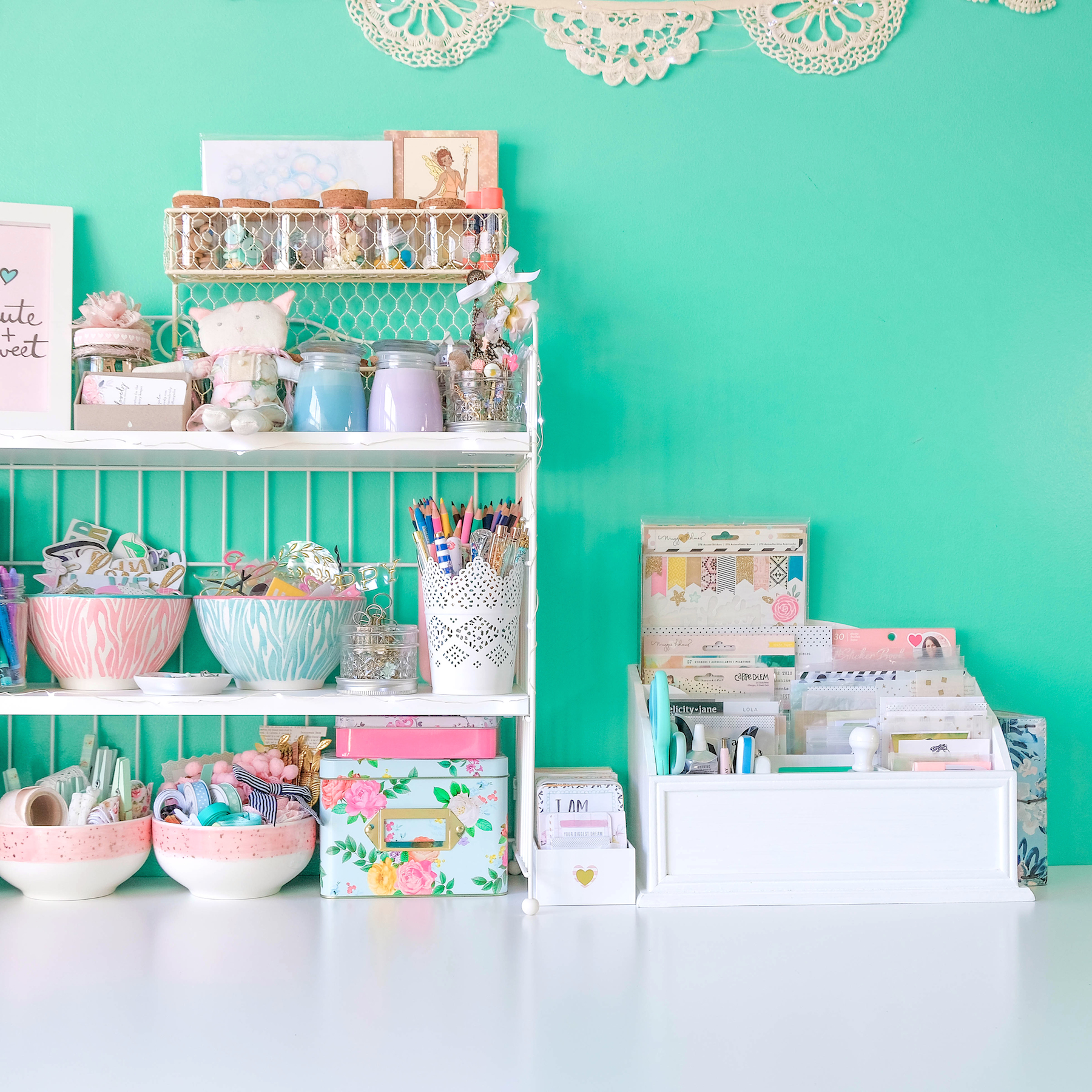 I've been reconsidering a lot of things this month.
I recently went through my entire craft space and purged A LOT of product that no longer brings me any joy or that I know I won't find myself using anymore. I managed to get about three boxes full of product that I'll be donating and giving away.
There's something refreshing about going through your stash, rediscovering new favorites and just trimming down the lot. I've set up a little work station right on my desk with products I want to use up, all at hands reach.
I'm repurposing a desk organizer that once held a million stickers, to act as this work station. It could definitely be better organized, but for right now I have a section for tools I reach for every time I sit to scrap, stencils and punches I want to use more, various papers, envelopes, and die cuts I just pulled from my stash all to use up, and a few other embellishments and stickers that I should use more of. Once this little organizer empties out, I'll shop my stash again and replenish. I'm hoping this will get me using my stash and curbing my spending.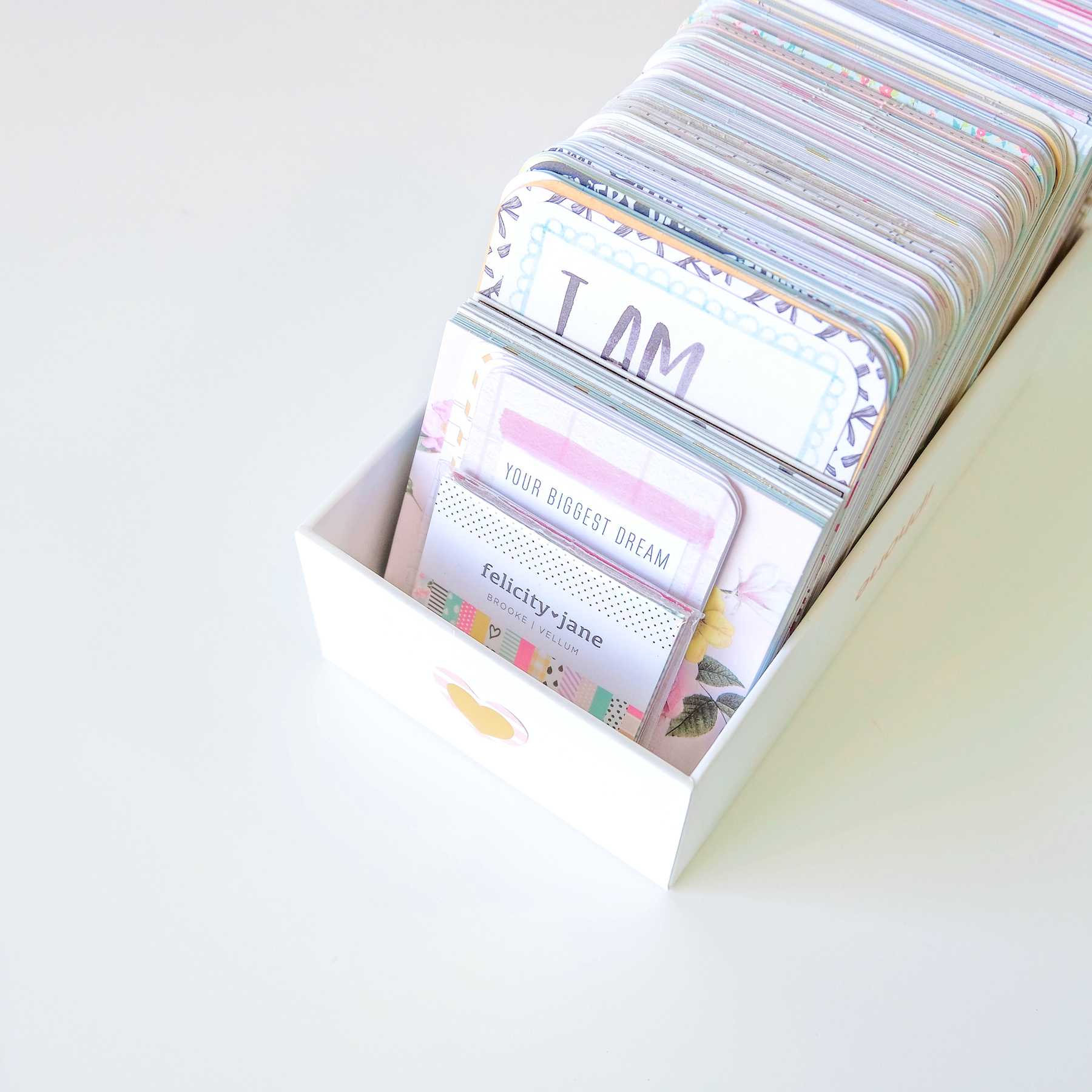 Next to it I have a little white iPhone box that holds all of my 3×4 journaling cards.
Yes, ALL of my cards.
I scaled back my journaling cards A LOT. I paired down about four Project Life core kits and a hundred of other cards I've collected over the years since I've been scrapbooking. This was a feat, I'll tell you that. But I've realized that while I love multiple designs from these kits, I don't need six copies of each design. Keeping only two of each of my favorites really helped to trim down my collection. I kept only my favorites that I know I'll use in my scrapbooks. Keeping them in this iPhone box because that was all I had on hand that would fit the cards and sit neatly on my desk. I trimmed down my 4×6 as well, but stashed them into a recipe tin I cleared of stickers. I'm hoping I can find a small desk organizer box of sorts that can hold both nicely.
I have an Ikea tiered desk shelf things that holds my pots of pens and pencils, plus bowls of embellishments from chipboard to puffy stickers to different ribbons and trims. I love these little bowls because they're cute and easy to rummage through when I need something.
On the very top shelf have a spice rack, which holds little glass jars full of sequins, buttons, resin flowers, pom poms, and other little decorate bits and bobs. It also holds extra glue sticks, staples for my mini staplers, and tiny paper clips. I've got other decorative bits on this shelf as well, like candles, framed art and this cute little cat doll I made.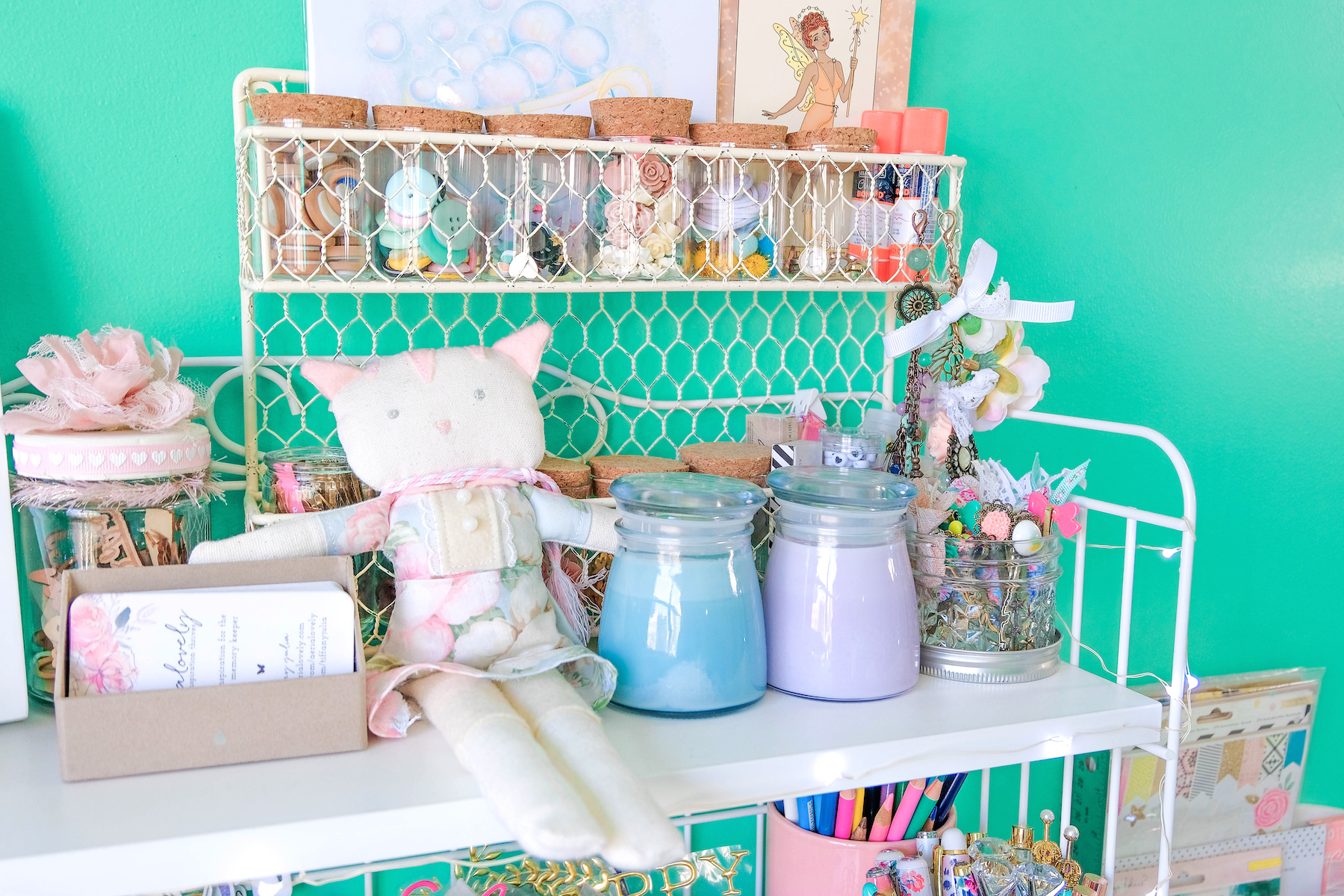 Hanging on the wall over my entire space is this crochet doily banner with some string lights and a tag banner I made while I was on the Fairytale Club design team. I'm surprised at how well this banner has held up considering it's made of paper. And I love it so much that I don't have the heart to change it out.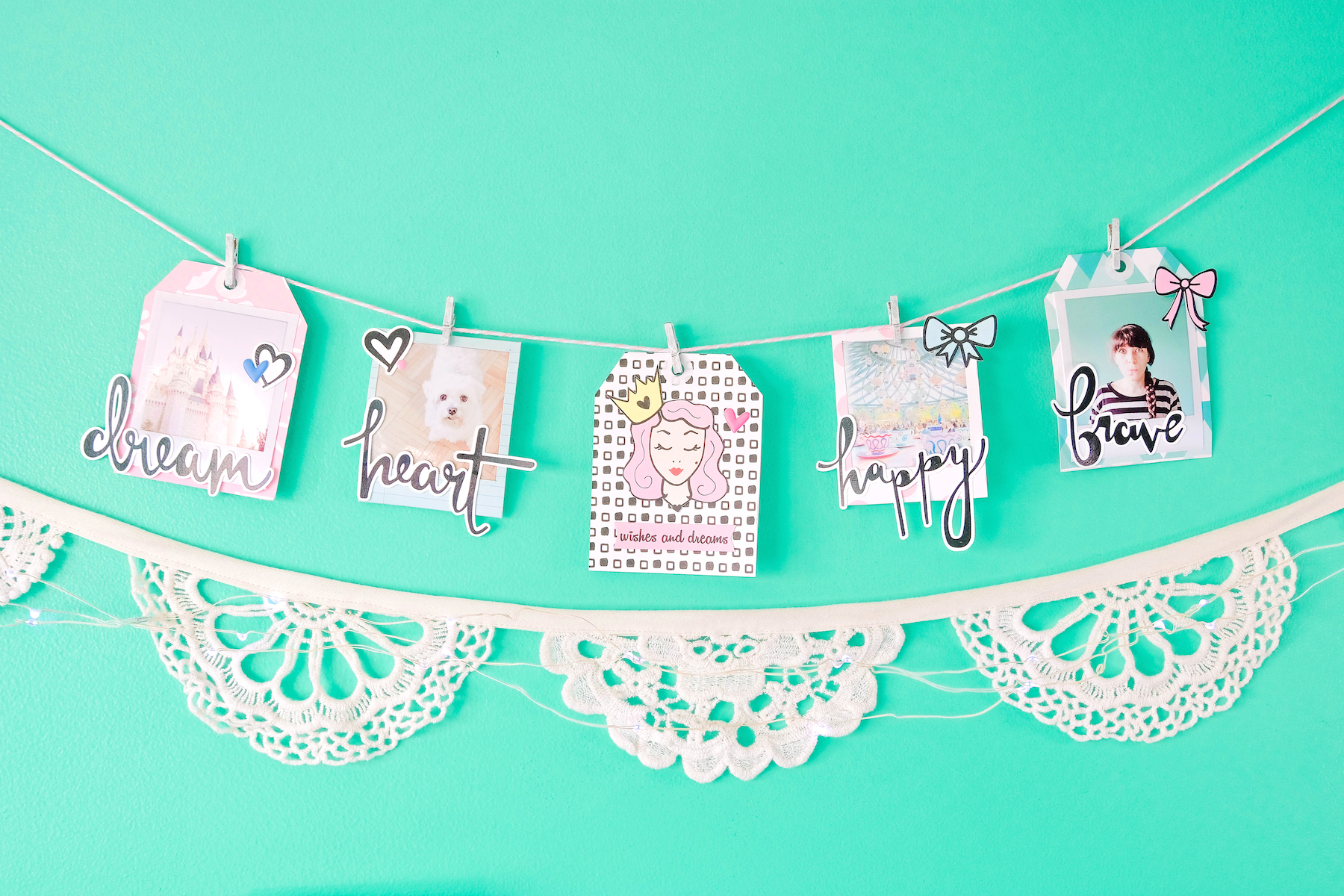 I've been really loving my reorganized space lately. What you don't see are my studio lights that I have at the other end of my long desk, out of shot, for when I film my videos. Ideally, I would love a dedicated space for filming, but I don't have the space for that. So the edge of my desk will have to do.
Anyway, that's my space. If you caught my old desk tour, all of my other crafty supplies are house in the Kallax unit that literally supports my desk. So everything is at a hand's reach under my desk. I reorganized that unit too, moving all the scrapbooking supplies together so they're in the cube next to each other, dedicating one cube to fabric and sewing, and another solely to mixed media supplies. Everything has its own place now and I like having everything I need together in one place.