the book of me: new project + cover decoration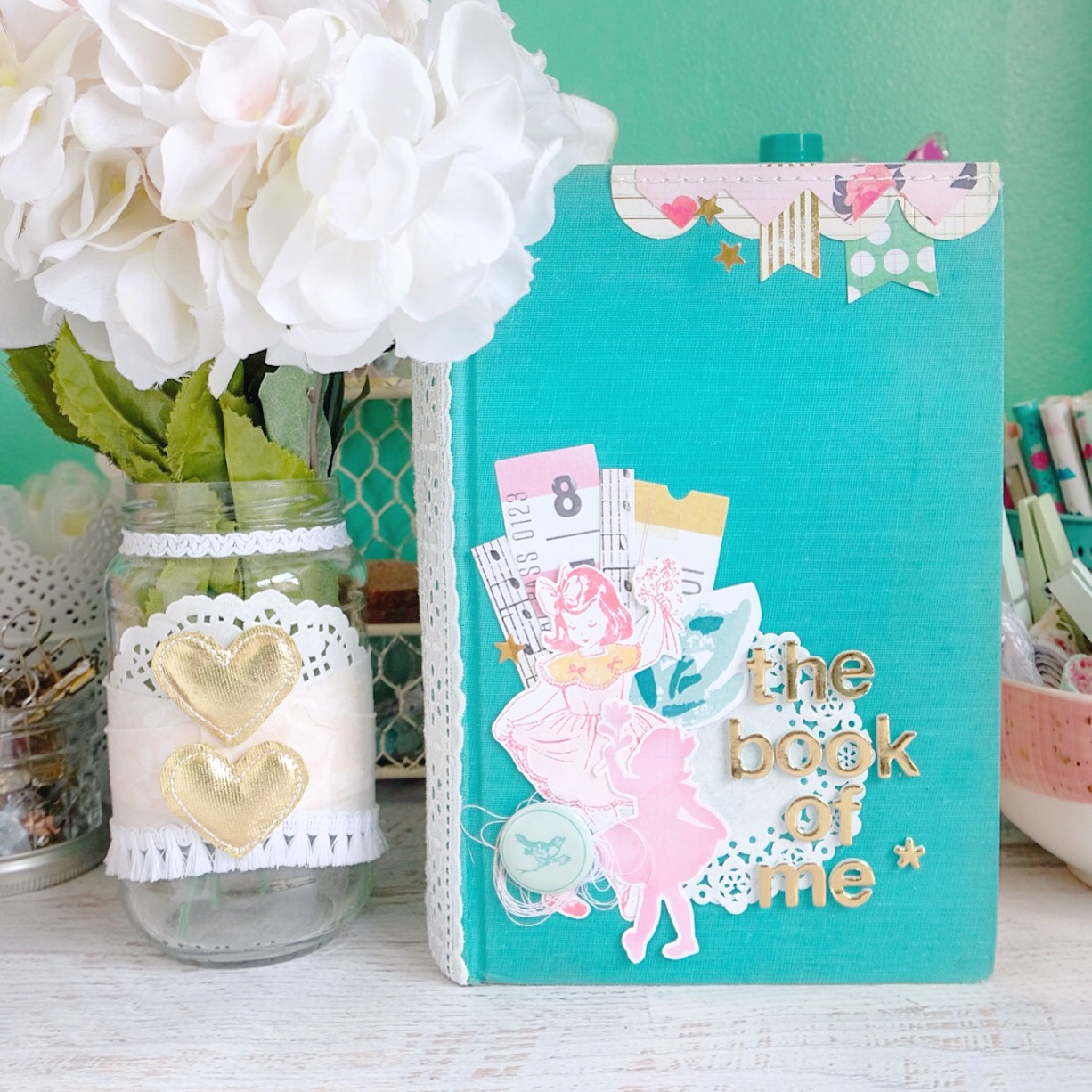 Hey all! Today I'm back with a fun new project to share. Recently, I've been going through all of the creative online classes I've been hoarding and seeing which ones I haven't done yet. I made myself a nifty checklist for my planner and it's so upsetting that I haven't really completed that many of them. From skimming that long list, two classes jumped out at me: 30 Days of Me and Happy Little Moments. Both are from Maggie Holmes and were offered through Studio Calico. Interestingly enough, I didn't own Happy Little Moments at the time of my list making. I was merely going to follow along with the abridged version that was on Big Picture Classes. But this past week, Studio Calico has offered up all of their past classes for sale. For $11 a class, you can enroll is any one of their previous classes and go through them at your own pace. So of course I jumped on both Happy Little Moments and its sequel More Happy Little Moments to add to my ever growing list of online classes. You can jump on this deal as well as the offer is up until July 31st!
Anyway, as I was planning out this project (I gathered a small kit and printed out the 30 Days of Me PDFs and bound them into a little workbook to reference), Suzanna Stein aka @noodoso on Instagram, introduced a little project of her own, 52 Days of Me. How serendipitous! I literally laughed out loud at the timing, because I felt like I needed a project like this too. Except I had already committed to doing 30 Days of Me in an altered book, basically meshing the project with how Happy Little Moments is executed. But I thought it was fine and that I can do all of them in this little book, since the idea of 52 Days of Me was basically the same concept as 30 Days of Me, just a little longer and probably with different prompts (which you get in a weekly email newsletter). Having all of this in mind, I formulated my own personal project.
So for The Book of Me, I will be taking the idea of working in an altered book from Happy Little Moments and combining it with prompts and processes from both 30 Days of Me and 52 Days of Me. I haven't given myself a time restriction with this project; I'm just thinking it'll last until my book is filled (or longer if I wish to create a volume 2 of sorts). I'm very eager to begin, but at the same time, I really would like to record and share with you my process of working this little book. I just think that would be so much fun.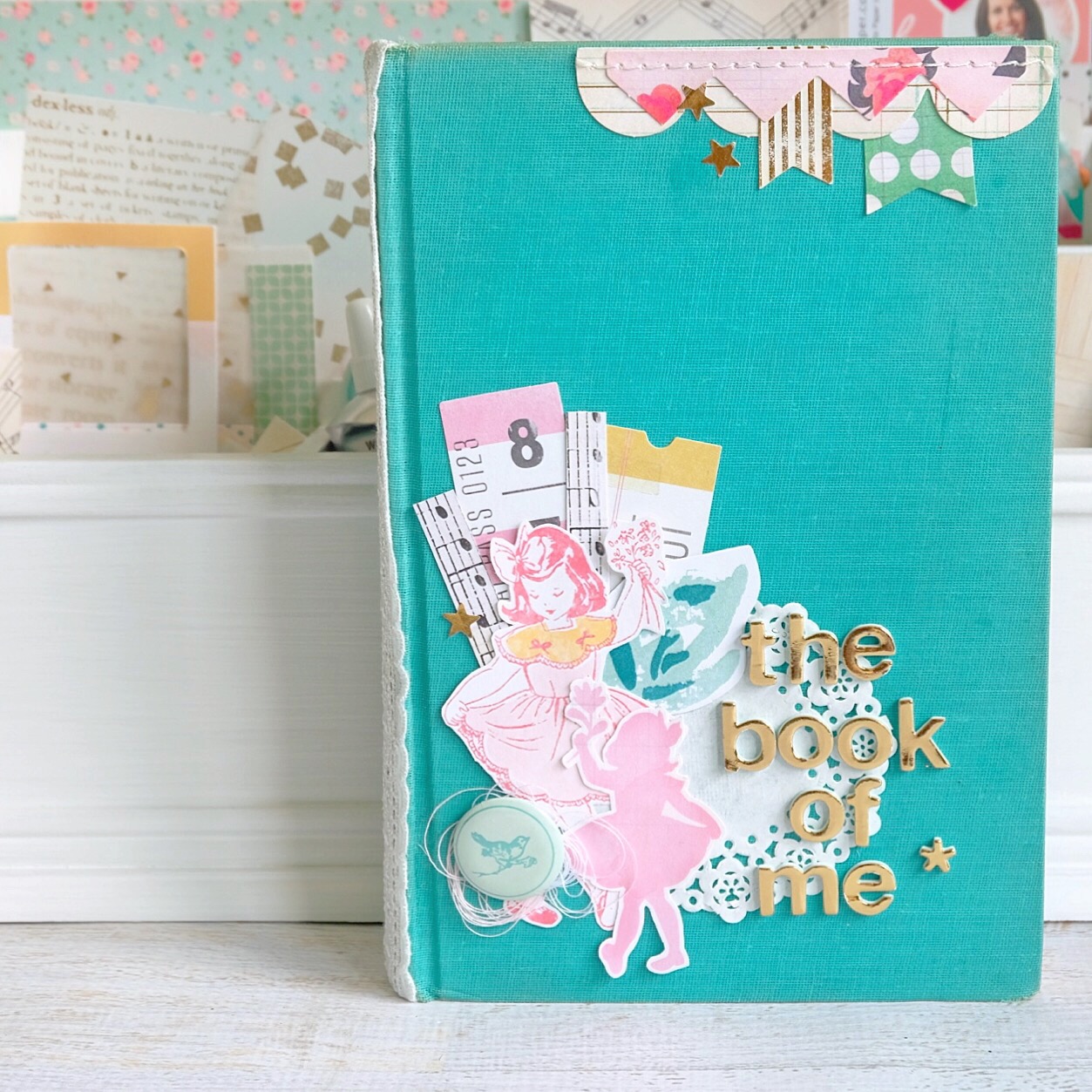 So like any new project of mine, I began with a little kit. I meticulously shopped my stash for bits that would work well together. I've been in a bit of a "old Crate Paper" kick lately, that retro vintage vibe they used to do so well becoming super attractive to me (though honesty, it's always been attractive to me. It's the main reason why I love Crate Paper so much and why their latest releases have been a bit disappointing). I've been trying to hunt down some previous collections and let me tell you, it's been difficult. One of them that I've been loving lately has been Oh Darling. It's super old and I new that I wouldn't be able to find what I wanted from it without shelling out a lot of money, so I did the next best thing: I purchased the digital collection from AC Digitals. I printed out sheets of paper and ephemera, which I painstakingly fussy cut. I'm glad I did though, because I now have a nice little stash of Oh Darling bits that I know I'll use because I only printed off my favorite pieces.
To compliment that collection, I pulled out all of my scrap pieces I had left of Maggie Holmes Confetti collection. I won this Confetti collection through a Crate Paper giveaway a few years ago and they were super generous and awarded me almost the entire collection. I had to buy the chipboard pieces myself, but for the most part, I had everything. And over the years, I used a lot of it up, to the point which I just have a few scrap pieces of paper and quite a bit of the ephemera pack left. I also have the chipboard stickers, which I always find difficult to use when I get complete collections, so I always end up hoarding them. Anyway, I mixed in those Confetti pieces with the Oh Darling bits, along with some other miscellaneous Crate Paper goodies from previous Maggie Holmes collections (like Flea Market, Style Board, and the signature Maggie Holmes collection). Then of course I added a mixture of paper doilies, glassine treat bags, and left over vellum pieces that matched. I really want to play around with that retro vintage feel with this book.
I recorded my first video in this project series. It's a long one as I explain the why and how, but around the 13:29 mark, I go in and begin decorating my book cover. You can check out that video down below and definitely play along if you wish! I'm hoping this will be a fun little summer project for me and I can't wait to share my creation of it with you!