unraveling 2017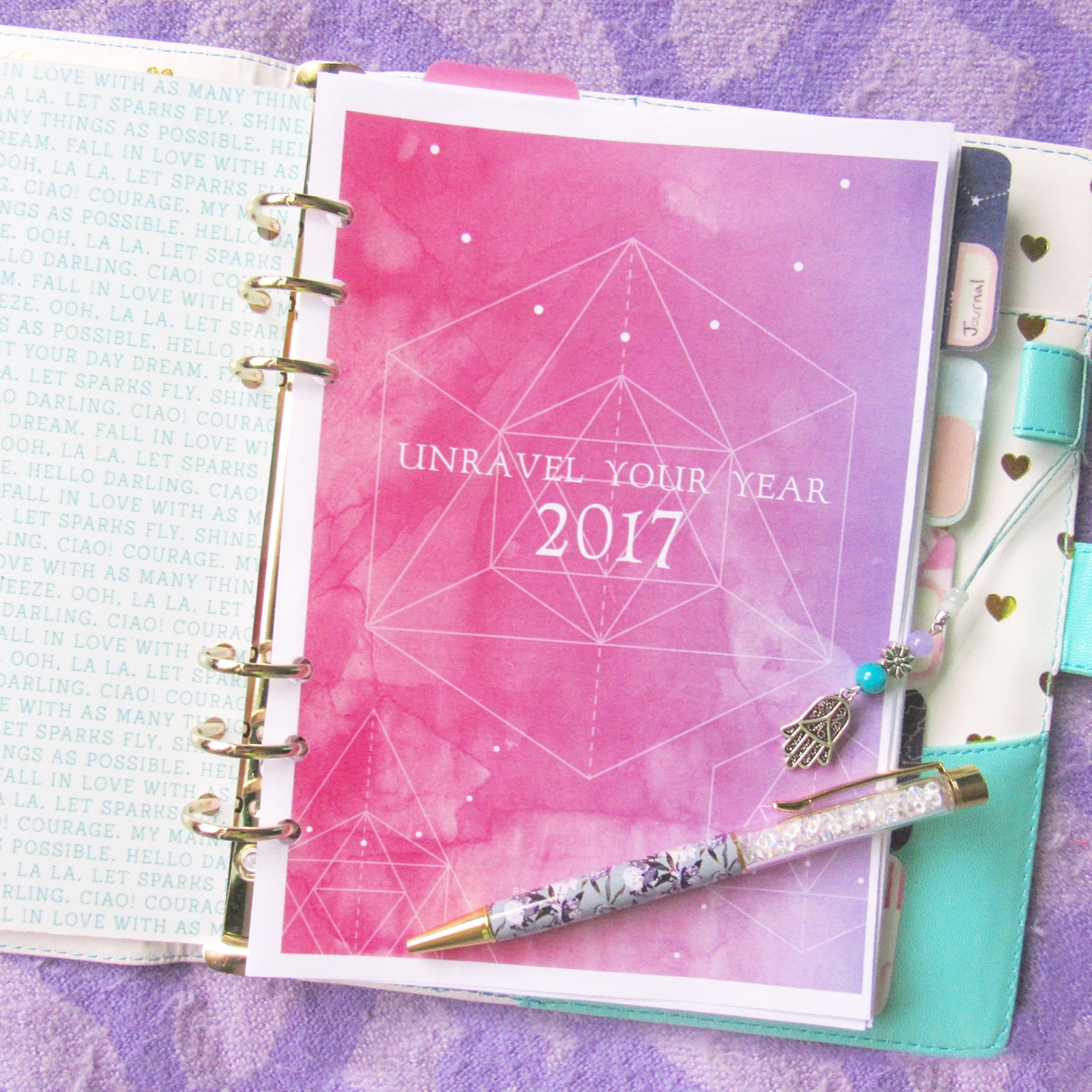 What matters is taking a moment to reflect on the year that's passing and tune into the year that's coming. Paying attention to your intentions and dreams. Your big plans and little plans.

— Susannah Conway
2016 is finally drawing to a close, so that means another lovely workbook from Susannah Conway! I've been looking forward to this book since the ending of November because I didn't really get a chance to fill it out properly last year, as I was backpacking through Southeast Asia at the time. But if you remember, I did fill it out for 2015 and 2014, and I'm again going to fill it out this year!
This little workbook is all about reflecting on the year that past and setting intentions for the year ahead. 2017 is a bit more important to me because I'm planning to do reset of my life. I've been thinking about some changes that I've been wanting to implement for a while, both in my online life–with the blog and YouTube specifically–and my real life. I half changed my real life situation this year when I left my office job that I absolutely began to dread, but I still kept all of my babysitting gigs, even though I wanted to leave those too. So for next year, I've decided to drop that as well to do something else. I don't know what that something else is yet–though I've been applying for jobs since I got back from Europe this summer–but I'm learning to accept that it's fine. I just don't want to do something I don't enjoy anymore. If it stresses me out to which it causes me anxiety, I have to get rid of it. I've realized that I don't need all this negative stress in my life; that I can quit anything at anytime if I want to. I am the maker of my own life. Everyone else will just have to deal with that.
It's taken me awhile to realize this. Granted, I'm super picky and won't just take on any ol' job because I know I'll just go back into that same rut that I'm already in. But it also makes it harder for me to get a job that I might actually like and won't affect my anxiety. I'm just fortunate that I have a mother who supports me no matter what I decide to do, and if creating my own job is what I have to do, then I'm going to try my hardest in 2017 to do just that.
So with that, I wanted to share a few intentions I'm setting for myself for 2017. 2016 was a very anxiety-inducing year and I want 2017 to be the opposite. I want to reduce my exposure to stresses that can be avoided–I know what these are now–and just work harder on self care. I want to return to some of my past joys and maybe create a bit less to make room for those other joys. My word for 2016 was CREATE and I managed to get into the habit of creating something everyday, but that's all I did. I was creating constantly. And while it was very therapeutic and I loved it, I forgot about all the books and movies I wanted to watch and all the songs and stories I wanted to have written. So I want to make some time out for those too.
Anyway, before I go off on another rant, here is a concise list of my intentions or what I'm planning to do in 2017:
Keeping only these three planners:

My Simple Stories Carpe Diem as my Memory Planner
My Marion Smith Heart of Gold as my Unravelling/Soul Searching journal
My A6 Hobonichi as my monthly planner/daily art journal
20 books in 2017 (cause I need to get back into reading)
Launch Mindfully You as a free email prompt ecourse
Create a daily art journaling habit
Carry my camera with me everywhere I go
Start a vlog on my YouTube channel
Focus on creating more musical content (ie. cover videos, original songs, etc)
Continue my job search
Save Save Save = no more buying scrapbook supplies I don't need
Plan for travel in 2018
Practice more mindfulness
Think positively
Worry less
I definitely might meditate on a few of these before the year is up and possibly add or remove some, but those are my intentions as of now. I will see where they all end up in once I've completed working through Susannah's workbook, but I'm anxious for the new year! If you're interested, you can find Susannah's Unravel Your Year 2017 workbook by visiting her website and signing up to her mailing list. She is absolutely amazing and if you've never heard of her, her site is definitely worth a visit.