disney autograph book | the fairytale club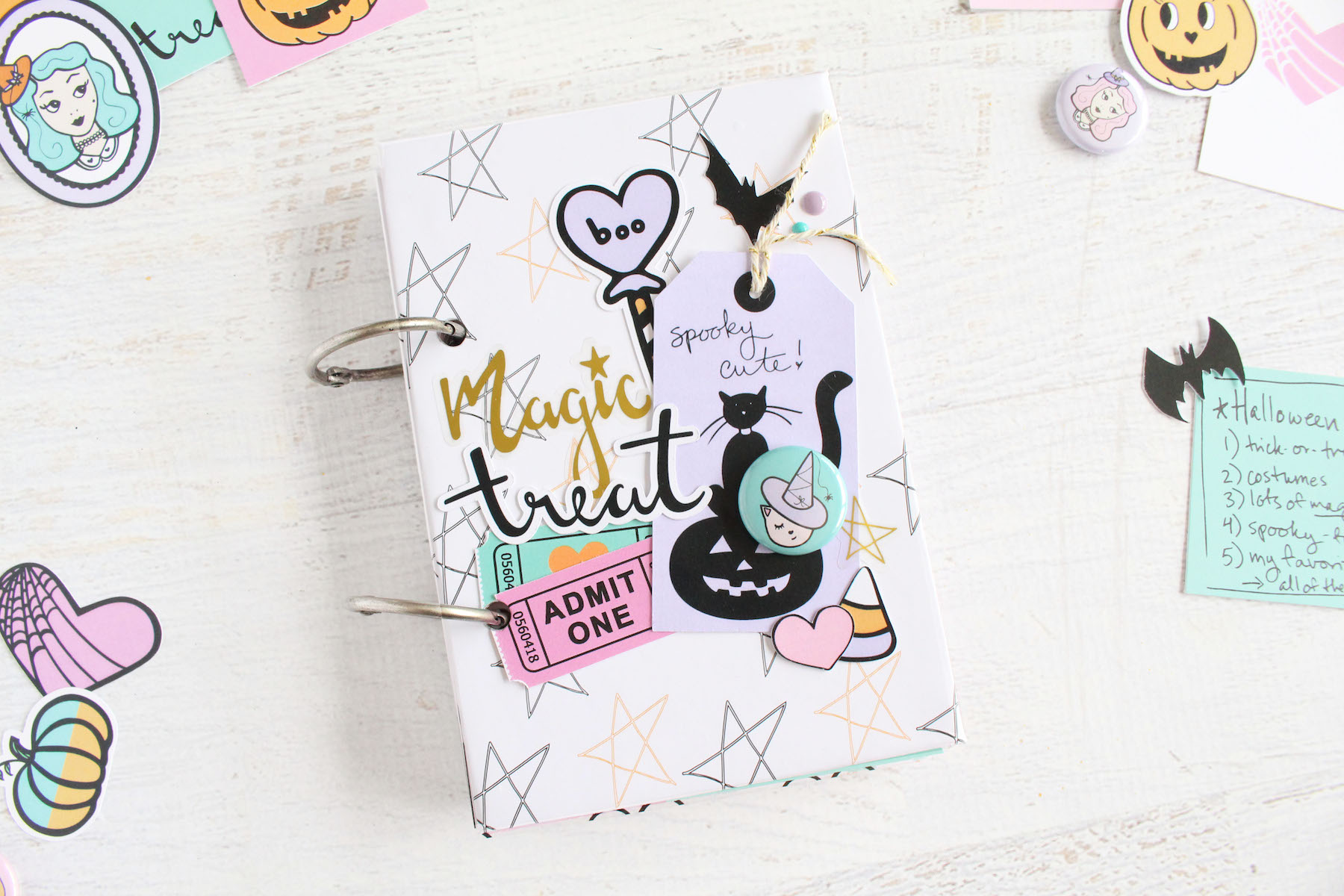 Hey everyone. I'm back today with a fun project using the new "This is Halloween" kit from The Fairytale Club. This kit is a Halloween themed kit inspired by The Nightmare Before Christmas and Hocus Pocus. I'm not a holiday person–I don't celebrate any of them–so holiday themed kits tend to be a bit tricky for me to work with. But when I received my kit and unboxed it, it was really cute that I thought it would make a perfect autograph book for my upcoming Disney World trip.
I'll be going to Disney with my friend in about a week. We are planning to attend Mickey's Not-So-Scary Halloween Party at Magic Kingdom one of the nights we're there, so I thought it would be really cool to bring along an autograph book for the characters to sign when we do all the meet & greets (which we're totally planning to do). How perfect to make my own autograph book with a Disney-inspired Halloween themed kit!
So the little book I made is about 4×6 in size. I made the covers from chipboard that I covered with the black and orange star paper from the scrapbook kit. I used the backer card packaging from the sticker sheets for the inside cover linings. I embellished the cover with a mixture of pieces from the cut apart sheet and die cut ephemera pack, as well as some of the gold foil stickers and enamel dots from my stash. I topped it off with one of the flair buttons with the little kitty witch on it.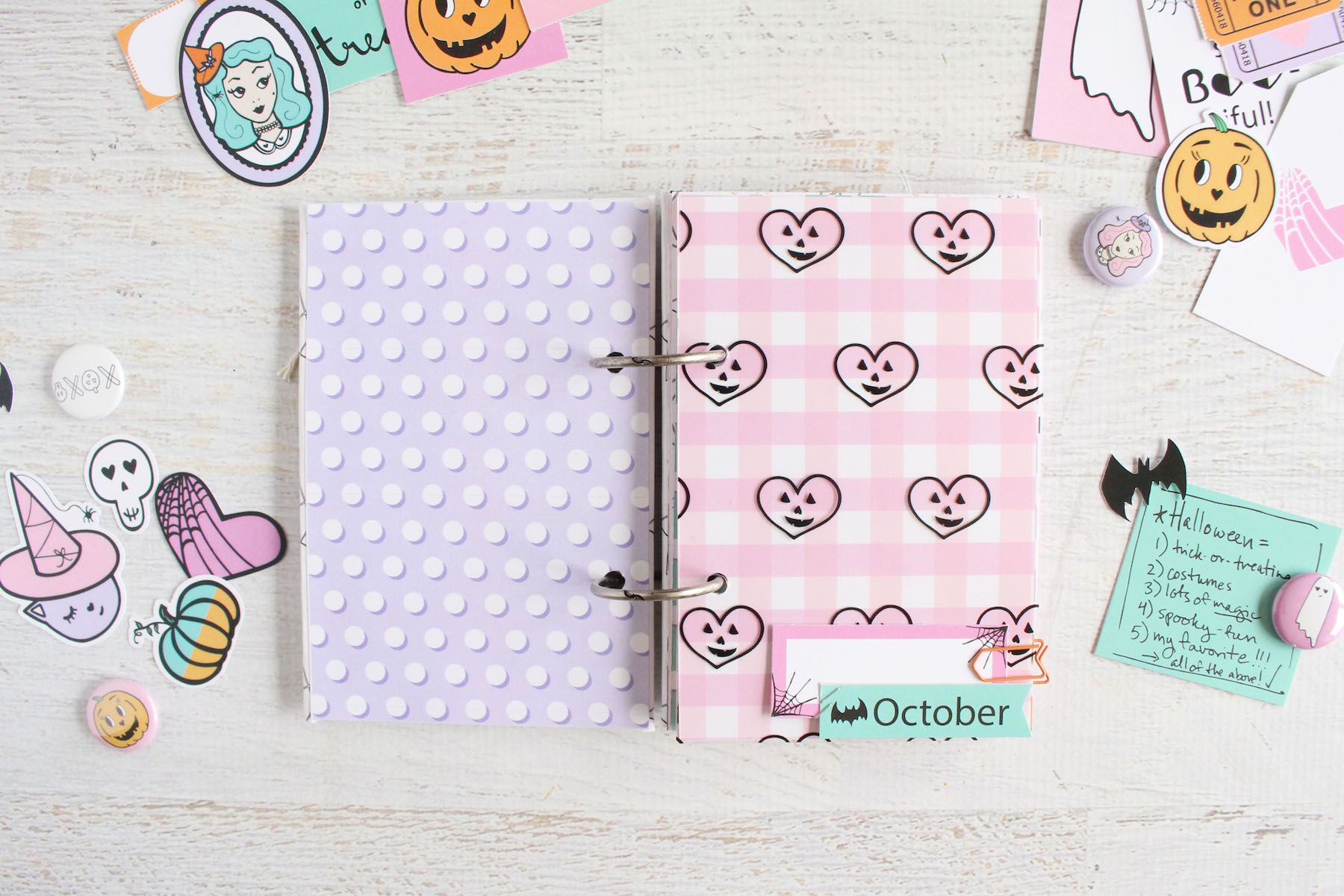 The first page of my book is a piece of the acetate sheet that came in the kit. I layered a few labels from the cut apart sheet on top of it at the bottom right corner to act as my title of sorts. I'm planning to fill in the pink label with either the dates or "Walt Disney World 2017" or something of the sort. The page behind it is just a simple pink plaid pattern. I decided on that pattern because it wasn't too busy. I didn't want it to take away from the heart jack-o'-lantern pattern on the acetate.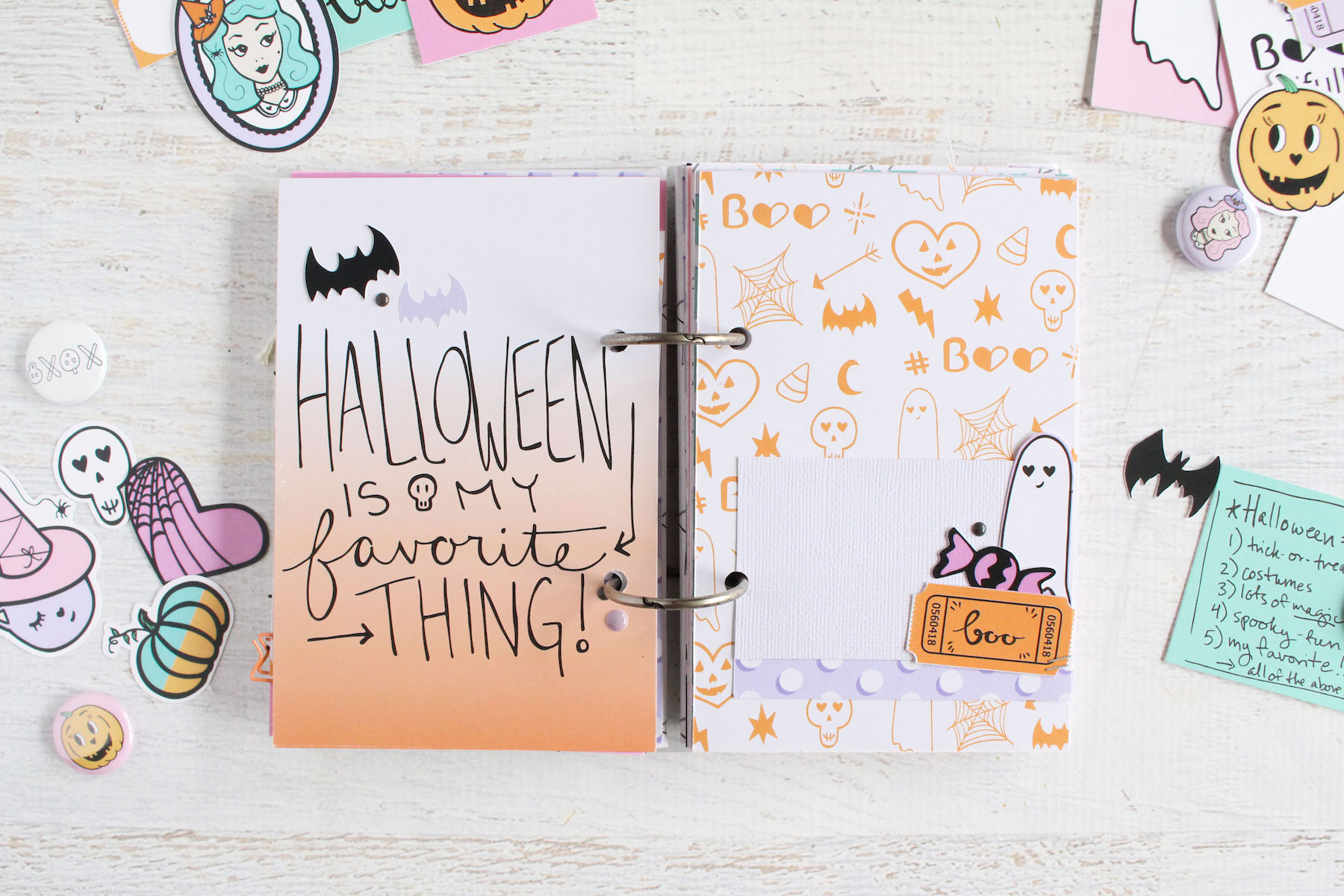 For the rest of the pages, I used the personal sized planner inserts that I just trimmed down to 4×6. It was super easy to do. I only had to trim off a bit at the top or bottom of the insert to get it down to 4×6. I arranged my pages how I liked them and began to embellish. I used all sorts of embellishments from the die cut pack, cut apart sheet, and sticker sheets from the kit, along with a few enamel dots from my stash to create my pages. I also used some white cardstock to create little places for the Disney characters to sign. It is an autograph book after all. I made sure to decorate one page and leave the opposite page blank for signatures.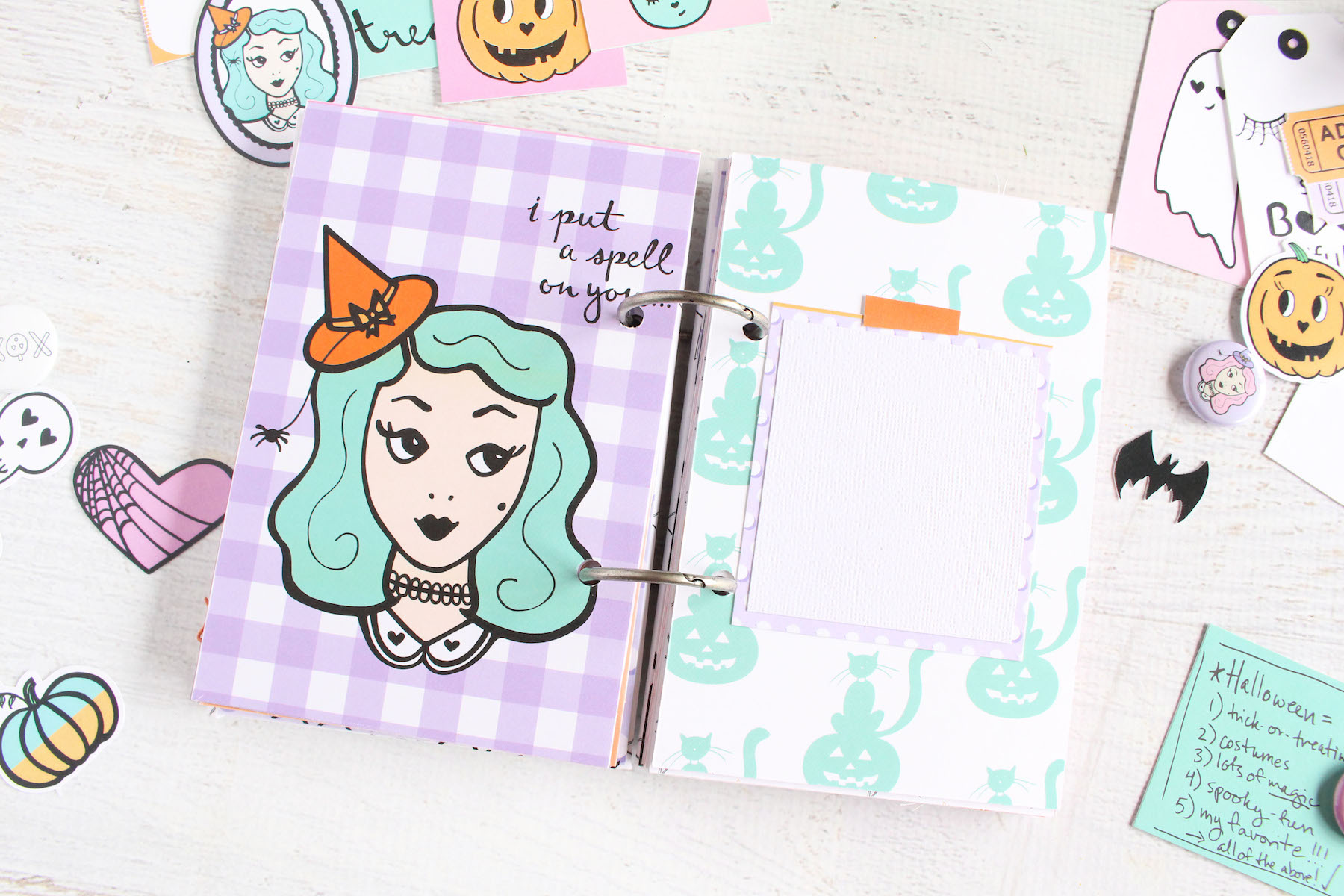 I loved using these planner inserts for my pages because a lot of them had super cute designs and sayings already on them. The ones that I didn't really like I just made into my signature page by covering up the design with white cardstock and using the opposite pattern page to create my own standout design.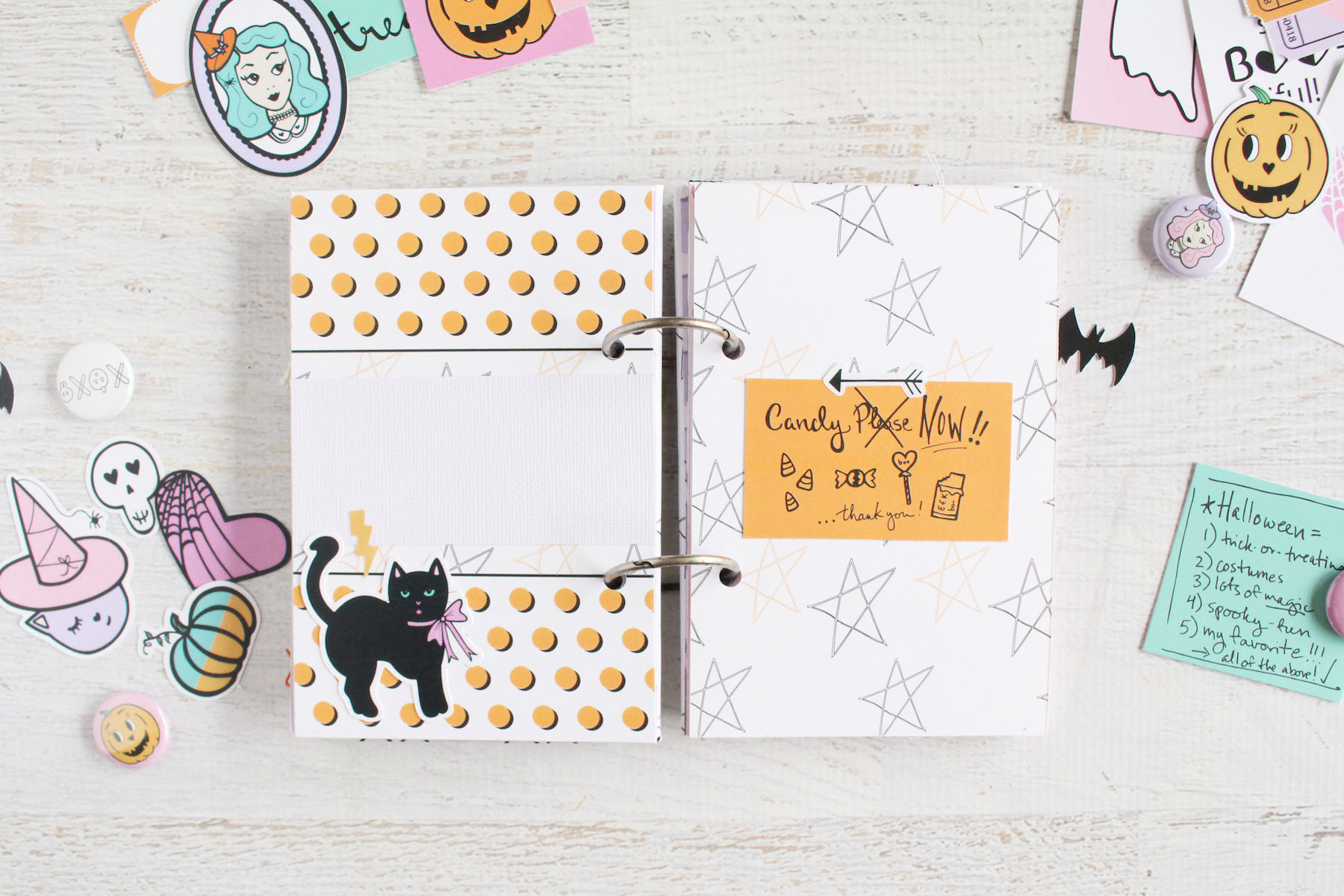 For example, with this page I covered up the "Beware" statement on the orange polkadot page and added this piece from the cut apart sheet on the opposite page to create a new statement page. That's what so great about this kit, you can alter anything that you don't necessarily like to suit your project.
I love how this autograph book ended up turing out. It will definitely make a very cute keepsake once it's all filled up with character signatures! I can even add 4×6 photos with the characters I get signatures from into it by simply punching holes and inserting them where I want. That's what's so great about using these binding rings; I can continue to add pages in whenever I want.
Definitely check out the video below if you want to get a peek at my finished autograph book (without the signatures in it of course).