scrap with love: a visual planner project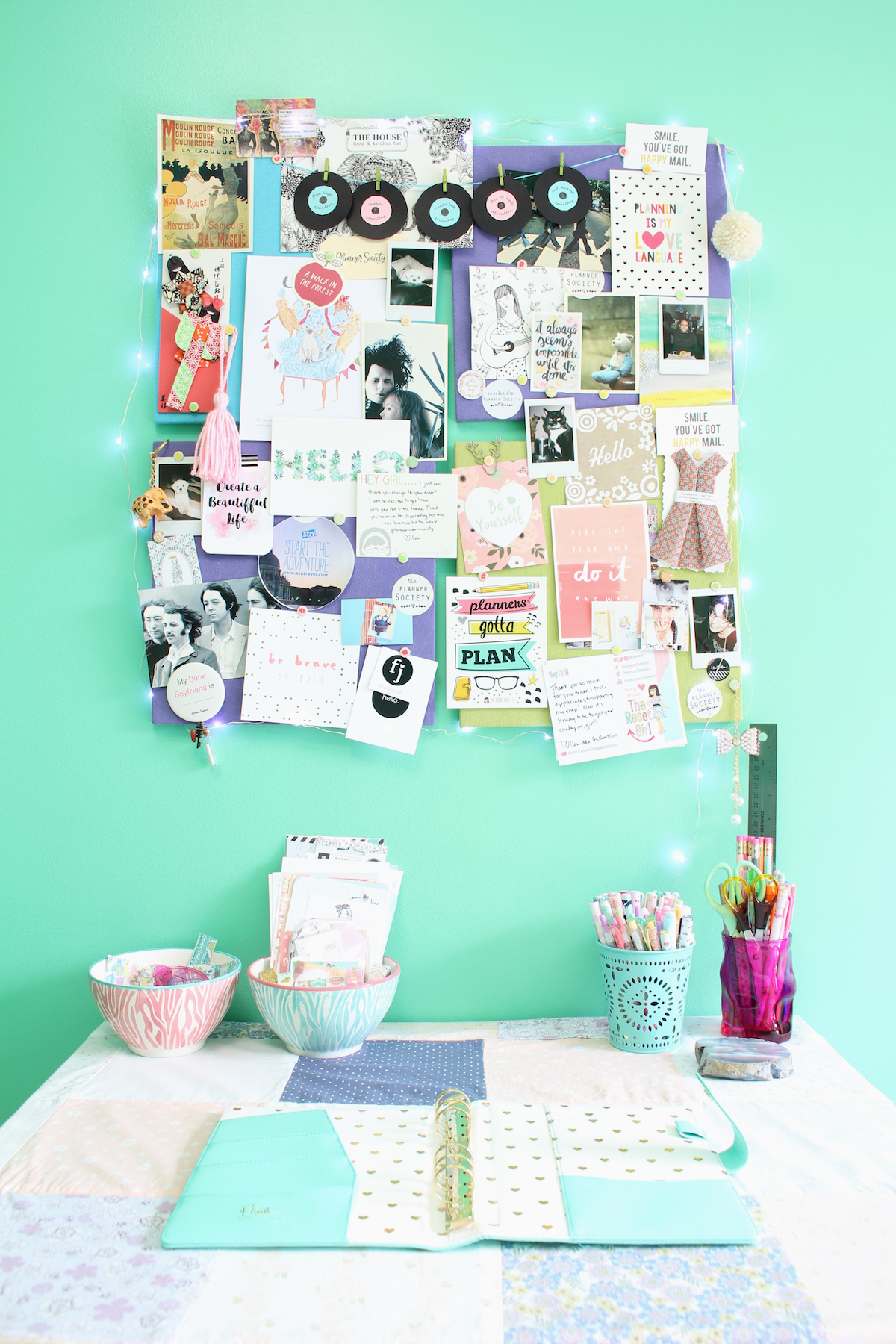 I've been thinking a lot about this ever expanding hobby of mine I like to call scrapbooking. Lately I've been feeling like I could be making more and that I'm not scrapbooking enough. I feel like I'm acquiring more product than I'm using up and I'm essentially becoming a paper hoarder. I also feel like I'm becoming somewhat of a planner hoarder as well. Tis the season for new collections and I suddenly just want ALL THE THINGS but with no idea how to use them. So, I spent a lot of time reorganizing my supplies, breaking up my collection and compiling collection lines into kits. For instance, I found all of my Paige Evans for Pink Paislee Fancy Free line and consolidated it all into a kit, which I then stored in a 12×12 ziplock bag. I did the same for my Felicity Jane kits and other scrapbook lines I purchased a la carte, so that I had a bunch of kits I could go to if I wanted to start a new project. I felt accomplished afterwards; my craft area was much more organized.
But I still didn't make anything.
Now, I don't make scrapbook layouts. I tried my hand at making a few 8×8 layouts once, and while it was okay, I didn't really enjoy it. Layouts to me are like one-shot stories documenting one moment in time and while you can make a series of them to tell a larger story, visually, they aren't cohesive like a minibook is. I don't know; maybe I'm not making much sense other than layout making isn't for me. I do enjoy making a good minibook. Now the problem with minibooks are that they tell a complete story, from start to finish, in a tiny–or large–book. Minis are often made around a single event, like a wedding, trip, or any special occasion. You can also make a themed mini, much like my This I Know minibook I made a little while ago. This particular mini centers around an overarching theme from start to finish. While most minibooks use photos from the single event, my This I Know mini didn't have many if at all any photos, which was fine in this instance because it was an art journal minibook hybrid. But most minibooks are often completed with photos. In some instances the photos prompt the minibook making.
While I enjoy making minibooks, I often don't have enough photos to make a cohesive mini. A lot of my minis are themed minis because I never have many photos from a single event. I'm very young, single and don't have kids, so there isn't much of an outside story to my life. Most of my life events are usually travel oriented, so I end up making travel journals–which you can considered being minibooks as well but with more journaling–instead. I recently made a themed minibook I called Summer Stories, where I basically recorded a few things from my summer so far. While I made a really cute little mini and enjoyed myself, I still felt like I hadn't made enough. Or rather, I hadn't used up enough of my Felicity Jane kit.
I don't know. I may be rambling, but I feel somewhat unfulfilled with my scrapbooking. I recorded all of my daily life in my Heidi Swapp memory planner using up my Planner Society kits, that I want every single one of my other projects to feel the same. But I never know what to document because besides all of my traveling, I don't have anything to document.
Thus enters my new project that I hope will inspire me and help me fill up whatever empty void I currently have in the depths of my scrapbooking soul:

Scrap with Love is not really a planner project, it's more of a project in a planner. I feel like I've been hoarding A5 planners recently. This came out of a wanting to buy the new Reset Girl Ballerina Planner from Simple Stories. Yet, I thought to myself, do I need to spend money on another pretty A5 planner that will just end up sitting about empty? The practical answer is No, but trying to rationalize with my ever nagging desire to buy it wasn't working. So I took inventory and thought up ways to use all of my current planners. After doing that, I found I had one lonesome planner that didn't have an occupation: My imperfect Marion Smith Heart of Gold First edition planner. I purchased this planner from Marion Smith for $5 and while it was an excellent steal–my planner had a few imperfections but nothing major that would deter me from using it–I hadn't found a use for it. Well, I think I found a use for it.
Scrap with Love is essentially going to be "me time" where I scrapbook my heart out in my Heart of Gold planner for no other apparent reason other than to play with paper products. It's going to be a place where I can make pretty stuff to just make pretty stuff. It won't be a place to document an event or a trip or anything happening in my life. It's just going to be about me and what I like and whatever else I feel like putting in it. It's going to be like a visual journal–not an art journal though. More like a scrapbook journal. A place to play and experiment with all of the scrapbooking supplies I have accumulated and probably will continue to accumulate. I think it would be fun and I'm inviting you all to tag along!
So my intention for this project is to play in my planner at least once a week and document my process with you via YouTube. I will upload a process video each week of me working in my planner–setting it up, making pages and whatnot–and write up an accompanying blog post here summarizing my thoughts and sharing photos. I encourage anyone who feels in the same sort of rut as I do to come along and make your own Scrap with Love visual planner. Or anyone who wants to have scrapbooking fun in planner! Or anyone really. It's open to anyone who want to scrap with love with me!
Be sure to follow along here on the blog, on my YouTube channel and on Instagram via the hashtag #scrapwithloveplanner. I look forward to sharing and seeing all the pretty stuff!