creative intentions for 2016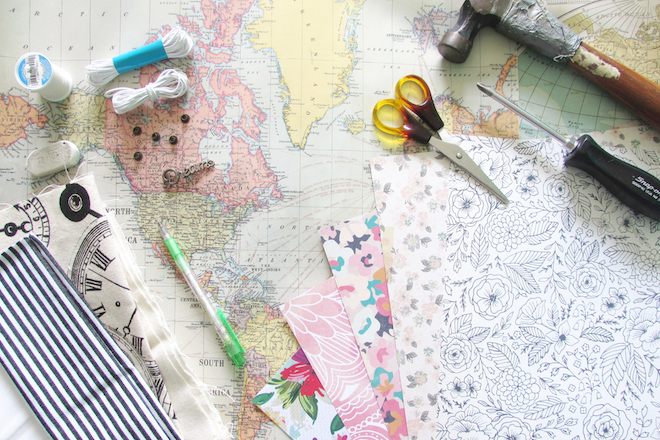 As 2015 is ending and a new year is approaching, I've been doing a lot of thinking lately of what creative projects I'm going to do in 2016. With the absence of Project Life for 2016, I have a lot more freedom to do more documenting in whatever format I want. I most particularly enjoy minibooks, so I was thinking of making 2016 the year of minibooks. What I came up with was to create a minibook or a creative art journal for each month. This came about from me wanting to do Kara Haupt's Summer of Love again for 2016 as I had originally wanted to do it for 2015, but life got in the way. But that would obviously be for the summer, so I began to think up ways to stay creative the rest of the year and thought of doing a minibook or art journal a month. I figured I'd make it work and could get it done in conjunction with Get Messy, an art journal community and challenge that I recently joined.
Besides the individual minibooks and/or journals, I'm also still going to art journal regularly in my #artofjournaling notebook, as well as keep up with my personal creative planners. I sort of want to streamline my projects so that I'm not doing too much that feels overwhelming. Project Life became overwhelming and therefore not fun anymore. I want to try something new for this year and see if it works for me, in terms of documenting my life for the year. Project Life just wasn't working anymore.
So with that in mind, I've broken down my minibook projects into months. Hopefully with this planning in mind, I can make 2016 a year full of creativity and minibooks!
JANUARY – Coming home mid-January, the remaining two weeks of January will be for completely my Southeast Asia Travel Journal. I don't add in photos as I document on the go. I tend to leave placeholders for them and print them up to add them in once I return home. So besides adjusting to being back, I'll just use the remainder of January to complete my travel journal and finish up my Get Messy Season of Words art journal I never completed before I left.
FEBRUARY – I was thinking of starting with Get Messy. I'm already registered, so I have access to all the present and past "Seasons of Get Messy." I'm really keen on doing all of them, so I might begin with Season of Love, which was they're first season of Get Messy 2.0, if I begin while their in the middle of the current season. Plus, it's fitting cause it's February. :)
MARCH – Following the order of things, the next Get Messy season is the Season of Brave. Additionally, if there are current Seasons in progress or just starting out, I may do those either instead of the past seasons or concurrent with them. But since I don't know the future as of yet, I'll stick with Brave for now.
APRIL – Season of Adventure is the next one.
MAY – Season of Serenity.
JUNE/JULY/AUGUST – These months can go in two ways: One, I can begin my Summer of Love 2015 minibook/art journal, which I'm thinking will encapsulate the entire summer, so through to the ending of August; or Two, I may go away to Europe at some point between June and August, so a Europe travel journal will be in progress as well or instead of Summer of Love.
SEPTEMBER/OCTOBER – Season of Magic.
NOVEMBER/DECEMBER – For these months, I will participate in the current season of Get Messy.
As for my personal planners, I've decided that I'll keep about four of them. I've managed to do real well with my multiple planners. Though in my defense, I only keep up with two: my personal planner and my blog planner. For 2016, I'll continue to use both of these planners as I've used them. My personal planner is my day-to-day planner…mostly appointments, to-do lists, etc. My blog planner is to plan posts and manage my social media accounts. This system worked for me greatly, so I'll continue to use them both.
Yet for next year, I want to designate two more. My A5 Kikki K is currently housing my journaling from Susannah Conway's Unravelling class that I have yet to finish. I'm hoping that I continue to work on this course in the new year, so I'll be keeping all my journaling from this course to this planner for now.
As for the second new planner, I want to use it as a memory planner. I like the idea of using a memory planner, or a planner to document and journal my days. Cory, The Reset Girl, does it with her Inkwell Planner and Heidi Swapp created a whole planner line for this very purpose. It's like scrapbooking but in a planner. You journal your thoughts, add photos and bits from your day, or use it as an inspiration journal…whatever. I wanted to keep one for this year, but it seemed a bit redundant while doing Project Life as well. I didn't want to repeat events in two separate places, so I see this as my replacement for Project Life.
I'm hoping to try Heidi Swapp's new Memory Planner for the year and see how it goes. I might get a new A5 Kikki K to put it in as I don't really like the binders they come in, but we'll see. But I'm definitely going to use this planner system for the year. So in the end, I should have about four planners dedicated to something:
My personal planner for everyday stuff
My blog planner
My Unravelling planner journal
My creative Memory planner journal
In sum, I will keep up with my personal and memory planners daily, my blog planner monthly and my Unravelling planner journal and my #artofjournaling journal whenever I feel like changing things up and journaling in them. Hopefully I create a minibook or art journal each month that at the end of the year I'll have a nice library of books to reflect upon in the future!